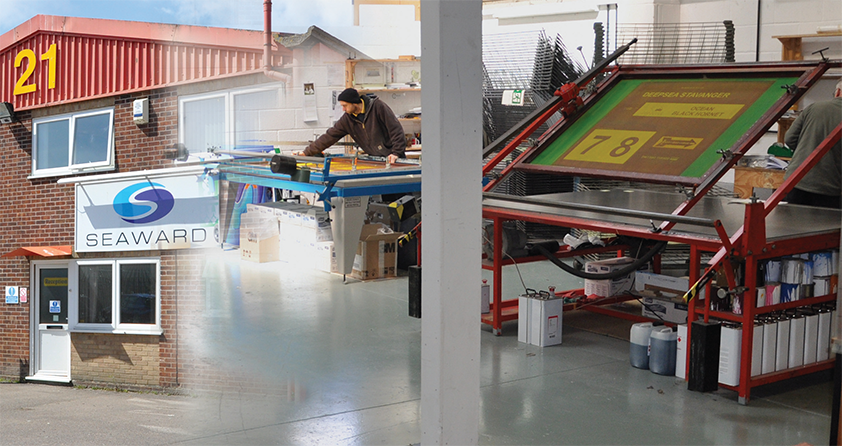 Showing the way
Established in 1994, Seaward Safety Ltd offers an unmatched range of resources to the marine and offshore industries in the specialised field of signage packages and escape route systems.
This includes the surveying of signage requirement, and design, manufacture, and installation of safety, ID,generic, and corporate signage, often on a turnkey basis.
Over the years Seaward has completed numerous contracts for the petrochemical and oil and gas industries, from new builds to the upgrade of existing systems. This experience has led the company to develop a complete range of safety signage, using tried and tested, and innovative materials suitable for use in the harshest of environments where the oil and gas industry is present.
Furthermore, throughout the late 1990sthe company was instrumental, alongside amajor drilling company, in the creation of a new innovative Safety Awareness System (SAS). This pictorial-based system was designed to provide a standard in communication and safety that crosses national language and cultural boundaries. In particular, it is intended to enhance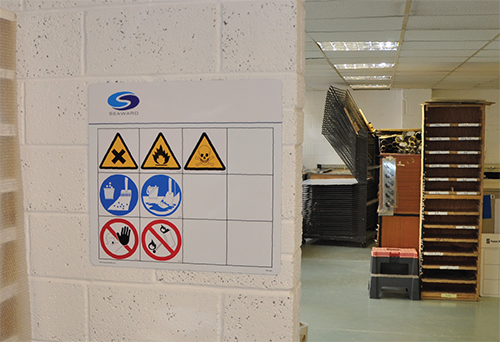 personal awareness of hazardous areasand operations, mandatory requirements and prohibited actions. Since its introduction, SAShas been embraced by the oil and gas industry with wide recognition of the benefits it brings to enhancing health and safety of employees.
Whilst at one time Seaward did quite a lot of marine work, today around 90 per cent of its activity is in the oil and gas industry. Describing the company's latest progress within the sectorJohn Williams, managing director says: "In mid- 2012 we signed a two-year agreement with a major player in the oil and gas exploration sectorto become their preferred vendor globally, in addition to similar arrangements with others that have been in place for a number of years now.
"For example, we have just won the contract for the first of two drill ships that are being built in Korea, which will see us provide all the pipe markers, signage, special boards, and escape route systems," he continues.
As with many of its projects, Seaward is executing this programme as a turnkey contract, following design procedures developed and proven since the company's formation. These include five main stages – design, site survey, manufacture and supply, installation, and aftersales support.
Seaward has its head office in the UK, supported by other sales sites and manufacturing units around the globe. Just over two years ago the company took the decision to invest in Brazil due to the volume of activity it foresaw in the country over the next ten years. Coupled with Brazil's restrictions surrounding local content it proved to be a shrewd move with Seaward now well established with its own production factory and office in Rio de Janeiro. The company is perfectly placed to serve Brazil's oil and gas industry and is already winning contracts across the market.
John partly puts this success down to Seaward's highly specialist nature: "There are hundreds of sign companies, but there isn't really anybody that does what we do," he remarks. "This is in terms of being able to send a surveyor to a rig or platform anywhere in the world, and to ensure that the signage and pipe markers meet the local regulations. This is whether the asset is in Angola, Brazil, Kurdistan, Korea or the North Sea, we can check that it is fit for that market from a signage perspective. We also carry out corporate audits for companies that have their own particular safety system that they adhere to so we make sure we follow those guidelines as well."
With positive forecasts for the oil and gas industry over the next decade at least, Seaward is pressing ahead with its plans for further expansion. In particular the company is looking into the potential of opening a new office and manufacturing facility in Korea, either in its own right or through a joint venture. "South Korea is a major builder of drill ships, whilst Singapore for instance builds jack-ups and semi-submersibles. Each drill ship is a huge investment as they're so sophisticated, but we're seeing quite a few now being ordered that we have been contracted for," describes John.
Seaward's reputation as a market leader has stood it in good stead in helping secure the signage contracts for assets to come out of Korea and Singapore in recent years, and this has given the business the confidence to move forward in the task of setting up a local entity, in much the same way as it did in Brazil. Given Korea's importance as a manufacturer of assets at present, as evidenced by its role in major projects, even closer connections to this market are likely to point Seaward in the right direction for the future.
Seaward has added another string to its bow by investing in new digital printing technology that will work alongside the more traditional Screen printing methods, which have proved so successful in the past.
The new HP Scitex equipment, along with laminator and cutting tables, have been installed in their own purpose built temperature controlled room, and have already been put through their paces on a number of challenging commissions from clients The use of UV curing inks means the whole process of printing full coverage signage can be speeded up significantly, particularly when it comes to the manufacture of pipe markings.
Seaward Safety Ltd
Products: Corporate safety signage and escape route systems