Consulting the experts
Established in 1994 Sebastian AS is an independent consultancy company operating within the maritime and offshore sector.
During the first few years of business, Sebastian was predominately focused on providing engineering services to the shipyards and ship design companies in and around Tjørvåg, Norway. Since 2005 though the company moved across the water to Ulsteinvik, where it purchased its latest premises in 2010. Its business areas have also grown into two core branches – consultancy and engineering, and dynamic positioning (DP) and failure mode effect analysis (FMEA).
The services offered in each of these differ somewhat but are both focused on ensuring safe and effective maritime operations. Under consultancy and engineering Sebastian provides design reviews, concept studies, philosophy documents, specifications, instrumentation, feasibility studies, and design of elements like electrics, ESD and F&G. Sebastian knows the various parties throughout the marine supply chain, including both ship designers and equipment suppliers, and is therefore aware of the strengths and weaknesses of different designs. The company also has experience in project management and construction supervision.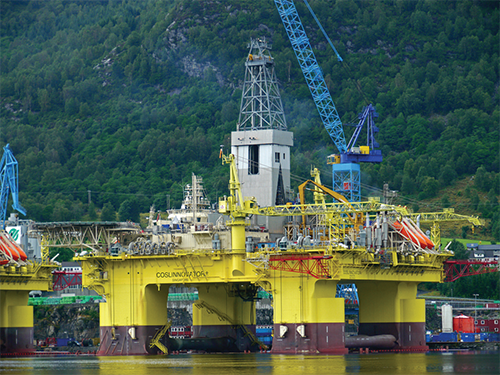 By working closely with its customers Sebastian can help them to make the correct choices regarding concept, configuration and safety at the early phase of the project. "For many years now we have been focusing on building up our expertise to the highest level," highlights Johannes Kristian Bjøringsøy, president and CEO. "Another point to note is our integrity as an independent company, which we see is being appreciated by our customers. Unlike other consultancy companies that might have a product to sell or ties to other factors, we are completely independent – we have no 'strings'."
Drawing on 18 years of experience in the oil and marine industry, Sebastian has acquired wide-ranging skills and know-how relating to mobile offshore installations and all types of vessel. In particular FMEAs is one of Sebastian's main areas of activity. The company has carried out services such as redundancy concept studies, FMEA and FMECA, annual DP trials, DP operation manuals, DP GAP analysis, DP incident investigation, and third party DP verification on assets around the world since 1998.
As one of the leading companies in this field, Sebastian places a high focus on safe and reliable vessel operations, taking into consideration redundancies and both common and hidden failures, as well as possible inadvertent acts which can cause loss of position control for offshore installations or ships.
"The trend within the industry is that incidents and accidents are less and less acceptable," notes Johannes. "The need for documentation and verification is already much higher than perhaps ten years ago. This is an important element, yet it is competing against the quest for lower prices. It's very exciting to follow the development of the industry in the face of these differing trends, and to see the various measures that are being taken by key players such as authorities, oil companies, and classification societies. We have even been involved in some of these activities in order to try and develop things in a positive way."
At present Sebastian is implementing a number of prestigious orders, including one with Statoil for the third-party verification of DP and FMEA work. This relates to the brand new oil rigs the oil major has chartered from Chinese Oil Services Limited (COSL), where Sebastian will act as Statoil's representative to ensure that all the systems function as they should and that the crew can handle the technical and operational challenges onboard.
A second contract is held with world-leading seismic company Petroleum Geo-Services (PGS) for the provision of FMEA verification services. Having already successfully completed assignments for PGS in the past, this is a particularly special contract as Sebastian will be validating Det Norske Veritas (DNV), which is carrying out the FMEA work itself. In addition, Sebastian is working with Total E&P in Norway to again provide FMEA verification services on the Leiv Eiriksson drilling rig, as well as verification for a position mooring system.
Clearly the benefit of assistance from consultancies such as Sebastian in addressing these matters is being recognised by the industry, as the company is seeing a high volume of demand for its services. In accordance, this year it is looking to increase its staff numbers and integrate new expertise into the business, whilst retaining and improving upon the high skill levels it already possesses.
"The main challenge for the next year will be balancing growth with quality," confirms Johannes. "In 2011 we laid down a strategy for achieving this growth and further developing our expertise, and two years on we are exactly where we should be according to that plan. We see that there is increasingly a need for high-end capabilities in the market, but knowing how quickly what is 'cutting edge' changes, we are working to ensure that we have the expertise to consistently remain at this top-end."
Sebastian AS
Services: Consultancy