Groundbreaking developments
The roots of Seismotekhnika OAO reach as far back as 1973, when the Ministry of Oil industry of the former USSR made the strategic decision to found a specialised organisation that was tasked with the advancement and manufacture of non-explosive seismic sources within Gomel, Belarus. Discussing the development of the company, Marco Tozzi, Managing Director of Seismotekhnika OAO comments: "We were founded in 1973 as a design office of seismic equipment under the will and control of the USSR government; over the following years the company began manufacturing several models and types of surface sources of seismic signal units. In fact, for 20 years Seismotekhnika led R&D and manufacturing of vibrating machines, equipment and vibrating source for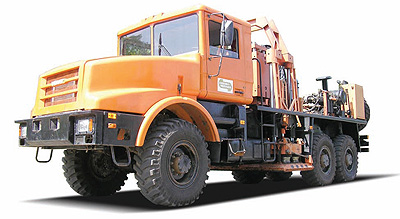 geophysical research on the USSR market.
"From 1990, we began developing and producing some work over and drilling mobile rigs for the oil & gas market; after this we did the same for all related ancillaries systems as mud treatment systems, pump systems and so on. In 2004, according to the state programme, we were reorganised into the open joint stock company Seismotekhnika; thanks to successful co-operation with the state-oil company, Seismotekhnika was able to quickly master the manufacture of a wide range of oilfield equipment that meets all modern requirements."
Further developments took place in recent years, with the company becoming certified as compliant to international systems ISO 14001 and ISO 18001 during 2008 and 2010. Following this achievement, the company had 19 per cent of its shares purchased by Drillmec SpA, the world leader in the manufacture of oilfield equipment. This milestone in the company's history resulted in the company beginning assembly, testing and the commission of drilling rig units of more than 400 tonnes, as well as land rig and echelon systems for cluster drilling. In 2013, Drillmec SpA went on to become the major shareholder of JSC Seismotekhnika, with 51 per cent. This take-over resulted in improvements at the company as well as new arrangements in production to ensure Seismotekhnika become a lean manufacturing plant; as part of this development, the company achieved API certification Q1 and API license 4F, which brought Seismotekhnika to European production levels and standards.
Elaborating further on the benefits of being a joint venture comprised of OAO Seismotekhnika and Drillmec SpA, Marco highlights: "There is a great strength in having the experience of Drillmec SpA as well as the specific knowledge of the Russian market that we have acquired over the years. The major benefit is that we actively belong to the ex-CIS area and have a resulting knowledge of standards and technical requirements that are relevant to this type of market. Using the combined expertise of the mother company and of the local company, new technology and improved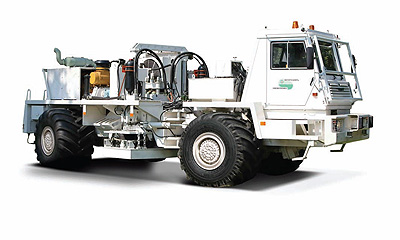 solutions have been developed."
Alongside enhancements in manufacture efficiency, Drillmec SpA also invested a huge amount in the manufacturing plant's facilities when it became major shareholder. "This investment include controlled painting chambers, the arrangement of a large assembly and testing yard, a semi-automatic welding machine and several new IT tools. However, the main tasks undertake over the last period are represented by actions for lean system production aimed at performance improvement," says Marco.
Today the company develops, manufactures and sells products such as mobile drilling rigs, mobile units for repair and the drilling of wells, drilling mud cleaning systems, mobile power plants, blocks of fuels and lubricants, technology platforms and other accessories for oilfield application at its cutting edge plant. The mobile units have capacities ranging from 80 tonnes to 200 tonnes, while land rigs have capacity of 345 tonnes. This equipment is highly requested for operation in areas such as the north of the Russian Federation, Venezuela, Belarus, Azerbaijan and Kazakhstan, as Marco notes: "We recently completed a large order with Surgutneftegaz in Russia for the oil & gas market and also provided seismic equipment to various customers on ex-CIS territory such as Ukrgeogizika, Ukraine, SC Turkmengeologiya, Turkmenistan, JSC Krasnodarneftegeofizika, Russia, JSC Saratovneftegeofizika, Russia, and OAO Yakutskgeofizika, Russia."
With a strong customer base and an enviable reputation in the market, the future looks positive for Seismotekhnika OAO over the coming years despite the challenges in the present market. By continuing to improve and adapt with the needs of customers as well as market trends, the company will remain a name synonymous with high quality rigs in locations such as Russia and the ex-CIS area, while also becoming well known in locations such as Europe, North Africa and the Middle East. "At present we are working on finalising a major project in Russia with a strategic customer; meanwhile, within the Eastern European and Russian market, we are focusing on developing rigs and equipment that closer meets our customers' requirements. To do this, we will develop new technological solutions and service on the oil-field," says Marco. "I consider the satisfaction and service offered to customers a key factor in this time of business.
"Although the oil & gas market is challenging, through facing these challenges we can improve performances and services to customers. Over the coming years the key is to offer flexibility of products and services offered and to anticipate customer needs by using our experience and know-how in the oil & gas and drilling sector," he concludes.
Seismotekhnika OAO
Services: Manufacture oilfield equipment