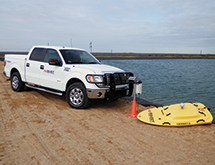 Ever since it was founded in 2007, Houston-based Select Energy Services has been on a mission of change. It has been working to change the oil and gas industry's approach to water management through strategic water management solutions from sourcing to disposal. The past year has seen some major strategic changes within Select Energy Services that should help it continue to be a top provider of water solutions in the effort to capture critical energy resources.
"We offer services that truly cover everything from the cradle to the grave for water management," Vice President Mike Howdeshell says. "We now are fully integrated and solely focused on the water management side of the oil and gas industry in North America."
Spreading its Wings
Since its beginnings, Select Energy Services has sought to be an innovative provider of efficient, end-to-end solutions to oil and gas producers. The company is committed to safely sourcing, transporting, testing, treating and disposing of water and fluids from well sites. It has gone through rapid growth organically and through acquisition, having acquired or invested in 34 companies and technologies.
Today, the company has an active presence in all major North American shale plays, and it has positioned itself geographically to provide customized solutions that suit the specific requirements of each basin. Select Energy Services has more than 400 customers throughout the United States and Canada, providing efficient and environmentally conscious water solutions that cover the entire life cycle of wells.
"Many plays are in lesser developed parts of the U.S. and Canada without big population centers, infrastructure or water availability," Howdeshell says. "The challenge is balancing the growth in rig and drilling activity with water availability. We've organized ourselves into regions with local management and teams that have the localized expertise to understand the issues facing the local operator."
The company is organized into three business units: water solutions, well testing and fluid handling. Its water solutions business unit includes water-sourcing capabilities such as water acquisition, storage and accumulation, evaluation, regulatory handling and transfer at any stage of the water cycle. It also has a water transfer service line specializing in high-volume, high-rate water transfer services through a variety of mobile piping systems. Containment and water treatment solutions are also part of the water solutions business unit, as is the company's AquaView instant monitoring solution.
Select's well-testing business unit provides well testing and flowback services with regionally specialized equipment and knowledge. As for the fluid-handling unit, it includes a tank truck service line with a fleet of owned and operated fluid service trucks capable of hauling up to 130 barrels, as well as a disposal service line that includes permitted disposal facilities positioned throughout the major U.S. shale plays with more than 100,000 barrels per day of disposal capacity.
"Everything starts with water sourcing, moving it through pipes and trucks, storing it and moving it to the producers' pad site," Howdeshell says. "At that point, they take it over for their needs, and then we manage the used water through recycling and/or disposal."
Change is Good
Over the last year, Select Energy Services has gone through some significant structural changes. One of those changes is related to branding. Since much of the company's growth has come through acquisition, many of the acquired companies retained their original names. In November 2013, Select Energy Services announced that all Select-owned companies would undergo a name change and operate under the Select Energy Services brand.
The purpose of the rebranding was to create a unified image that would better illustrate Select's capabilities across the oil and gas water sector. It was aimed at enhancing the company's presence in the oil and gas industry and improving its position as a leader in strategic water management solutions. The name change was applied to 14 companies.
Another significant change was announced earlier this year when the company reorganized its business to focus exclusively on all aspects of water logistics in oil and gas operations. The company's intention is to spin off its infrastructure and wellsite support-related services, turning them into independent entities. While the spin-off entities will then be able to determine their own futures, Select will be left with a complete focus on the end-to-end use of water in shale-based drilling, completion and production operations.
"It has been a challenge to integrate everything into one organization, as we had legacy systems, processes and loyalties that we needed to bring together into one larger company," Howdeshell says. "We have an entrepreneurial mindset and have been able to engage everyone to support our growth plans."
Other changes for Select Energy Services over the past year have been focused on expanding its solutions. The previously mentioned AquaView instant monitoring solution was launched in July 2013.
AquaView is a suite of services designed to efficiently monitor water at various stages of the completions process. It uses real-time, wireless technology and allows the company to respond faster to on-site issues.
The AquaView solution is designed to reduce down time and assist in the maintenance of completion schedules. Its capabilities include pit and reservoir hydrographic surveys utilizing sonar remote control and GPS real-time data. In addition, data is delivered to a secure portal offering current and historical data. Other capabilities include real-time water quality reporting, as well as mapping and geographic information systems (GIS) support. The system can also transmit the data with enabled access through computers, smartphones, tablets and text messages.
"We've also invested into our people to be sure we have the best in the industry, allowing us to execute projects and have that local expertise," Howdeshell says. "Investments in people lead us to the development of creative strategies."
Looking ahead, Select Energy Services will continue to strive to be a reliable solution provider for the oil and gas industry as it seeks to be a good corporate citizen. It works hard to ensure that it doesn't stress the potable water supply, and it looks to recycle and repurpose waste at every opportunity.
"Last year, we treated and recycled 9.97 million barrels of water, with and through our technology partners," Howdeshell says. "We're on pace to pass that by April of this year."
Water is a precious resource, and continued activity in oil and gas production will mean that water management solutions will remain a major focus for the industry. Select Energy Services will seek to retain its innovative streak as it aims to help oil and gas producers solve one of the biggest challenges they face.