Self Levelling Metal Machines Pte Ltd
Machined to perfection
Self Levelling Metal Machines (SLMM) provides in-situ, large-scale machining services to a wide variety of different industrial sectors throughout the Asia-Pacific and Middle East regions.
An alliance between Australian firm Self Levelling Machines and Singaporean firm Metal Machines Engineering Services, SLMM was incorporated during January 2000 in Singapore. Having had steady growth since its inception, the company is currently looking to expand its activities in the Chinese and Middle-East markets.
Part of the Self Levelling Machines (SLM) global network, SLMM uses the group's patented laser and machining technology to help deliver offshore oil processing products such as floating
production storage offloading (FPSO) turret mooring systems, offshore cranes and catenary anchor leg mooring (CALM) buoys. However, it also works in other industrial sectors including mining, hydroelectric power, nuclear power, defence, manufacturing and steel. SLM has a worldwide presence with offices in the US, Australia, China, Singapore, the UAE, India and South Africa.
Company director Chris Chia goes into further detail about what SLMM offers the oil and gas industry: "Our major customers in the industry include offshore equipment and engineering companies such as SBM Offshore, SOFEC and National Oilwell Varco as well as major shipyards in Asia. We have been involved in the machining of FPSOs, including some the world's largest such vessels, using our laser-controlled extra large circular self-levelling machine (XL-CSLM). Included in this work was the machining of the turret's journal bearing surfaces, occasionally working on special materials such as Inconel.
"Other work we do includes milling of slew bearing faces on CALM buoys, onshore and offshore crane roller paths and hook rails, thruster foundations and pedestals on jack-up platforms."
One of SLMM's most significant projects was the machining of the world's largest FPSO turret to date. At over 27 metres in diameter, it was machined to an external surface flatness run-out of under 0.6 millimetres using the XL-CSLM. Such accurate tolerances at wide diameters can be achieved because the XL-CSLM relies on a mounted laser to guide the milling cutter.
As Chris highlights, the incorporation of innovative technology is one of the keys to SLMM's ongoing success: "Our machining tools and manpower are our assets and we continually invest in both. We do not manufacture for sale – all the machines are designed and built in-house for our own use. This technology was developed in the early 1990s within the group, and has been continually upgraded and improved upon to increase flexibility, machining speed, accuracy and precision with new designs and algorithm enhancements. Investments in certain areas can be financially significant, but we believe they are necessary for us to always provide the best solutions to the client."
There are plenty of other advantages to SLMM as well, from the capability of its machines in undertaking projects of up to 50 metres diameter as well as linear structures of up to 11 metres by 15 metres in a single setup, to the constant maintenance that means they are always ready to go. The machines can be modified to cater to unique project requirements, and are also incredibly durable, enabling them to function in extreme environments from the UAE desert to northern China's minus 20 celsius temperatures.
As Chris points out, though, success ultimately comes down to the skill of engineers and work experience: "On-site machining jobs are always quite a challenge, particularly when the site is remote.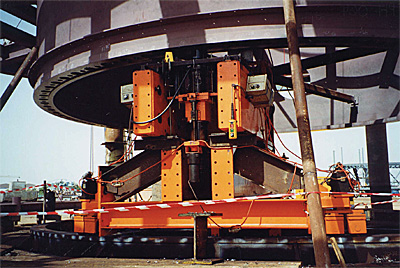 Ensuring that the equipment supplied is precisely suitable for the job in hand, and that the right spares are readily available in case of breakdowns, is essential to prevent delays. Extensive experience accumulated over numerous projects has helped us to deliver many projects punctually and within budget."
The group also has extensive work experience in industries other than oil and gas. These include applications such as hydro turbine builds and refurbishments, turbine casing horizontal joints for steam and nuclear turbines, draglines and stacker reconditioning for the mining industry, and mill stands for steel mills. By being involved with several different industries, the company has developed well-rounded work experience that is better suited to overcome challenges it comes up against.
With all of this driving the company it is no surprise that, as Chris highlights, SLMM has been successful: "Sales have grown steadily year by year since inception and 2009 was a very good year for us, with the highest sales to date. 2010 has been slightly slower. This is probably due to the financial crisis last year as well as uncertainty caused by the more recent Gulf of Mexico moratorium. However, we believe that the market is recovering and 2011 should be a better year."
There are several different markets that the company is looking to expand further into in the future, the most prominent of which is hydroelectricity. Already having special equipment designed for such applications, and with China looking to be a quickly rising region in this area, the Chinese hydro industry is attracting interest from SLMM. Though the company already has a base of operations in Shanghai, should activity start rising it is ready to set up a local subsidiary to capitalise on the emerging market. The company is also looking at other power generation sectors such as steam and nuclear turbines.
Chris ends on a positive note about this growth potential and future prospects for SLMM: "We expect energy demand to continue to grow, which would lead to increased infrastructure investments. We want to cover all markets to a far greater extent. We continue developing new and improved machine tools to help expand our work scope, as well as executing the work with faster and better techniques."
Self Levelling Metal Machines Pte Ltd
Services: In-situ, large-scale machining