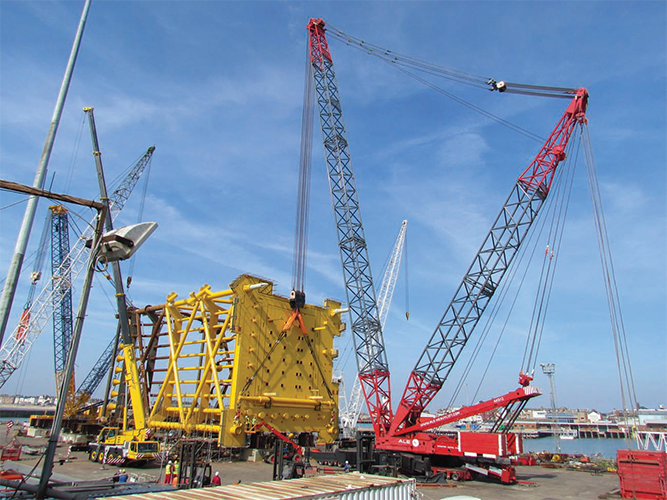 A bright future
Sembmarine SLP has over 40 years of unparalleled expertise and experience in the offshore energy industry, and today it can design, procure, manufacture and commission facilities for both oil/gas and offshore renewable energy, both in the North Sea and internationally.
Andrew Thomson, business development manager, explained that the company has been through several owners and changes since its foundation: "The company originally started out as 'Sea & Land Pipelines Ltd', a subsidiary of the Doris Group in the late 1960s, immediately after the discovery of gas by BP, offshore from Bacton in Norfolk. In 1986 the Wimpey Group bought the company, which was renamed SLP Engineering Ltd, to become part of their offshore construction services group. Since that time we have had numerous owners, UK, Brazilian, Dutch, and as of September 2012, a large Singaporean company SMOE Pte Ltd, a subsidiary of Sembcorp Marine, purchased 70 per cent of the company, with the remaining 30 per cent being owned by eight members of the current management team. To reflect the new ownership, our name was changed to Sembmarine SLP Limited. Our current operations are centred on our yards and facilities in Lowestoft, with a sales office in Aberdeen."
He continued with more details of what the company can offer: "Our main services and core business are the design, procurement, construction, commissioning, installation and hook-up of offshore structures for the energy sectors, whether oil, gas, wind, wave, or tidal energy. We have also had some experience in the nuclear industry, being involved with fabrication of components for the Sizewell Nuclear plant in Suffolk.
"Our products range from 4500t accommodation modules, production and process platforms, normally unmanned installation (NUIs) and minimum facilities platforms (MFPs), to offshore wind farm substations. Our Offshore Services Group provides integrity surveys, deconstruct/ construction and decommissioning services, in addition to the commissioning and hook-up elements of our EPIC contracts. We are proud to be one of the few remaining true single-source EPIC capable companies in the UK."
The division Andrew referred to has been active over the past two years thanks to changes in sector activity, as he highlighted: "2012 saw the UK's highest number of offshore projects being installed in almost a decade. Although 50 per cent of these projects were subsea installations, a market in which we are not particularly active, the spin off tie-in work meant that our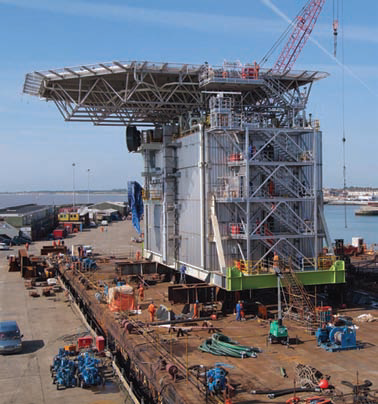 Offshore Services Group was kept busy. The period also experienced beneficial changes to the government's taxation on shallow water gas extraction, which resulted in the 'Dash for Gas' resurgence in activity in the Central and Southern North Sea in terms of drilling and new development. This created an immediate interest in our NUIs and MFP's, and saw the installation of our 18th MFP to-date."
The customers who approach Sembmarine SLP for its services are many and varied, but include Nexen UK, Centrica, ConocoPhillips, BP Norway, Shell UK, and Pemex. Many are long-term clients returning with repeat orders; others are for one off bespoke designed projects. Indeed, at time of writing the company was working with Nexen on a sixlevel accommodation module as part of a £2 billion project named Golden Eagle, which is, the second LQ built for the client. "This is a 2000t 140 man accommodation module that is due for completion and sail away in May 2014," explained Andrew. "We are progressing on target, with the roof deck lifted into place in September of 2012; the Helideck is due to be lifted into position in early January."
Andrew credits several factors as the reasons that customers such as Nexen return time and again: "First and foremost, is our corporate attitude to safety. All of our employees, site visitors and subcontractors are empowered and encouraged to stop any act that may endanger life or threaten the environment, and we are proud of our world class safety record which currently stands at over four years without a lost time incident.
"We are also renowned for our attention to detail, providing the highest standards in quality and finish. We schedule for the known, plan for worst case, and anticipate the unexpected. We also have an enviable ability to take a project from conception through FEED to hook-up, and then establish telecommunications to the clients head office within six hours of installation!"
Finally, it is Sembmarine SLP's employees that Andrew sees as crucial to the company's ongoing success: "We currently have approximately 400 highly skilled members of staff, and are in a similar position to most other oil and gas related companies, in that we have a high average age workforce. The long-term future of the industry is totally reliant upon the ability to attract young employees.
"We have recently re-established an apprenticeship scheme. Earlier in 2013 we took on eight apprentices from the 18-22 year age group, and are continuing to work closely with local colleges and universities for skills training and course selection. Being part of a multinational corporation, we are also exploring an employee exchange training scheme with our Singapore based parent company, to enable both companies to benefit from the knowledge base and production techniques that each has developed over the years."
Given the successful contracts underway and a management team determined to steer the company in the right direction, the future for Sembmarine SLP looks bright. As Andrew stated, he and the Lowestoft team have big plans for 2014: "We are focusing on facility enhancements and taking steps to engage with our supply chain more openly.
"Looking to the next three to five years, we want to expand globally, through staged phases, through growth and acquisition where necessary. We aim to maintain and increase our EPC & EPIC capabilities, to include the renewable energy sector." He added: "The future for Sembmarine SLP is not just bright; we may need to issue sunglasses as part of our PPE!"
Sembmarine SLP
Services: Design, procurement, construction, commissioning, installation and hook-up of offshore structures