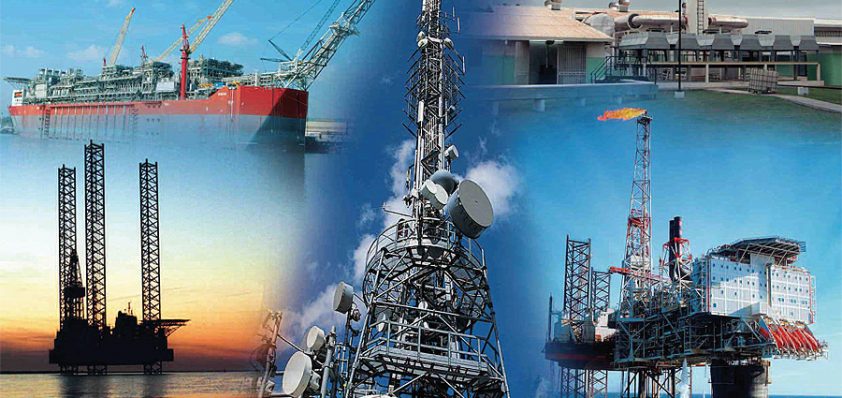 One-stop shop
After several years of successful cooperation, Semco Maritime and Esbjerg Oilfield Services (EOS) merged their operations on the 1st of September 2006 to become one of the major contractors and engineers within the Danish offshore industry.
Operating within the floating and mobile unit, fixed oil and gas installation, and infrastructure markets, the two companies have joined together to work from well-equipped facilities at the port of Esbjerg. Uniting under the Semco Maritime name, the merger has strengthened the company's position internationally. Contributing welding, construction and yard capacity, EOS has complemented Semco's expertise in design and technical contracting within mechanical systems, electrical systems, instrumentation and fire fighting equipment.
Describing the background to the merger, VP Hans-Peter Jorgensen says: "We had grown constantly for a number of years, and with a growing client base demanding further expansion of the business we needed to increase our capacity and capabilities rapidly. "Acquiring a fabrication yard has been a desire within our company for a while because without a quay-side facility in Esjberg we had a limited capability. The acquisition of EOS brought approximately 450 offshore construction specialists into our organisation. This, together with the fabrication yard, has allowed us to construct larger units, which in turn has enabled us to build modules and oil field structures for the UK and Norwegian sectors."
As one of the leading Danish suppliers within the marine and oil and gas sector, Semco Maritime is dedicated to offering the highest quality service and project solutions across the globe. Employing approximately 900 people across its different branches in Denmark, the UK, Norway and the US, the company has further representatives in many other parts of the world, to ensure that it offers a single-source for solutions, from basic equipment through to integrated systems.
"We consider ourselves to be a medium-sized engineering contracting company, working in three main business areas as either a main contractor offering complete turnkey projects, or as a subcontractor," explains Hans-Peter. "We can fabricate modules and jackets for platforms of up to 2000 tonnes, perform rig modifications and repairs, offer in-house mechanical and structural engineering, complete power upgrades of rigs, platforms and accommodation units, and offer a range of other products including firefighting systems."
This wide range of services is one of Semco's key differentiators, as the company can offer complete projects from initial design through to final installation. "If you speak with our clients a lot of them will tell you that Semco is the only real one-stop-shop. When you ask us to do a job, we will do the whole job," comments Hans-Peter. "Our other strengths include the addition of our own fabrication yard and a flexibility that means we can perform projects anywhere in the world."
Illustrating this ability to work across the globe, the company recently won its largest ever contract in El Salvador and Guatemala. The order, which totals one billion kroner, covers the operation and maintenance of two power plants for a period of ten years after commissioning. Semco Maritime is the main contractor for the building of the 33 MW and 73 MW power plants, while the operation and maintenance contracts will be carried out through a joint venture with Telectro.
"Both the projects are to be built as complete turnkey projects, although before we build the plants, we need to build up the infrastructure," explains Hans-Peter. "Once built, the maintenance operation contract will then require us to establish our company in both countries." Expanding on the global nature of Semco's work,
Hans-Peter describes other recent contracts: "We have just started a job in Invergordon, Scotland and will be starting another in Gran Canaria in March, while we are also establishing a department in Singapore to support our clients in this area.
"For the Invergordon contract we have designed and performed the prefabrication here in Esbjerg, while an initial survey has been undertaken in Halifax, Canada. We will then erect the project in Scotland, building complete new substructures and accommodation blocks." With further contracts in the pipeline, Hans- Peter expects the company to have a particularly busy short-term future: "Right now there are around 100 orders in the shipyards for new buildings and drilling rigs. Built over the next three years, once these new buildings come onto the market there will be a tremendous amount of oil well drilling activity. As a result there will be extended, or even, new oil fields in the area." Outlining the wider market picture, Hans-Peter continues: "Unless the oil price drops below $40 in the near future then I assume that the industry will remain strong, and continue at a high level. However, if the oil price drops all of a sudden the picture will change dramatically." With a vision of becoming the preferred partner in the maritime market, Hans-Peter explains that Semco Maritime has set growth targets to achieve this goal: "We have a plan to increase our turnover by ten per cent a year for the next three years. I hope to see the company progress with this increase in turnover, while maintaining our net resources.
"This will be quite a challenge, while we are also working to consolidate the acquisition of EOS. We need to promote our name as a fabricator in the market, as well as a repair and modification facility. This is particularly important for us, as we have not had our own fabrication yard before, so we need to inform customers and potential clients that we now have this capability." The acquisition of EOS has been a significant addition to Semco Maritime, transforming it into a complete one-stop-shop. This extra service capability, combined with the company's global presence, has seen it secure a growing number of significant contracts, and seems set to help it achieve its ambitious plans for the future.
Semco Maritime
www.semcomaritime.com