An energetic partner
Since it was featured in European Oil and Gas Magazine during August 2011 Serinus Energy has evolved significantly.
During the past two years the exploration and production company has increased its production and reserves in Ukraine, acquired Winstar Resources and as a result changed its name from Kulczyk Oil Ventures, and listed its shares on the Toronto Stock Exchange. Production has also increased to in excess of 5150 boepd with 2P reserves increasing to 20.06 MMboe and 3P reserves to more than 40 MMboe.
The company's main shareholder is Kulczyk Investments S.A. an international investment house founded by Polish businessman Dr. Jan Kulczyk. The investment house first invested in Serinus during 2007 when it was known as Loon Energy. Today Serinus operates assets in Romania, Tunisia, Brunei and the Ukraine.
"The last two years were probably the busiest time in the history of the company," says Timothy M. Elliott, president and chief executive officer. "The single most important event during this time was the acquisition of Winstar Resources, the Canadian exploration and production company. This not only resulted in Serinus listing on the Toronto stock exchange but also resulted in a major increase in assets, production and reserves." The acquisition of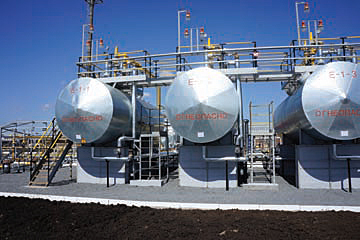 Winstar was valued at approximately $110 million dollars and represents a major milestone in the company's history. Complimenting the boost in assets resulting from the acquisition, Serinus has invested in the development of its production and exploration activities within its traditional locations.
With a geographically diverse portfolio and a production base that is balanced between principally oil production in Tunisia and principally gas production in Ukraine, combined with exploration upside within its existing asset base, Serinus is poised for continued organic growth. Today the company holds 13 operated licenses across five countries. Within the Ukraine Serinus holds a 70 per cent stake in KUB-Gas LLC, which it acquired in June 2010. Since its acquisition of KUB-Gas gross production has increased from less than five mmscf/d to over 30 mmscf/d and several hundred barrels per day of condensate. As a result it is now one of the country's largest private gas producers. Between 2012 and 2013 six wells have been made ready for commercial production on the Olgovskoye licence and a further three on the Makeevskoye licence, resulting in an increase in returns for the company.
As a result of its purchase of Winstar, Serinus acquired assets in Tunisia where it owns 100 per cent of the country's Chouech Essaida, Ech Chouech, Sanrhar and Zinna concessions and a 45 per cent working interest in the Sabria concession. The other 55 per cent is currently operated by Entreprise Tunisienne d'Activités Pétrolières (ETAP). The company believes that Tunisia represents an opportunity similar to that seen in Ukraine, but with much larger upside potential. The focus in 2013 will be on the Sabria field, in which the company plans to drill two wells. If these work this will lead to a continued development drilling programme as the oil initially in place (OIIP) is estimated at over 300 million barrels, which means there should be a significant amount of oil remaining to be produced. The company plans to fund capital programmes through internally generated cash flows and EBRD funding.
As the business moves into 2014 it plans to take advantage of discoveries resulting from its exploration activities and its continued co-operation with the EBRD to drive further growth during the coming years. "We are very happy to co-operate with the EBRD for the second time," says Timothy. "The bank will be providing up to $60 million in long-term financing for development of the company's Tunisian oil fields. Thanks to the previous loan the company's operations in Ukraine are self-financing and the whole company is quickly and steadily growing. We believe that the scenario will be repeated with our Tunisian assets."
With such high levels of activity in a geographically diverse set of regions, Serinus remains an energetic and successful operator within the oil and gas sector. Its strategy of balancing production and exploration has proven effective enough to attract the support of lenders and working partners alike giving the company impressive momentum and support as it heads into 2014 and beyond.
Serinus Energy
Services: Exploration and production