Deep Casing Tools (DCT), together with its regional partner for Asia Pac, EFTECH, has successfully run three more of its Turborunner tools with Shell Sarawak, despite challenging conditions heightened by Covid-19.
The scope of work, which was awarded to DCT in 2018, required horizontal well completions in six new wells to ensure target depth (TD) could be reached. The work was carried out on the Naga 7 jack-up rig located offshore, Miri, Sarawak, which Shell Sarawak contracted from Velesto Drilling in 2018 to support its offshore oil exploration and production, and offshore gas production in the region.
Notwithstanding difficult circumstances including tight spots in all six wells, the runs were completed successfully by August 2020 by deploying DCT's best in class turbine-powered completions tool, Turborunner, which allowed the energy major to reach TD.
Neil Hathaway, Regional Manager at DCT, said: "The success of this project is testament to our commitment over the last decade to grow our international capabilities through a network of experienced and dedicated partners around the world. By partnering with EFTECH who have amassed nearly two decades of experience of servicing the offshore sector in the Asia Pac region, we were able to deliver an unrivalled level of service to our customer Shell Sarawak.
"It is also another excellent example of our simple innovation which make operations safer and more efficient, even in the most complex and challenging conditions."
Contract extension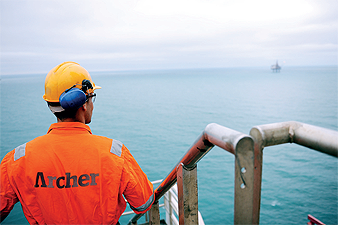 Archer has secured a two-year contract extension with a major North Sea operator for the provision of platform drilling operations and maintenance services on seven UK North Sea installations. The extension commenced 1 November 2020 in direct continuation of the current contract. Over the next two years Archer will continue to deliver platform rig drilling operations, maintenance and intervention support activities including where required the provision of Well Services and rental equipment. Furthermore, Archer's engineering team has been contracted to conduct a rig reactivation and provide brownfield engineering and operation preparational support to the other six assets.
Dag Skindlo, CEO of Archer comments: "This extension reflects our client's continued confidence in our ability to maintain safe operations whilst delivering improvements to both the drilling facilities and to the platform drilling and well intervention operations on their assets. This award is testament to the hard work and dedication of our personnel who have been supporting these assets since 2015 and throughout these challenging times. We firmly believe this contract win is a result of Archer's continual commitment to provide our clients with solutions to improve well delivery, integrity and performance."
Standards collaboration
The Open Group, the vendor-neutral technology consortium, and the International Association of Oil & Gas Producers (IOGP) has announced a three-year Memorandum of Understanding (MoU) that will foster more oil and gas industry collaboration for the development of common information standards.The Open Group vision is to enable the achievement of business objectives through the development of technology standards, enabling global interoperability and Boundaryless Information Flow™ in a secure, reliable, and timely manner.
Solar approval
Harmony Energy has received planning permission to build its first solar farm in the UK after plans were approved for the 30MW development near Driffield, East Riding of Yorkshire. Peter Kavanagh, CEO at Harmony Energy, said: "This development will feed into the local electricity network and supply energy for the equivalent of up to 8000 local homes. We will also be providing funding to assist in local community projects." Earlier this year Harmony Energy completed its first utility scale battery energy storage facility, which was the first in Europe to use Tesla's Megapack technology.
Renewables for Oz
The 500MW Wambo Wind Farm project has secured planning approval from the Queensland state government. The project, located in south-west Queensland, 20km north-east of Jandowae, will comprise up to 110 wind turbines and a 50MW/200MWh battery storage and associated infrastructure. The project is being jointly developed by Cubico Sustainable Investments (Cubico), a long-term owner and operator of renewable energy assets, and Renewable Energy Partners. Construction of Stage 1 of the wind farm is expected to begin in late 2021, creating around 200 jobs.
Five-year agreement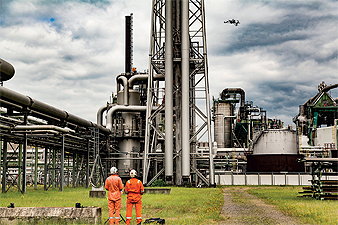 Cyberhawk, the global leader in drone-based inspection and creator of iHawk, a cloud-based asset visualization software, has secured a five-year contract with a global LNG producer for the provision of drone inspection, surveying and data visualization services.
The contract will see Cyberhawk focus on collecting engineering-grade inspection data from oil and gas assets in the Middle East, onshore and offshore, which will be delivered as detailed inspection reports via Cyberhawk's drone data visualization software, iHawk.
The contract with the state-owned oil and gas company was secured by Manweir LLC, Cyberhawk's local partner, which is working closely with the technology firm to build a strong regional presence and establish in country value for local operators. The agreement allows any local energy operator to enlist Cyberhawk's technology solutions through this contract, making it the preferred drone inspection and visualization partner in key oil producing countries within the Middle East region.
Established in 2014, iHawk allows asset teams to view up-to-date, visual data securely in the cloud. The software improves asset management and decision-making by allowing managers to intuitively access inspection data that highlights where they can monitor defects and degradation, before deciding what action should be taken and when.
Geologists solve puzzle
Pioneering new research has helped geologists solve a long-standing puzzle that could help pinpoint new, untapped concentrations of some the most valuable rare earth deposits.
A team of geologists, led by Professor Frances Wall from the Camborne School of Mines, have discovered a new hypothesis to predict where rare earth elements neodymium and dysprosium could be found.
The elements are among the most sought after, because they are an essential part of digital and clean energy manufacturing, including magnets in large wind turbines and electric cars motors.
For the new research, scientists conducted a series of experiments that showed sodium and potassium – rather than chlorine or fluorine as previously thought – were the key ingredients for making these rare-earth elements soluble. This is crucial as it determines whether they crystalize – making them fit for extraction – or stayed dissolved in fluids. The experiments could therefore allow geologists to make better predictions about where the best concentrations of neodymium and dysprosium are likely to be found.
The results were published in the journal, Science Advances on Friday, October 9th 2020.
Professor Frances Wall, leader of the SoS RARE project commented: "This is an elegant solution that helps us understand better where 'heavy' rare earths like dysprosium and 'light' rare earths like neodymium' may be concentrated in and around carbonatite intrusions. We were always looking for evidence of chloride-bearing solutions but failing to find it. These results give us new ideas."
New technology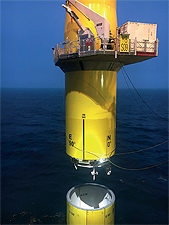 Ørsted has signed a multi-million-pound deal with Scottish engineering innovator Pict Offshore to deploy the 'Get Up Safe' (GUS) motion-compensated lifting system at the Hornsea Two offshore wind farm. The deal with Pict Offshore means that Hornsea Two will be the first ever offshore wind farm to deploy the GUS system and entirely design out the boat landing structures and ladders on the turbine's foundations.The addition of the revolutionary GUS system onto each of its 165 wind turbines means external ladders are no longer necessary, streamlining the foundation and reducing steelwork requirements – boosting both safety and the potential for construction and through-life cost reductions.With the GUS system in place, technicians will be lifted and lowered directly between crew transfer vessel and the platform. This removes the need for technicians to step between the bow of the vessel and the ladder; a potentially dangerous operation that requires skilled co-ordination to be carried out safely during variable weather conditions, and eliminates a tiring climb, which can be up to 20 metres in length.The GUS systems' active heave compensation function tracks the motion of the vessel deck and automatically adjusts the line position to ensure that transferring technicians are always kept safe, even if the vessel is moving in variable wave and weather conditions.