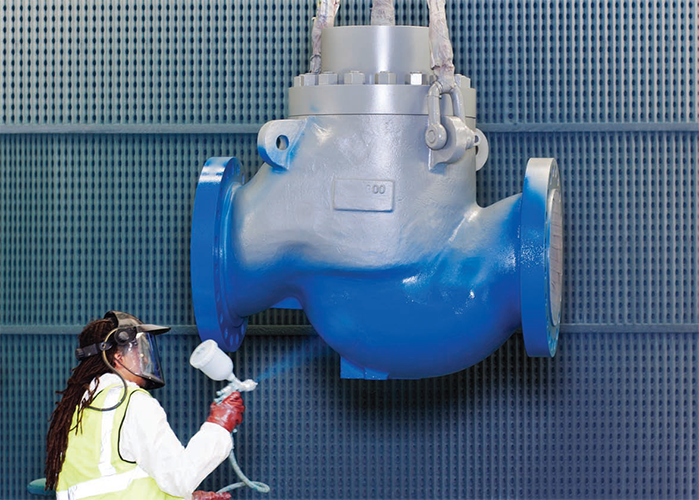 Investing in the future
Control and choke valve specialist Severn Glocon Group represents all that is great about British engineering.
It has a strong global customer base spanning the oil and gas, LNG, renewable and power industries. The manufacturing arm of its business was first established more than 50 years ago, and its valves continue to be used across major global oil and gas projects. "The market is growing and demand for our products is growing. Our primary market is oil and gas and its derivatives such as LNG. The sector as a whole is really flourishing. There are currently a lot of new build projects requiring bespoke design and manufacture of severe service control valves, particularly in the LNG market. This is very encouraging and plays to our core strength of intelligence-led valve engineering. As long as the price of oil stays above 100 dollars it will probably stay that way," says executive director Colin Findlay.
Severn Glocon has witnessed substantial growth since 2006. This is thanks in part to its ability to deliver cost-effective, severe service valve solutions through a combination of in-field experience, repair intelligence and technical innovation. "It was in 2006 that we started to develop our factories and technical strengths as well as undertaking a global localisation strategy. These developments and investments have reaped dividends, with sales exceeding £100 million for the first time in 2013," highlights Colin. All aspects of design, testing and manufacture are handled at Severn Glocon's manufacturing centres in Gloucester, Brighouse and Chennai (India). The group has ensured all facilities have state-of-the-art design, machining and testing technology and equipment. This includes advanced 3D CAD design capabilities, which are linked to machining via EdgeCAM production engineering, full weld overlay and coating facilities, high and low pressure testing equipment as well as fugitive emissions and cryogenic testing; in-house specialised paint and coating systems and automation and controls commissioning.
"The business grows all the time. For our core control and choke valve business we have three primary manufacturing centres; two in the UK and one in India, all of which are wholly owned by Severn Glocon and have the most modern facilities available," explains Colin. "Each facility has a different purpose; Gloucester is our head office and main manufacturing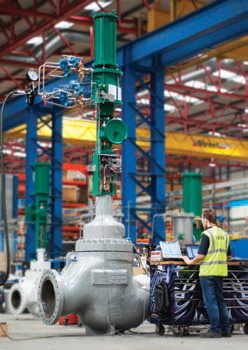 facility, which tends to take on large projects while also specialising in cryogenics products. Our base in Chennai is the largest facility we have and is therefore more about volume manufacture, while our newest facility in Brighouse was opened in 2013; this is very much focused on bespoke products and fast track deliveries. Because of the versatility of these manufacturing centres, we are fully capable of providing three different types of manufacture."
Specifically designed to enhance efficiency and advance technology, the 60,000 square foot, purpose-built £2.5 million facility in Brighouse, Yorkshire is home to advanced technical services division Severn Unival. Butterfly valve specialist Severn Leeds Valve, acquired in June 2012, is co-located here. Now working with Severn Unival, the 104-strong team is benefiting hugely from the well-equipped factory. Furthermore, a dedicated valve innovation centre houses the firm's R&D team, which will play a key role in operations going forward. "In addition to these developments, we also diversified our markets over the last few years by growing a presence in the renewables and subsea sectors; an example of this is our acquisition of Cornwall based subsea developer Calidus Engineering, which provides research and development capabilities. Now renamed Severn Subsea Technologies this business forms the centre of our R&D operations in the subsea market."
Following these business enhancements, the company has gained industry-wide recognition for its achievements. A recent highlight was winning a Queens Award for the second time in four years in April 2014. The award, for Enterprise, International Trade, recognises Severn Glocon's ongoing growth in overseas sales and the fact that international trade now represents an impressive 68 per cent of total group turnover. This growth was not only accelerated by strategic acquisitions of UK specialists in subsea and butterfly valves over the last three years, but also by its expansion into areas such as China, Brazil, India, Iraq and Australia. In Australia, the group has earned the status of 'top three cryogenic manufacturer' as well as being awarded a number of ground-breaking LNG contracts such as the Ichthys project. "Major product supply projects for the likes of Gorgon and Ichthys in the LNG market in North West Australia have global significance and also give us a long-term order book, which is tremendous for our stability," says Colin.
As one of the largest and most challenging contracts in Severn Glocon's history, the Ichthys project involves the supply of 536 engineered control valves for the processing plant based on the project's onshore LNG facilities. Because the valves will handle volatile fluids at temperatures as low as -160 degrees Celsius, Severn Glocon's technical specialists have developed tailor-made designs for the valves, which are being manufactured in the organisation's Gloucester and Chennai factories. To optimise delivery time, Severn Glocon also invested in the extension of its in-house cryogenic testing facilities.
Discussing another major project, Colin continues: "In 2013 we also established an operation in Southern Iraq for a significant, long-term valve support and rehabilitation project. The objective is to support the development of the local workforce as well as the nation's oil industry. We have been contracted there to support BP for approximately five years in the complete rehabilitation of its entire valve population." Operating as a core part of this major project involves more than valve repair. The group's five decades of expertise are playing a critical role in optimising performance and rehabilitating the plant to increase production. "A key part of this aspect of the project has been our localisation strategy, which involves the training and development of the Iraqi people; it is a fairly significant step and an important strategy for BP in terms of Iraq's development," says Colin.
With a substantial order book in place and an anticipated 20 per cent increase in turnover for 2014, the future looks positive for Severn Glocon. It's not only reaping the benefits of its strong reputation in established markets, but is also in an enviable position to grow in new markets such as Brazil and Africa. "These are markets we will be looking at for future development through the localisation of sales people. However, we also have an agenda to deliver local content, which means we are beginning to make steps towards substantive localisation in terms of completing our products in the countries they are sold to," concludes Colin.
Severn Glocon Group
Products: Severe service valves