Sweeping markets
Originally founded as Selkirk Manufacturing in 1969, SFL Flues and Chimneys has been meeting the needs of its diverse domestic and industrial customers for over four decades.
Its wide range of specialist prefabricated chimneys and exhaust products are renowned for high performance and have become synonymous with quality throughout the UK market and beyond. Though a subsidiary of the Stamm International Corporation, the company's premier solutions are manufactured and sourced solely from the UK, while being designed, produced and stringently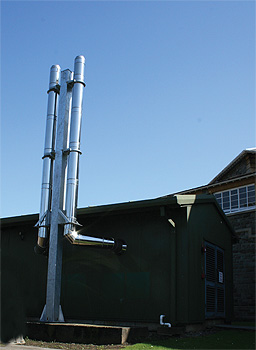 tested at its 40-year old manufacturing premises in Barnstaple, Devon. Whilst its core product base has remained the same throughout its history, SFL constantly aims to enhance its range through extensive R&D and maintaining positive relationships with key clients
Offering nine different product divisions known as Supra, SW, IL, ILS, QC, Europa, Nova, SM250 and SMW that cover the essential and complex needs of domestic, commercial and industrial customers, SFL's expertise is unrivalled in the industry. Ideally suited to the challenging demands of the offshore oil and gas market, its Europa system is a multi-application twin walled product expertly designed to convey gases, particle, fumes, smoke and products of combustion from a wide range of engineering, combustion and process equipment. As a lightweight engineered system, Europa can resist pressure up to 15,000 Pa and it is suitable for a continuous flue gas operating temperature of 760 degrees and for 1000 degrees intermittent use, it can also be used internally and externally. Designed to be used as an alternative to conventional heavy gauge welded steel and lightweight ducting it is more easily, quickly and economically installed, while its unique joint system between components provides a pressure resistant and structural inner liner of 316 stainless steel, a 25 /50/75/100mm insulation and 25mm air gap, and 316/304 outer casing. Available in a variety of formats depending on both the type of equipment it is to serve and the temperature of gases it is to carry, Europa offers a very specific service and as such has been Lloyd registered (A-0 / A60Equivanent Fire Resistance Ducting) to and certified under a range of British Standard and Quality Assurance Schemes.
Dave Hamman, national sales manager for SFL, outlines its core strengths and capabilities: "We are able to provide leading solutions for mechanical smoke extraction, explosion venting, galley extraction, fire proof ducting (four hour), standby generator and grease ducts for our key offshore clients that include the global Wood Group. In the past we dealt directly with individual platforms and organisations such as Shell, but trends have changed and most end customers operate through larger maintenance groups. Our greatest differentiator from our peers is that all our products are made in the UK to the highest possible standards. Maintaining quality has been of paramount importance to the company from day one and we are very proud of the level of service we offer to our clients."
In the oil and gas market the Europa solution is quite unique, especially when considering it is a pre-fabricated product that can be installed and implemented by the customers themselves. Market leading design is SFL's forte and as such it has been able to create and evolve a portfolio that is not only tailored to the harsh environment of the offshore industry, but is safe to use as well. Indeed, nothing is allowed to leave the factory without undergoing strict quality control including ISO 9002 and holding the CE mark to EN 1856-1 standards, ensuring total reliability and consistency of service.
The organisation has obtained a number of awards for its dedication to design and innovation with the latest of these being the regional Innovative Working Practices award given by the EEF Manufacturers Organisation. This accolade was presented in recognition of the company's dedication to implementing improvements throughout its work practices through the use of the Japanese kaizen concept. The improvement programme has also helped SFL to gain the North Devon Manufacturing Association's Best Transformation award 2009, marking the company as a forward thinking enterprise for a wide range of industries and requirements.
Whilst remaining primarily focused on the European market, SFL is able to manage requests from alternative regions and has the capability to send its products anywhere in the world. "We work
closely with our customers and look to hold long-term relationships with them by delivering to wherever there is a need. The market conditions at the moment are stable and as part of the supplier community of FPAL we feel we are well prepared to further penetrate the offshore sector with our highly competitive Europa product. In the past we have held the market leading position for chimney products, the quality of our solutions hasn't changed and we are looking to achieve strategic growth and recognition in the industry over the coming months to regain our front running status."
Steve Gray, senior buyer for SFL, explains why long-term supplier relationships are critical to the future of SFL: "Introducing a deeper collaboration with our suppliers is more important than ever. The increasing cost of raw materials is challenging, but maintaining the good relationships can sometimes burden the rising cost. An open book policy on costs savings tends to work well as it forms a mutual trust, thus improving the relationship further. We like to consider how our suppliers can contribute to the way our organisation works, as in the flue and chimney industry we have to have very short lead times, meaning that having good suppliers to help us meet these demands is vital. An active interest from our suppliers helps them to understand what we need from them, and cements their future part in SFL's success for years to come."
SFL Flues & Chimneys
Products: Flues and chimneys