A greener gas future
The non-regulated arm of SGN Group, SGN Commercial Services specialises in green gas infrastructure and decarbonisation, supporting the UK's energy transition to Net Zero
Responsible for a large network of pipes across Southern England and Scotland, SGN has been working hard as a gas distribution network for over 85 years to provide its customers with essential gas supply. With over six million active customers, SGN is an industry leader in gas services and technology; today, the company is pioneering a program of innovation for decarbonization, which seeks to replace fossil fuels with greener alternatives such as hydrogen and biomethane.
"The SGN Group includes the gas distribution business that covers Scotland, the South, and the South East of England," summarises SGN's Director of Commercial Services and Investments, Marcus Hunt. "Within the group, there are a number of non-regulated businesses that carry out activities which complement the core business, and we increasingly are pursuing opportunities created by the energy transition and the UK's Net Zero ambitions, such as our 'biogas to grid' offering.
"In addition to our biogas activities, we also provide metering services and gas piepline asset management and maintenance, and more recently have created joint ventures in the heat network and last mile infrastructure space, as we want to remain at the forefront of UK heat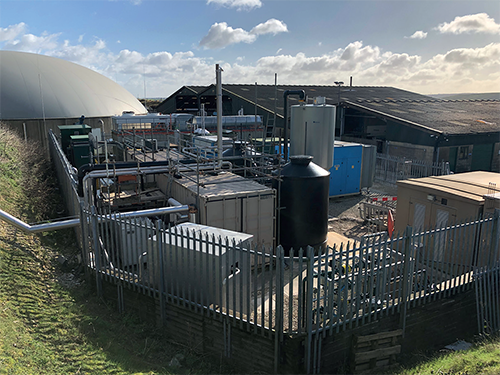 delivery," he continues.
Working under the SGN umbrella has helped support the success of its commercial services unit, as Marcus discusses: "We are different to most of our competitors because we have developed out of a regulated gas distribution business, so we have people that understand the gas distribution network, and how to design and build solutions that balance the needs of our clients with the needs of the UK gas distribution networks.
"Because our company forms part of a bigger regulated group, we benefit from some of that corporate history and group experience and capabilities. In fact, I think we are the only gas distribution network that has a significant non-regulated business in the UK."
The group's success has recently been bolstered by its success in securing a high-profile framework agreement with Thames Water (TW), helping TW deliver its gas to grid ambitions across its wastewater treatment sites in London and the Thames Valley. "Back in 2010, Thames Water and SGN pioneered the first direct gas to grid injection model in the UK and it's great to be working with Thames Water again to help it realise the potential for gas to grid injection as part of its Net Zero ambitions," Marcus adds. "We are currently working at one of Thames Water's larger London treatment works at Deephams, and hope to complete more projects as Thames Water's plans evolve over this AMP period and beyond. Since our initial project with Thames Water about 11 years ago, we have completed a number of projects, and we have a portfolio of about ten projects across the UK where we have provided design, build, finance, and operation and maintenance support services to biogas producers, from which we've learnt a lot along the way."
Having proven itself on a number of projects, SGN Commercial Services has turned its attention to the the water industry in the context of new drivers that support gas to grid technology. "We have really turned our attention to the water sector for a number of reasons. The water industry has been through some regulatory changes in recent years as part of the regulatory price review process, which has essentially increased the separation between what is called the 'bio resources business' and the rest of the wastewater business, and that means that there is an increased focus on the production and commercialisation of biogas to support bioresource operations.
"The water industry in the UK is committed to achieving net zero by 2030, which is a challenging target and not very far away. Ageing CHP engines that utilise biogas today are reaching end of life and it makes more sense to convert to gas to grid technology to support Net Zero, and help decarbonise sectors of the economy that are more challenging with biomethane," Marcus reveals.
This expansion into the world of water has opened up new and exciting projects for SGN in recent months, as Marcus confirms: "We are talking to a number of water companies about their plans in the bio resource area and how we can support them to meet their objectives. We are also doing a piece of work for BrewDog in Scotland, where we are helping BrewDog inject the biogas it creates from its brewing processes into the grid."
As well as venturing into new markets, SGN also has one of the UK's only bio-methane injection hubs. "This facility is imperative in situations where customers don't have an opportunity to connect directly into the network, for example if they have an anaerobic digestion plant that is more remote, or not located near to a gas distribution network, but is close to feedstock required to produce the biogas.
"What we can do is compress the gas onsite and transport it to an injection facility, where we can then download it to the grid without the need
for propane. Our Portsdown Hill facility was certainly the first in the UK, I think there are one or two now, but ours has been operational for a number of years, and that helps people who can't get gas in locally to still commercialise the biogas they generate and it helps to 'green' the gas distribution network, displacing natural gas," Marcus explains.
It is clear that SGN Commercial Services is dedicated to supporting people both inside and outside the company; even in light of the 2020 Coronavirus outbreak, the company was able to continue providing essential services to its customers. "There have been a couple of challenges for us in regards to Covid-19. In general, projects that we were hoping would have progressed more quickly have perhaps not gone as fast as we would like, and then we have had some challenges, albeit not many, in maintaining the assets we do have because of restrictions on travel and social distancing.
"To be honest we have weathered the storm pretty well, and we were able to keep operations up and running, which was very important to us as well as our clients," determines Marcus.
Keeping SGN fortified and operational during this time was its dedicated team of industry professionals. "People are the life blood of any business really, so with or without Covid-19, the people are what makes the business run effectively," Marcus asserts, highlighting the importance of SGN's team.
"We actively try to keep people motivated and engaged, and we had to do that even more so throughout the pandemic. We had more Teams sessions and online activities, in order to make up for the events that we haven't been able to go ahead with face to face. In addition, the biogas industry is quite small, and as such I think the sector overall has actually done quite a good job at maintaining some of the most important industry events through Covid-19. I think that really helped people connect," he adds.
As Covid-19 slowly ceases to dominate contemporary discussions within the industry, SGN detects newly emerging trends in the commercial gas market. "I think a lot of industrial players are currently looking at their waste products more carefully in the context of sustainability and Net Zero. These big companies are considering how they can use waste products to provide energy benefits, and so I think breweries and water companies are good candidates," observes Marcus.
"The Green Gas Support Scheme that the government announced 12 months ago is important in stimulating new projects in the renewable green gas market. I also think that increasing gas prices will likely help the viability of projects in the medium term, and hopefully lead to the development of more projects.
"The broader environmental Net Zero drive is encouraging us, as well as others, to ensure we are utilising our food, crop, and animal and human sewerage waste. It's a win-win; you are taking a waste product and turning it into an energy product, which is used to decarbonise the economy. It's a great model," he continues.
The future of SGN is equally exciting, as Marcus highlights some of the company's up and coming innovations: "Over the next year we are looking to do more in the injection hub space to help facilitate biogas projects, and increase our client base as new projects come online.
"A bit further out, possibly in the next five to ten years, one of our potential next steps involves turning bio-methane into hydrogen. There is some innovation there, around the conversion of bio-methane into hydrogen."
Keeping on the cutting edge of gas technology ensures SGN's place as an industry leader in the charge toward Net Zero. Going forward, Marcus has a clear idea of where he wants the company to progress: "My vision for the company in the longer term is threefold. One aspect is centered on increasing the amount of green gas that gets into the gas distribution network; this would help offset natural gas requirements, supporting decarbonisation, and help ensure the sustainability of a key national asset in the long term.
"Another element of this vision is concerned with growing the business, and being able to recruit more talent to support that growth, including people that are really passionate about supporting decarbonization and making a difference. Finally, I would like to answer the question of how bio-methane fits in the wider green gas future, especially in terms of its role and integration in a potential hydrogen fueled distribution network," he details.
It is clear that SGN Commercial Services is focused on the future and potential of renewable energy and increasing the amount of green gas injected into the gas distribution network. Despite the many innovations that have already been made, there remain a number of challenges when it comes to delivering a more sustainable future, as Marcus concludes: "We have seen a significant increase in biomethane over recent years, but we are still a long way from delivering its full potential and utilising all available feedstocks. We must find a way to continue the journey and ensure biomethane continues to play an increasing role in the UK's decarbonisation, which means addressing regulatory, economic and technical considerations."
SGN Commercial Services
www.sgncommercialservices.co.uk
Services: Green gas infrastructure and decarbonisation