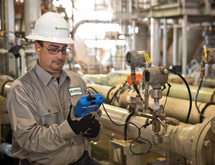 Shamrock Energy Solutions
Although the oil and gas industry is booming and labor rates are high, finding people with the requisite skills is difficult. Assisting major oil companies with highly skilled labor is the niche of Shamrock Energy Solutions.
Shamrock Management was initially founded in 1997 as a consulting firm connecting oil companies with experienced labor for production. Big changes came to Shamrock in 2008, when the company was purchased by Jeff Trahan.
A new business philosophy and additional products and services called for an all-new label: Shamrock Energy Solutions (Shamrock).
"With 'Management' behind our name, those who don't know us tend to misclassify us in the architectural or construction industry," Vice President of Business Development Stephen Whittle says. "By adding 'Energy Solutions' to our name, we were hoping to solidify our spot in the energy industry. Our niche is in oil and gas production support. If you're looking for skilled people within the oil and gas market, we have them."
Shamrock has approximately 670 employees working onsite with pipelines and platforms, offering a broad range of assistance and services to clients, with contract labor being one of the largest.
"While oil companies employ a great number of people, they rely on providers like Shamrock to support them with a large part of their operational skilled workforce," Whittle says.In addition to providing labor solutions, Shamrock Energy Solutions also has several facilities throughout the Gulf Coast at which it has the capabilities of servicing major mechanical equipment, overhauling and repairing valves and building control panels.
Shamrock's mechanical capabilities include monitoring, budgeting and scheduling routine maintenance on fleets of engines, generators and pumps. This increases run-time and reduces unscheduled downtime, which saves customers thousands of dollars annually.
One of Shamrock's fastest-growing divisions specializes in providing instrumentation and electrical (I&E) services. "We design and build electrical, instrumentation and pneumatic control systems," Whittle says. "This includes the design, engineering, fabrication, construction, field installation, project management, procurement and commissioning. We are experienced with new construction, upgrades and demolition projects involving conduit, cable tray, cable, junction boxes, switch gears, end devices and terminations.
"Only a few years ago, we had a couple of people working in I&E, and now we have a team of over 50 people including our engineers that are capable of designing power systems, safety and monitoring control systems, communication systems and pneumatic control systems," Whittle adds.
Located in Houma, La., and with plans for a new larger facility in Lafayette, La., Shamrock's UL508A-certified panel shop is capable of building the panel that will house the program, safety systems, process control, pump control, switchgears, chemical injection, compressors, measurement/LACT control, generators and engine controls.
Strong Future
Today Shamrock has grown to become one of the industry's most diversified service providers, and a company of which all its team members both past and present can be proud. Despite major growth over the last few years, the company continues to embrace a family business philosophy that places value on relationships over numbers. Whittle foresees steady growth for the business through maintaining a healthy reputation in the industry and putting people first.
Despite its name, luck is not relied upon by the Shamrock management team. "Shamrock Energy Solutions brings experience and attention to detail to every project," Whittle concludes. "We are proud to have some employees working in the same location and for the same client for up to 15 years. Our hard work and dedicated people ensure quality labor and safe, durable products and solutions. That's not luck – its hard work!"