Creating a cleaner future
The geography of Gibraltar, located to the south of Spain on the southern tip of the Iberian Peninsula, makes it one of the most unique locations in Europe, if not the world. With its landscape dominated by the iconic Rock of Gibraltar, it sits alongside the logistically important Strait of Gibraltar – the only water passage between the Atlantic Ocean and the Mediterranean – and holds the status of being a British Overseas Territory with its own democratically elected government.
Gibraltar's independence means that it has developed its own self-sufficient energy network, and in much the same way as the majority of developed and developing nations are taking positive strides forward, it too has taken significant steps in introducing cleaner methods of generating power. One of the more significant projects to take place in this field has been the construction of a new liquefied natural gas (LNG) regasification terminal, which was completed in May 2019 by Shell and its 100 per cent owned subsidiary Gasnor. With the commencing of its activities that same month, Gibraltar is officially making the switch from dieselfuelled power generation to cleaner-burning natural gas, using a newly commissioned 80MW gas-fired power plant.
"Discussions between Shell and the government of Gibraltar formally began in 2014, with the expressed purpose revolving around updating and modernising the territory's power infrastructure, with the clear intent of establishing a cleaner, more environmentally acceptable and reliable power network," begins Shell's General Manager of LNG Market Development, Markus Hector. "Initially, plans had revolved around the construction of a small floating storage and regasification unit that would connect to the power station. What we did was identify a more effective, efficient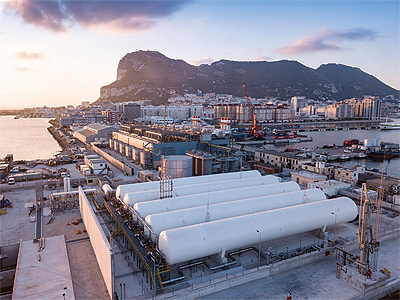 and cheaper alternative, which was to build a small-scale onshore LNG terminal, directly adjacent to the power station so as to allow for a seamless integration of their respective systems, while also ensuring extremely high reliability of delivery."
Construction of the terminal followed an LNG supply agreement being signed in 2016, with operation of the facility to be handled by Gasnor, which has more than 15 years of experience in small-scale LNG projects in north-west Europe. "While from a technical perspective this project was not massively complex, it was unique in that Gibraltar is a geographically constrained territory, where space comes at a premium, so this had to be taken into account during our ongoing considerations," Markus continues. "The finished project sees LNG vessels load into the terminal approximately twice a month, with the LNG stored in five double-walled stainless-steel tanks, each with a capacity of 1000 cubic metres. The burning of this natural gas results in a reduction in nitrous oxide emissions by some 85 per cent, a major decrease in CO2 emissions, and virtually eliminates the production of sulphur oxide and other particulate matter, greatly improving things like the air quality in what is a space-constrained community."
Delivering power
Understandably, Shell and Gasnor are incredibly proud to have completed the Gibraltar LNG Regasification Terminal Project, and Shell now hopes to replicate the approach taken here in other parts of world, where there is a need for cleaner, more reliable energy through similar LNG projects. "This project represented the first time that we have placed a small-scale supply chain into action to deliver power, and to have done so according to the planning parameters placed upon us by the government of Gibraltar is especially pleasing. In doing so, we have proven ourselves to not only them, but the rest of the world, that we are more than capable of advancing such energy systems," Markus declares. "We are also well aware that there are lots of customers around the world living in coastal communities that presently do not have access to LNG as a clearer burning fuel, and we want to transfer the lessons learnt in Gibraltar to bring this source of power generation to them in the future."
As a business, Shell believes it to be incredibly important to offer LNG as an alternative to those customers that are currently utilising diesel or other liquid fuels. As Markus goes on to add, there are also other potential uses that it can take advantage of. "In addition to the aforementioned ambitions, we are keen and committed to delivering LNG as a fuel to the transportation sector, particularly to large ships and carriers. In many ways, the engines of these vessels are similar to those that run the power station in Gibraltar, so the experiences we have had here will help us to develop our LNG offering in that direction."
Process of change
Today, Gibraltar's homes and businesses are benefiting from being powered by the reliable, cleaner energy that Shell's LNG Regasification Terminal Project has helped to create. Yet, as Markus reveals, the company hopes that a longer-term legacy can one day be traced back to its efforts here. "I believe that in five-to-ten years' time, we will see a number of other customers in both Europe and the wider world will have taken on board similar energy supply concepts – as well as other forms of renewable energy – in order to facilitate a more reliable supply to communities.
"With an ever-growing natural gas infrastructure likely to arise from this increase in demand, we also foresee an improved ability to bring LNG to market as a fuel source to marine vessel operators. We believe that we will see the rise of a flourishing energy system where ships use LNG as fuel, much as is the case today in the Strait of Gibraltar. Placing all of the above together leaves us with a powerful sense of pride that we have played a part in beginning a process of change that will ultimately create a more sustainable, cleaner energy future for the world."
Shell – Gasnor Gibraltar LNG Regasification Terminal Project
Products: LNG regasification terminal