Sherwin-Williams Protective and Marine Coatings
Covering new areas
With over 150 years of industry experience behind it and targeted coating solutions designed to meet client demand, Sherwin-Williams Protective and Marine Coatings is a leading authority in the delivery of groundbreaking technical performance in asset protection.
The company was originally founded as Leighs Paints by William and Joshua Leigh during 1860, just six years prior to the formation of Sherwin-Williams in Cleveland, Ohio. Based in Bolton, UK Leighs Paints operated as a family owned and run business producing the world-class FIRETEX range of passive fire protection (PFP) products amongst others, until it was acquired by Sherwin-Williams to become part of the Protective & Marine Coatings divison
within its Global Finishes Group during 2011.
Following this the company was given its current name of Sherwin-Williams Protective and Marine Coatings EMEA (SWPMC) as part of the process of integrating the Leighs brand into the wider Sherwin-Williams Group. "Leighs Paints was acquired for a number of reasons," says SWPMC EMEA managing director, Gordon Bell. "One of which was because it had some very strong brands, including the FIRETEX brand and the acquisition also gave Sherwin-Williams a footprint in the European market, which the company didn't originally have. In terms of the integration of Leighs into the wider business, this has gone very well. We started to integrate almost as soon as we joined Sherwin-Williams group in 2011 and successfully completed the move to adopt the Sherwin-Williams brand and to move away from the Leighs Paints brand in 2013. This was important because the protective coatings and marine industry is a truly global business and we wanted to adopt a global platform to match, and obviously the Sherwin-Williams brand was the mo t well known brand globally."
Today SWPMC EMEA employs a staff of around 260 out of a wider group total of over 36,000 throughout the Sherwin-Williams Group. In all, the group enjoys an annual turnover of $10 billion of which, the protective and marine coatings segment of the Global Finishes Group generates around $1 billion. The other three main divisions operating under the Sherwin-Williams umbrella are Paint Stores Group, Diversified Brands and the Latin American Coating Group. SWPMC focuses on the Europe, Middle East and Africa (EMEA) region and from its UK base generates a turnover of around £44 million ($74 million approx) and this figure continues to grow year-on-year.
"I think the biggest strengths of SWPMC come from the fact that Sherwin-Williams is a very much technology based company, and one of the main advantages is also one that is shared with the former Leighs Paints business, in that Sherwin-Williams is very much a customer focused business and driven on meeting the high expectations of its clients. It is a combination of firstly doing exactly what clients want us to do and secondly the process of developing 'leading-edge' technologies that is key for the company," says Gordon.
As such SWPMC regularly introduces new products and extensions to its existing product lines. One recent addition is the DURA-PLATE 301W, which is a low temperature curing, surface and humidity tolerant two-pack modified epoxy. DURA-PLATE 301W can be applied without dew point restrictions and over wet steel surfaces, while displaying excellent chemical and abrasion resistance and good edge-retentive properties. Furthermore it can be applied over steel prepared by hydroblasting, grit blasting or mechanical tooling. As an anticorrosive coating for long service life steel protection, it can be used for projects above the waterline and in submerged applications and is suitable for new building, conversion, repair and maintenance tasks to provide superior protecting performance in areas such as ballast tanks, void tanks, crude oil tanks, slop tanks, mud pits, wet spaces, bilges, decks, external hull and steel bridges.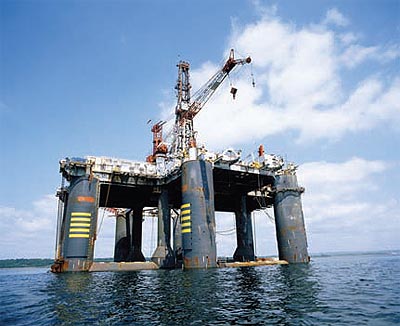 "DURA-PLATE 301W addresses the current need of non-productive painting time when dealing with offshore assets," explains regional marketing director – EMEA, Nick Ball.
"Traditionally when it is cold and damp and therefore moist, clients are unable to apply coatings to structures. However this product is moisture resistant and is also usable down to zero degrees Celsius, so it significantly widens the painting window for contractors. It is actually part of a wider line called DURA-PLATE 301 so 301W is probably best described as a product extension. This product has been widely used by Petrobras, which has been using the DURA-PLATE range for many years, and has used the new 301W extensively for newbuilds in Asia during last year. We are releasing this product to the European market in 2014 so for us that is quite exciting for our customers because, as far as we know, there is nothing else on the market that provides this type of window of extension for application."
Another important recently introduced product is the HEAT-FLEX HI-TEMP 1200, which represents the next generation single-component inert multipolymeric matrix coating that outperforms alternatives in combating corrosion under insulation (CUI) and in high heat applications. "This is an example of the leading technologies that SWPMC strives to deliver," observes Nick. "It is very much a next-generation corrosion and insulation product and there is nothing like it in Europe. Competitors are using older technology and this basically gives clients a lot more flexibility in terms of the product's durability when in use. It has market leading technical performance when it comes to corrosion, temperature and thermal shock resistance. It is very much an example of where Sherwin is trying to position itself in the market, as we are trying to give the customer a choice where I think the rest of the market is traditionally very mainstream. Sherwin is about finding what it is that is going to make a difference to the customer and bringing that into the marketplace."
During the coming years SWPMC will focus on continuing to develop new products and growing within the EMEA region. Having successfully integrated itself with the wider Sherwin-Williams brand, the company is in an extremely promising position to further define itself as a provider of leading-edge technology and world-class coating solutions.
Sherwin-Williams Protective and Marine Coatings
Services: Protective and marine coatings