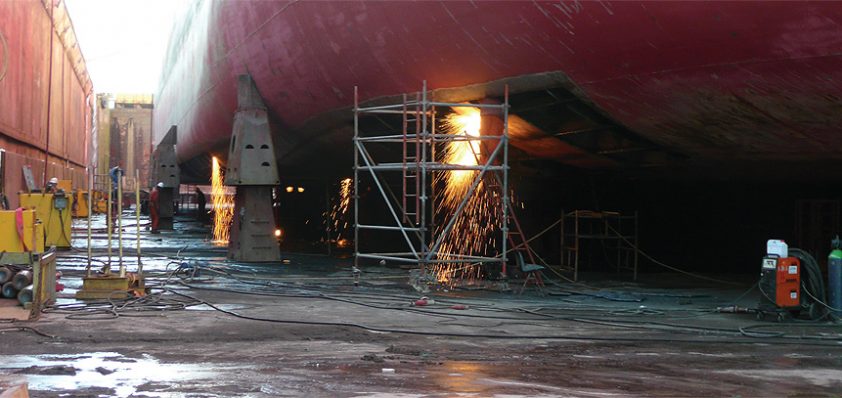 Going the extra yard
Shipdock BV owns and manages two repair yards in two of Europe's fastest growing harbours, providing a comprehensive range of ship repair and maintenance services across its four graving docks, a 4500 tonne ship lift and six repair berths.
The Amsterdam international facility was founded in 2005, whilst the Harlingen regional yard and Niron, a steel and machine shop based at the Amsterdam yard, joined the group in 2006. All three components of the group were existing companies facing liquidation and have gained strength from uniting. The organisation's biggest markets include the Netherlands, Belgium, the UK,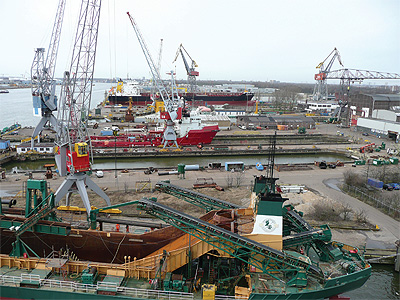 Norway, Germany, Japan and Hong Kong, while its main clients include offshore vessels, car and product carriers, fishing factory vessels, local ferries, container feeders and those in the dredging industry.
The company operates under the philosophy of 'going the extra yard' and as such its 100 dedicated employees are highly specialised in identifying problems and getting a clients vessel back on route in the swiftest time possible. Ruud Schumacher, director of Shipdock outlines the organisation's key strengths and capabilities: "We are competitive in that we run a flat and open organisation that is focussed on maximum service for the customer and we aim to hold long-term relationships with ship owners and operators. We have dedicated trained project teams that are able to provide clients with an up-to-date costing of the project throughout, as well as quality service. We have our own machine shop onsite, which enables us to conduct fast and cost effective steel repairs instantly. In addition, we hold many subcontracting services that include scaffolding, painting, electrical, carpenter and insulation workshops."
Shipdock continuously looks to improve the facilities and equipment it can offer in order to not only maintain a position at the forefront of the ship repair industry but to ensure the safety of staff and the environment. The professional activities of engineering works and dockyards carry risks but the management of Shipdock ensures that everyone involved is conscious of the risks and regulations concerning safety and conduct. All permanent or temporary employees, subcontractors and third parties hold an attitude of joint responsibility when it comes to the health and safety of themselves, others around them and the construction they are working on.
Earlier this year the company repaired a large amount of steel damage on a Japanese ship at the Amsterdam yard. The project involved 230 tonnes of bottom plating repairs taking six weeks and including all tank cleaning, painting and pressure testing. In addition Shipdock is about to embark on a refit on the Royal Netherlands Navy vessel the Hr.Ms.Zuiderkruis. In 2006 the company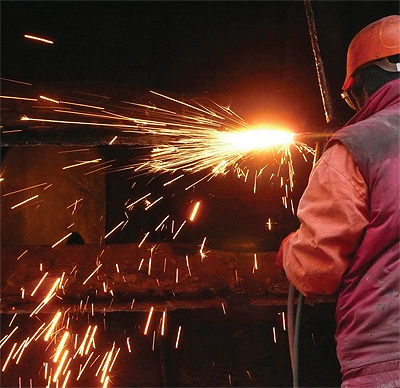 carried out successful repairs and maintenance on four navy vessels and this project involves initial work in the navy yard in Den Helder until July, at which time it will move to the Amsterdam yard for ten weeks completion.
The most interesting project at the moment is being carried out at the Harlingen yard and encompasses a conversion of a cargo vessel into a fish food carrier and is worth four million euros. Owned by Eidsvaag AS, the Eidsvaag Polaris is a 2440 dwt (deadweight tonnage), 82-metre long dry cargo vessel that will supply fish farms along the Norwegian coast once it is completed. The contract will involved taking a 12 metre section out of the vessel, shortening it and dividing it into 40 or 50 smaller holds each one of them containing different types of fish food. This is the first time the shipyard has been asked to carry out a fish food conversion and Shipdock will fabricate and install cargo silos in the hold, a stern thruster, pressurised discharging system and two generators taking a total of four months to finish.
Such large and lucrative contracts are becoming a mainstay for the company, which is of no surprise considering Shipdock's yard capacities go up to 85,000 dwt, 250 metres long and 90 tonnes of craneage, with floating craneage reaching up to 300 tonnes. Add to this the steel, pipe, machine, electric, carpenter and painting workshops and the organisation seems like a natural choice for an all-round package provision.
Despite the current economic crisis and the global implications it has on the offshore shipping and oil and gas industry, Shipdock is still experiencing strong order books and currently finds all of its docks and berths in use. Ruud outlines his future vision: "In the coming years we are hoping to consolidate our current position in the ship repair market whilst always looking for opportunities to expand our group and facilities. The management team is aiming to further improve our safety and service credentials by introducing ISO and VCA care systems over the coming months. We want to maintain a yard that is flexible, service-orientated and competitively priced."
Shipdock BV
Services: Ship repair and maintenance