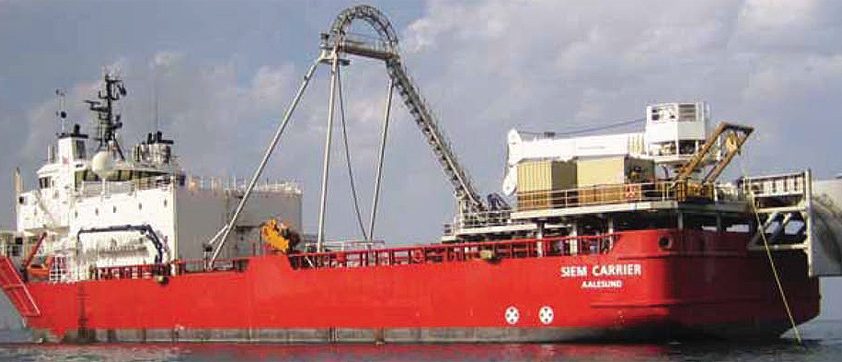 Siem Offshore Contractors
The specialist approach
Since September 2011, Siem Offshore Contractors (SOC) has been the new trading name of Five Oceans Service (FOS) – a subsea engineering and submarine cable installation specialist approaching a decade in the market.
This development was born out of a four-year relationship between the Siem Offshore Group and FOS, running the cable lay vessel 'Siem Carrier'.
Perry Balls, CEO of SOC explains how the acquisition came at a mutually beneficial time for both businesses: "Siem Offshore is undergoing an aggressive new build programme covering many different sectors of the offshore industry from platform supply vessels (PSVs) to anchor handling tug supply vessels (AHTSs) and multi-role support vessels (MRSVs) of all different tonnages. FOS, as it was, was looking for investors to help it move into markets other than oil and gas, namely renewable energy, and as such we began negotiations with Siem Offshore. The agreement was in place in March 2011, followed by the name change later in the year to bring us all under the same umbrella.
"The emphasis now is on entering the northwest European renewable energy market, where we are going to be investing quite heavily in the new resources to accommodate that market. In
particular Germany and the UK offer enormous potential, and we expect to see that roll out into other parts of Europe, such as France and Spain, with concerted renewable build programmes there as the economy begins to recover," he continues.
Having predominately operated in the Middle East and India in its former role, the acquisition has provided SOC with a strong foothold within Europe, and as such a new client base. In terms of the other advantages offered by the integration Perry comments: "Siem Offshore is a very active company with a wealth of knowledge in servicing the offshore sector, both as vessel owners and operators, but also as service contractors. This is not only in pipelines and cables, but general marine operations so this gives us more depth. The Group is also a Norwegian stock listed company, which brings with it all of the physical and financial support associated with that."
At the time of acquisition SOC also took some time to refocus its management positions in order to best take the business forward. This has been a crucial development, as although part of Siem Offshore, SOC remains an independent daughter company within the market. "What sets us apart now is our ability to internally resource everything, which will help us to meet client expectations price wise," highlights Perry. "There is definitely a market edge in having your own tonnage as you are not vulnerable to the fluctuations in charter rates. We also have a parent company that understands what we do having worked with us for the last few years, and this has reduced the challenges in terms of configuring equipment onto vessels.
"Of course we still retain the same leading track record for cable installation, and the associated activities around that, including engineering solutions, which is our traditional market. In terms of the renewable market, we are still involved in cables so what we do hasn't changed, the difference is in how we do it," he adds.
With over 90 per cent of SOC's business still being generated from the oil and gas industry though, the company has no intentions of stepping away from its activities within the Middle East and other regions. Combined with its in-house resources, SOC's experience in this market enables it to install, maintain, and repair submarine cables and subsea umbilicals in any water depth or geographical area. Many of these same skills in installing power cables have been transferrable to SOC's new foray into renewables. The markets do pose some clear differences in terms of access, and small foundations as opposed to the large oil and gas structures, but the installation and commissioning side remains almost identical to what the business has done for years before.
The last 18 months have been a challenge for many operating within the oil and gas market, but 2012 is showing signs of improvement in terms of tendering and opportunities for the years ahead. In particular SOC's continued targeting of the Middle East looks to pay dividends for the business.
Underneath the wing of Siem Offshore, Perry concludes with the next steps that SOC intends to take in capitalising on this traditional market: "As mentioned before there is a lot of experience within Siem Offshore in the oil and gas market, so there are certainly going to be additional services brought over to our side of the business based upon this. Without doubt we are bidding on more projects of a wider scope and service than previously, and are confident to be successful in some of these. We have also discussed a broader foray into the oil and gas sector in terms of different types of cabling, and other areas that are not to dissimilar to installing cables based on the strength of the Group as a whole and having the internal resources to accommodate that."
Siem Offshore Contractors (SOC)
Services: Subsea cables and umbilicals