Vessel mania
Siem Offshore Inc (Siem) is a relatively new company, yet it has made waves within the global market of vessel supply to the oil and gas service industries.
Siem became a stand-alone offshoot from Subsea 7 Inc in 2005, and aims to be a world-leading operator and supplier of high quality vessels to the oil and gas service industry. The company currently has a fleet of 38 vessels, 16 of which are still under construction, and are already in high demand. This clamour for Siem's vessels has developed from the committed service the company provides, an ethos that spreads throughout all itsemployees, both seafaring and shore-based. Siem's fleet includes platform supply vessels (PSV), multi-purpose ROV support vessels (MRSV), and anchor handling tug support vessels (AHTS), all of which service a variety of businesses.
Alongside the company's Norwegian offices in Kristiansand and Rovde, it has a Brazilian-based subsidiary in Siem Consub SA, which operates a fleet of 10 supply/crew vessels. The company also has a subsidiary, Siem WIS, which is dedicated to developing new technology within the area of managed pressure drilling and riserless intervention solutions, such as riser-less light well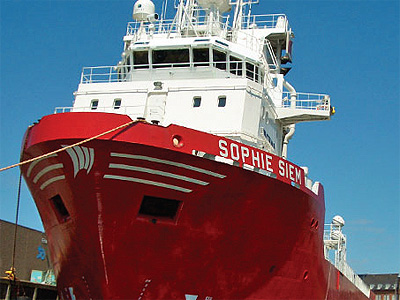 intervention systems and riser-less drilling systems, and is aiming at becoming a world leader in this area.
CEO Terje Sorensen outlines Siem's formation: "In 2005, the company had construction contracts for six mid-sized PSV at Norwegian yards, a subsidiary in Brazil with a fleet of ten vessels and part ownership of two specialised vessels. The strategy outlining its ambition was resolved, aimed at growth within the offshore support vessel market, focusing on PSV but also construction and AHTS vessels. Siem takes a pragmatic approach in pursuing it's ambition, believing that larger entities are better than smaller. Through this, economies of scale can be achieved, as well as a better product portfolio and market position."
After formulating a corporate strategy and ethos regarding the quality of its services, Siem targeted further expansion. Terje explains: "Within the last 18 months, the company has increased the fleet from an initial 19 vessels, to a total fleet of 38 vessels following total additional investments of approximately NOK seven billion. The fleet currently has 22 operational vessels, and 16 are still under construction. Within the fleet, there are 13 modern mid-size and large-size PSVs, four construction vessels, and eight large-size AHTS vessels. The company has options for further four AHTS vessels. The fleet of AHTS vessels will make Siem one of the largest owner and operator in the world of this type of vessel."
Siem's strategy is focused throughout the company on growing within the offshore support vessels market, collaborative growth with customers and the promotion of costefficient solutions. Terje elaborates on this ethos: "Siem also holds the ambition to become the preferred supplier of marine services in the oil and gas industry, based on quality and reliability of the company's services. This is an ambition held across the company, and is the focus of every employee. The company shall be reliable, trustworthy, and predictable, and it shall operate with quality in every task it undertakes. This applies to employees working on the vessels and in the office – everyone acts as an ambassador for the company. Siem utilises the experience within its management to develop cost efficient solutions, so that it not only supplies vessels, but also tailored services for customers."
Terje expands on what he believes separates the company from its competitors: "Many of Siem's vessels deliver standard services comparable with other ventures, but the company prides itself on delivering furtherquality features as part of its service." Siem also provides innovative solutions with its vessels: "The company has shown that PSV can offer sophisticated solutions for customers requiring ROV services, where they may normally opt for a larger vessel, and Siem's vessels have also delivered trenching services, again where clients have previously used larger vessels. Many of the large PSV can be used as construction, cable and diving support vessels. Siem is also utilising a large PSV to provide a mini FPSO for a client, all of which demonstrates accumulated knowledge for the company developed by working with the clients."
Collaboratively working with customers, as well as paying attention to the demands of the market, has aided the expansion of the company, as Terje is keen to point out: "Working closely alongside customers is the most fruitful approach. Siem has four construction vessels under development, two of which are already chartered, which reflects the demands of the market. The other aspect of the company's development is in large anchor handlers, which is Siem's largest investment. I am very pleased with the design and the capabilities of the AHTS vessels being built for the company.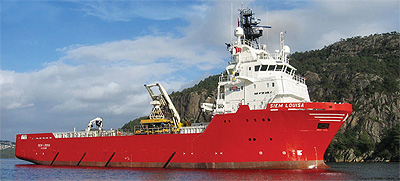 These vessels offer great safety in the operation, and to the crew."
The company employs 600 people overall, 470 of which work at sea. Terje comments on the growth of the company, and its expansion into technological development: "Siem started as a small company, and has now reached a market capital value of approximately 3.5 billion NOK."
Currently, the subsidiary Siem WIS has introduced no products into the market, but it does have the patents for three potentially innovative solutions, which will enable cost-efficient, and safer managed pressure drilling and well intervention services. Yet, it is Siem's construction of new vessels that is causing the most excitement within the market at the moment. Terje states: "The building programme will be completed in 2010, and in its final stage of completion, the fleet will consist of 25 top, modern PSV, MRSV and AHTS vessels. Siem has had a large degree of interest shown in regards to the development of its AHTS vessels, and the safety and capability provided by the ships is noted by clients, as well as offshore personnel."
Demand within the market has encouraged confident business manoeuvres within the company, as Terje explains: "Recently, the company announced that it had acquired a largesize PSV, which will be delivered this summer, for 280 million NOK. This is a high price to pay considering it cost 160 million NOK when it was built eight years ago. However, this purchase reflects the ambition and opportunities foreseen by the company. The 1999 'Stril Supplier' PSV acquired from Simon Møkster Rederi AS is based on the MT6000 design, and will be renamed 'Siem Supplier'. Also, the company has acquired a shipbuilding contract for a mid-sized PSV to be delivered in April 2008, as Siem constantly finds its vessel services in high demand."
Terje is keen to emphasise how far the company has developed over the past two years: "Siem started as a small company, taking on a lot of vessel investments, giving the company huge financial exposure. Now, the market has improved, and the company has acted on opportunities to charter out several of its vessels on long-term contracts at attractive levels. Over the last 12 months, Siem has secured a significant number of long-term contracts for operating vessels, as well as vessels that are still under construction."
Terje concludes: "Siem constantly finds its vessel services in high demand. The company has made a strategic move in investing in the segment of large-size AHTS vessels. These AHTS vessels have 28,000 BHP and are capable of a 300-tonne bollard pull, low fuel consumption and low emissions, and offer good stability with the beam of 22 meters. I believe that the future will bring an increased number of requirements for long-term contracts of modern large-size AHTS vessels as clients become aware of the superior safety such vessels provide for deep water operations and the improved environmental features being offered. The market looks optimistic and full of potential for the company," he concludes.
Siem Offshore
Industry: Owner and operator of vessels for the oil and gas service industries