Siemens Industry Automation and Drive Technologies
Commercialising innovation
Globally, Siemens turns over 75 billion euros supplying technology to many sectors. In the UK Siemens has had a presence for over 170 years and invests significant amounts of money into its UK operations.
Today the Industry Automation and Drive Technologies (IA&DT) division has integrated itself deep into the oil and gas field; with the development of electronic solutions replacing outdated hydraulic methods. European Oil and Gas spoke to divisional director Andrew Peters about the impact it is making on the industry: "We have to be sure that the electric control solutions we provide are robust and reliable. The operatives within the industry are used to the operations with hydraulics and if something goes wrong, they know how to fix it. So we need to be sure that our remote diagnostic and training is of a very high standard but the value gained in the transition from hydraulic to electric far outweighs the challenge so we are working in that direction."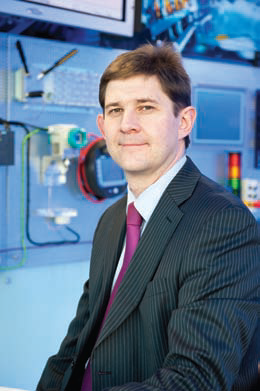 Siemens supplies its large drive motors to a number of international companies, but also has a broad spectrum of customers who rely on its products. Subsea 7 and Divex vessels are operating throughout the oil and gas industry using Siemens technology. Its integrated drive system is also supplied to other industries. Faced with the task of incorporating new technology into the industry it has established SITRAIN, a training centre in Manchester running courses that provide learning solutions for the complete spectrum of automation requirements. "We see a lot of oil and gas companies at our facility every year. We provide them with in-depth training about our products and technologies and this is really valuable for the industry," explains Andrew.
Looking towards the future of manufacturing in the UK, Siemens is involved in the Government Catapult Programme, focused at bringing industry and academia together. The technology and innovation centres are where the very best of the UK's businesses, scientists and engineers can work with one another on research and development (R&D) transforming innovative ideas into products and services. Recognising the importance of commercialising innovation, the aim is to adopt, develop and exploit innovative products and technologies to accelerate economic growth.
Alongside developing products, Andrew highlights Siemens' strategy towards bringing talent into the industry: "We are part of theE3 power academy offering sponsorship to undergraduate students studying electrical(energy) engineering at universities. Manufacturing is demanding around 7500graduates each year, but only 2000 are coming through." It is not just graduates that the company is looking to. Siemens has a history of development through its ranks explains Andrew: "We have our own apprenticeship scheme, and we are also looking to younger generations to support the sector."
Following the birth of the University Technical College programme Siemens is involved in helping to customise courses at centres in Walsall, Wigan and Sheffield to equip students aged 14-16 with the technical knowledge to support a future career. Shedding light on this Andrew says: "The pupils are coming out from school vocationally trained and competent, with significant exposure to the high value manufacturing industry. We are working to overcome the misconception that manufacturing is a dirty industry and we are bringing in new talent."
Focusing on the current climate Andrew indicates the future looks good: "The oil and gas industry has been very buoyant in the last 18 months and manufacturing in the UK is doing quite well. The UK is currently at the point where businesses are upgrading equipment to ensure they continue to offer their customers reliability. It is important that we understand the customers' needs and work back to develop a solution that adds value."
By working with partners Andrew sees positive opportunities developing: "Of course fossil fuels have a finite life, and we are witnessing a rebalancing towards renewables." Siemens has been engaged in the UK renewables market from the early stages and its portfolio includes products and services for major wind farm developments, including the world's largest, recently commissioned London Array Offshore Wind Farm, as well as major projects in development and construction. Siemens drive technology is also being implemented on wind farms in the Hornsea zone off the UK's Yorkshire coast. "There is a development of hydropower in Scotland and research is going into its development, so we are ensuring we stay aware of these developments," says Andrew.
"The companies that we work with in the oil and gas industry all have the capacity to branch into the renewable sectors. However, their focus for the next period is predominately on oil and gas and can help this market become more energy efficient and improve too," he continues. Siemens is currently working on an important project with Maritime Developments Ltd supplying tensioning and winching equipment for Subsea 7 projects throughout the world.
Summarising Andrew says: "The challenge for the UK is deciding on what steps to take and when. We are faced with rising energy bills, and inevitably fuels will run out, so the move to renewable energies will have to be undertaken at some point and our equipment is ready for it."
Siemens Industry Automation and Drive Technologies
Services: Automation and drive technology