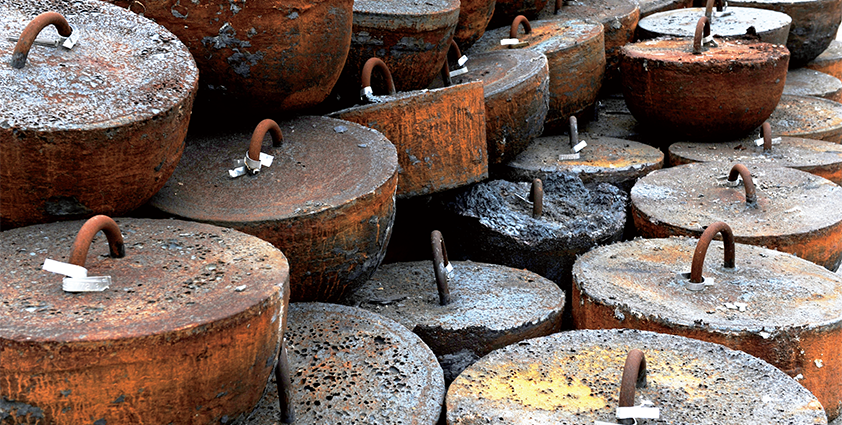 Siempelkamp Nukleartechnik
Broad vision
German company Siempelkamp Nukleartechnik operates as part of the Siempelkamp Group, which offers a variety of services and products to the mechanical and plant engineering, nuclear technology and foundry markets.
Its role within the group is to provide an extensive range of solutions for the service lifetime of nuclear facilities, including engineering and components for refitting and retrofitting or dismantling and decommissioning nuclear facilities. Over the past ten years, however, the company has expanded its portfolio significantly and, today, its offerings extend into the oil and gas industry as well.
Ulrich Quade, vice president of recycling at Siempelkamp Nukleartechnik explains how the company has expanded its horizons in recent years: "We have been running a melting plant here in Germany for the melting of radioactive contaminated steel scrap from the nuclear business since 1989. Our experience in dealing with such hazardous materials was then called upon in the early 1990s by companies in the oil and gas sector which wanted to ensure that their scrap was fully decontaminated before they sold it on for recycling.
"Our duty was to ensure that not only the naturally acquired radioactivity, but also the other toxic contamination such as mercury, lead and remaining oils were completely eliminated. Of course, this required a significant investment on our part at the time in terms of new filter technology. After extensive research and development, we eventually developed a specially modified melting shop in 1998."
This facility, labelled GERTA, is a large-scale installation for the recycling of toxic waste. It is licensed as a melting plant for the treatment of mercury contaminated metals with up to one per cent weight share of mercury and, over the duration of its existence, the facility has been responsible for decontaminating approximately 19,000 tonnes of steel from mercury and other hazardous materials before returning it to the market as a secondary raw material.
Siempelkamp Nukleartechnik is currently working on a major project with Nederlandse Aardolie Maatschappij (NAM). The company is the largest natural gas producer in the Netherlands, having been in operation since the late 1940s. NAM, which is currently owned by both ExxonMobil and Shell, is today responsible for supplying 75 per cent of the Dutch market with natural gas.
The project that Siempelkamp Nukleartechnik is working on with NAM is known as the Groningen Long Term, or GLT. This modernisation venture is the largest in the history of NAM and it comprises the modification of 29 gas production sites on the Groningen field. These facilities will be converted to pressurised production sites and will allow NAM to continue its gas extraction on the field for another thirty years.
In order to ensure the installation of these new facilities, all the old sites have to first be dismantled completely – and this is where Siempelkamp Nukleartechnik becomes involved. Ulrich highlights where his company's role lies: "We have been contracted by NAM to manage all of the mercury contaminated scrap and components that are produced from the site. Our work here started in 2001 and, between then and 2009, we managed more than the vast proportion of the mercury contaminated steel scrap that was created.
"Our GERTA facility would cut these components into smaller pieces to be placed in a bunker for safe storage. The next step would be to melt them down before removing all of the mercury via our filtering systems, and then disposing of it in an underground depository. Once the steel is completely free of any contamination, it can then be sold on to the recycling market. This project has been a great success and NAM was pleased to work with a contractor that possesses the levels of experience we have in decontamination."
With the number of decommissioning projects underway within the North Sea oil and gas sector at present, Ulrich believes that there is significant potential for his company to grow. He elaborates: "We are offering our services to a lot of Western European companies and I certainly believe that there will be a steady rise in activity when it comes to decommissioning in this area. At present, our goal is to look for partnerships with dismantling companies in the region in order to continue our expansion into the oil and gas industry."
Ulrich is also pleased with the way his company has fared throughout the financial crisis of the past two years. He highlights: "We were fortunate in that there wasn't a huge influence upon our business, both in our oil and gas and nuclear operations. The main reason for this is because, if a company such as NAM planned to invest in new extraction facilities, then the project would run regardless. In fact, in NAM's case, the project was actually accelerated. Overall, we were happy to have survived the recession relatively unscathed."
With this in mind, Ulrich remains positive about the future prospects of Siempelkamp Nukleartechnik: "Of course, the main question in mind when planning our future strategy is whether or not the decommissioning will take place on the same scale. Fortunately, the diversified nature of the business protects us somewhat, as we have a very strong foothold within the nuclear industry already. We are a healthy company with a turnover of more than 100 million euros a year, and our oil and gas activities only represent a small part of that today. Through GERTA, we hope to continue expanding into this growing sector whilst simultaneously developing our nuclear-based activities worldwide."
Siempelkamp Nukleartechnik
Services: Scrap metal decontamination