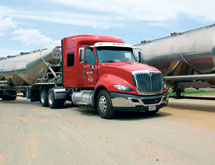 When people start new business ventures, they often have experience in that company's field. But owner and President Kim R. Smith has proven it is possible to successfully create a company with no previous experience, as he has with Sierra Frac Sand.
Smith founded the Tatum, Texas-based frac sand company in 2008, after working in the timber business for 25 years. When the logging market experienced a decline, he sought a new venture. "He decided we needed to get into something energy related," Plant Operations Manager Cody Baker recalls.
Smith chose frac sand after realizing that he owned a rail spur being leased from a large sand company bringing in frac sand. An Oklahoma-based pressure pumping company approached him about the high demand for premium northern sandstone. Being the owner of his own planes and a trained pilot, he and Baker began making weekly trips to Wisconsin and Minnesota on the hunt for this prized commodity.
Hurricane Gustave was the culprit that forced him around the storm and caused him to run low of fuel. Headed for Eau Claire, Wis., he changed his flight plan and chose to land in Winona, Minn. "At the end of the runway were sand aggregate operations," Baker recalls.
Late for a meeting in Nelson, Wis., Smith stopped in and approached the manager of the quarry and asked questions about locating high-quality sandstone for the use of hydraulic fracturing purposes. The office staff was accommodating in doing so.
Learning the Industry
When Baker joined Sierra Frac Sand, he and Smith had plenty of work to do. "Smith tested sand from the tip of Florida all the way to Texas, discovering there is no frac sand along the gulf," Baker recalls.
While Smith tested various sand types, Baker sought to expand his knowledge of frac sand. He went and trained at a third-party testing firm called PropTester Inc., a Houston-based laboratory that researches and tests products used in hydraulic fracturing operations. "They taught me the procedures of how to basically qualify a sand source as frac sand," he recalls.
Today, "I'm very confident in my knowledge to recognize characteristics of frac sand and how to produce it efficiently and quickly," he says.
Sierra Frac Sand's staff was simply made up of employees who moved from working for Smith's logging company. "Kim would always hire a logger because he knew of their diverse skills and good work ethic," Baker says, that made them good candidates. Skills included life experiences, driving a truck, welding, common sense thinking, willingness, determination and good, old Southern ingenuity.
Sierra Frac Sand also chose a vacant 453,000-square-foot warehouse near Tatum as its processing facility, giving it one of the largest locations in the state. "[It] was perfect for our strategy and vision of what we wanted," he says. It was a very simple and less costly approach compared to other traditional ways of thinking in this industry.
Already, Baker says, Smith's bet with Sierra Frac Sand has paid off. The company's client base includes all the major service companies down to very small startup companies. Other clients include universities, research centers, government agencies and power plants in Texas. Sierra Frac Sand also has a broad reach, and has served customers in Texas, Louisiana, Oklahoma, Arkansas, New Mexico, Kansas, North Dakota and Pennsylvania, Baker says.
Currently, the company has sand mines in Minnesota, Wisconsin, Louisiana and Texas, and two processing locations in Texas with a third under construction near Gonzales, Texas. Baker declares, noting that a fourth is in the future plans being located in Winona. "We can process any mesh size requested."
Beyond Sand
Sierra Frac Sand has diversified beyond its namesake business, which includes manufacturing liquid gel concentrate. The product is used in most hydraulic fracturing operations serving as a suspension aid and carrier for sand products down the well bore, Baker explains.
Sierra Frac Sand began manufacturing it, he explains, after a valued customer told the company that it would not be able to continue to buy the sand without gel. After taking immediate action, that customer continues to buy both from Sierra Frac Sand.
Sierra Frac Sand has developed a system and offers clean air dust collection services that are used during the movement of silica sand on job locations to stop silica dust exposure. This system helps clients to stay in compliance with EPA and OSHA regulated clean air standards, Baker says.
"It's a fairly new concept and improvements continue to be made," he says, noting that the company has offered the units for the last five months. Many companies are reluctant to try the system until made mandatory. Sierra Frac Sand intends to offer the service for a minimal cost for those purchasing its sand products. It is also available for companies requiring only the clean air system services.
A Key Player
Baker has worked alongside Smith for nearly 10 years. Originally, he began working for Smith's logging company for five years as a procurement forester after graduating from college with a BS degree in Forestry. There are many that play key roles in the development and success of Sierra Frac Sand.
He notes that he immediately was willing to make the transition from timber to sand. "I just went and told him that if he wanted to do the sand company, I would help him do whatever I could," Baker recalls. "There are few decisions made or business trips that I'm not involved with."
Going Against Tradition
Sierra Frac Sand has set itself apart from its competitors by doing things differently, Baker says. "We don't have the traditional sand plant like most of the big companies," he says.
While many frac sand manufacturers use automated, continuous systems during sand production operations, Sierra Frac Sand does not. If one machine is down during the continuous process, Baker explains, all others would as well, resulting in unnecessary downtime.
"As our processes run, all machines are separate units," he continues. "If one goes down, [the others] continue to be productive."
He adds that this philosophy of doing things differently goes back to Sierra Frac Sand's start. When it started operations, the company became the first in the country to send raw, unprocessed sand from Minnesota to Texas by rail and initially by truck.
"It also was a lower capital investment compared to the traditional sand plant," he says. "This way we could generate revenue to pay for the permitting process and advanced equipment for a more sophisticated solution."
Sierra Pride
Baker is proud of how Smith has built Sierra Frac Sand. "He's the one that put it all together," Baker says, noting that Smith has built the company using his personal funding rather than taking on mounds of debt. Sierra operates solely on cash flow and that has been Smith's philosophy throughout his career.
Baker sees growth ahead for Sierra Frac Sand. "We're going to grow where the markets provide the most potential," he says, adding that the firm has plans on constructing a new facility in Winona. "This will allow us to be more diverse in the marketplace and be able to compete with the larger companies."