Silicone Solutions
Silicone Engineering was established in 1959 as a manufacturer dedicated solely to the production of silicone rubber products.
Today, it maintains those same values, producing the product in sheet, rolls, extrusion and moulded form. Drawing on over 55 years' experience, the business has the ability to formulate silicone formulas to specific industry requirements, satisfying the toughest specifications and standards.
"We separate ourselves from the competition by providing solutions to today's industrial applications and pride ourselves on working closely with customers and channel partners to understand their exact requirements. With a state-of-the-art laboratory combined with industry leading mixing facilities, customers benefit from high quality, fully traceable materials that can be processed and delivered in very short lead time," says Simon Holmes, marketing manager.
Being one of the largest consumers of Heat Cured Rubber (HCR) silicone in Europe, processing in excess of 2000 tonnes per annum, Silicone Engineering has gained an international reputation for providing the best quality silicone sheets, rolls and extrusions in both solid, closed cell sponge and reinforced fabric ranges. "The amount of silicone we consume also allows us to be very competitive on price, giving us great economies of scale. Our materials are generally applied in the outer construction of oil and gas pipelines. Due to silicone's extreme temperature resistance, typically running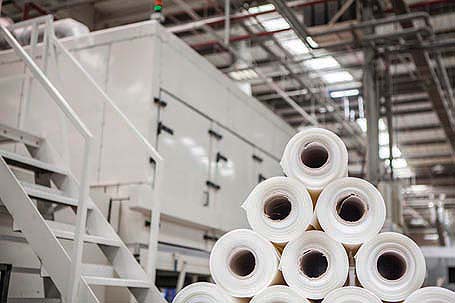 from 250°C to -60°C (482°F to -76°F), it can be used to protect oil and gas pipelines that run through extreme environments," explains Simon.
Silicone Engineering's products are continuously meeting challenges and helping transform the industry and its applications, and one such product is the solid silicone rubber. The silicone acts as a protector between the pipe and the pipe brackets that hold the pipeline in place. "The silicone sheet gets adhered to the bottom of the pipe bracket and allows the pipe to sit in place without any metal on metal contact. If this occurred, any movement or abrasion between the pipe and the bracket could cause damage and cracks to develop in the pipeline. The benefit of using silicone for this application is mainly for its temperature resistance at low and high temperatures."
Another advantage of silicone, especially silicone sponge, is its insulation properties. Again, due to the harsh environments where the pipelines are situated, silicone can be used around the outside of the pipe to provide insulation and protection from the environment. With excellent weather resistance properties, silicone is resistant to UV, Ozone, oxidation, corona discharge, and cosmic and ionising radiation.
As a silicone elastomer manufacturer actively doing business within the oil and gas arena in Northern Europe, Russia and Canada, the company has seen great potential within the market for its specialist materials. "Business as a whole has been very positive for the last seven years. We have seen consistent growth year on year and emerging market sectors such as oil and gas and rail have been very successful in recent years," highlights Simon. As demand for both natural resources and speed in extracting these resources grows, silicone as a material comes into its own. "Higher performance, as a rule of thumb, generates high heat at the source. Silicone will most certainly be used where sealing is needed under high temperatures. This is where we see potential going forward with the ability to formulate silicones to suit varying performance requirements and environments.
"One challenge to the oil market in particular, is the fact that silicone has poor performance when in direct contact with oil/petroleum. However, there are many application requirements for silicone in the industry that do not have contact with oil or gas, with one example being silicone sheeting used on the outside of the pipelines. This is where we have seen great demand for our products," he continues. Fluorosilicone is a material that can be used in direct contact with oil/ petroleum, however the premium of this elastomer is very high.
From its laboratory, technical engineers are able to create silicone formulations in house, with full control of the process. By working closely with clients, understanding their problems and requirements the company successfully helps develop a perfect silicone to serve that purpose. "With over five decades of experience solely in silicone, our team of experts can advise on performance, ensuring a silicone solution is provided," points out Simon. "We have a vast range of formulations such as low smoke, low toxicity grade – used heavily in the rail industry and developed after the Kings Cross rail disaster, high temperature grade (250°C), and neutraSil – our antimicrobial grade used in the food, beverage and medical industries," he adds.
The business is investing heavily into state-of-the-art processing equipment to ensure it can continue to produce the highest quality silicone rubber in the marketplace. Combined with investment into staff through training and expansion of departments, it continues to search for new applications of silicone in emerging sectors to expand its reach. "Working with innovative channel partners and industry leaders, our vision is to be the silicone partner and market brand of choice internationally. With over 65 per cent export figures and selling into 44 different countries we are already in a great position to build on this vision. In essence, Silicone Engineering is not just a silicone manufacturer that makes and sells silicone, instead we develop solutions and material innovations for industry leaders to transform their sector," concludes Simon.
Silicone Engineering Ltd
Services: Silicone rubber manufacturer