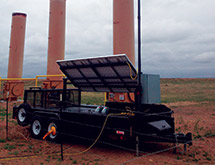 It's a family affair at Silverline Services, a growing oil field services company specializing in construction, automation and manufacturing. The company was founded by Curtis Elworthy, who learned the oil business from his father, Shawn. "I was born and raised in the oilfield," Elworthy says.
Elworthy started Silverline Services in 2001 with the help of a $15,000 loan from his father. Nearly a decade later, his dad became a partner and one of his son's closest confidants. "I've really enjoyed working with him," Elworthy says. "He really helps out the team."
While in business school, Elworthy was advised to avoid mixing family and business. He has rejected that counsel on more than one occasion, deciding instead to hire family and friends as his closest advisers.
His sister, Micki Hawkins, is the company's vice president of administration, while a friend, Chad Myers, is vice president of operations. "The people I trust are my family and friends," Elworthy says.
Silverline Services, based in Windsor, Colo., employs approximately 70 people and provides myriad services to clients in Wyoming, Utah, Colorado, New Mexico and North Dakota. The company recently began expansion into West Virginia, Ohio and Pennsylvania and is considering a move into Texas.
'A lot of fun'
Elworthy started working in the oil industry nearly two decades ago to help pay for his involvement in motocross racing. "I had a lot of fun with it," says Elworthy, who raced professionally in the Colorado area.
Elworthy worked for two years on a wireline truck before laboring on various oil rigs. The jobs paid the bills, but he wasn't particularly satisfied. "I was working 80 hours and really didn't have much of a life," Elworthy recalls.
He took a variety of business classes, and in 2001 launched Silverline Services using his father's loan to purchase his first piece of equipment. "The best way to learn a business is to start one," Elworthy says. "A pressure washer and a few handshakes was all I had at the beginning."
But the relationships Elworthy built during the early years eventually paid off. Silverline Services grew quickly, and later expanding into the automation side of the oil industry by providing instrument and electrical services.
Significant Step
Two years ago, the company took a significant step when it developed customizable compressor enclosures. The enclosures are designed for quick installation, thereby reducing production delays.
The modularly built-out enclosures can be designed to accommodate the varying needs at oil fields and represent about 25 percent of Silverline Services' annual sales, Elworthy says.
Silverline Services invented the patent-pending enclosures, which were designed in response to a client's need for a shelter suitable to protect equipment from the elements. "The enclosures are predominately for heat retention in the compressor to keep them from freezing and can be opened up in warm weather," Elworthy says."They replace a building, which can have overheating issues because it can't be opened. The enclosures also eliminate the need for companies to have a building permit on location because the enclosure is attached to the compressor.
Previously, companies erected tarps, which were inefficient. The enclosures are designed to handle varying elements and allow workers to adjust and maintain the temperature while having adequate ventilation to reduce the risk of gas build up, Elworthy says.
The company has sold hundreds of compressor enclosures, and plans to double its sales in Ohio, West Virginia and Pennsylvania, which currently represent five percent of business, Elworthy says.
Silverline Services has marketed the enclosures at trade shows and gained exposure from people who notice them as they drive by oilfields.
"This is something that people say they always needed but didn't know they needed it," Elworthy says. The enclosures are not the only product driving Silverline Services' growth.
The company also provides full-line automation services, including manufacturing of solar racks and communications towers. Hydrostatic and pneumatic integrity testing, instrumentation and construction along with custom fabrication are among the company's other offerings.
Customer service and experience set Silverline Services apart from its competitors and will lead to growth in new markets. "Our commitment to excellence continues to set us apart as a leader in the industry," Elworthy says.
Elworthy said he is most proud of the company's dedication to safety. In fact, safety is the company's top core value along with execution, opportunity, optimism and integrity, he says.
"We built our safety program from the ground up," Elworthy says. Rather than hire a safety consultant, Silverline Services developed its program to include advice and input from clients and safety regulators. "We continue to adapt our safety plan as the industry needs change," he says. "The safety of our employees is our No. 1 priority."
Silverline Services reinforces its dedication to safety by holding monthly safety meetings attended by employees and clients. It also adopted a GPS asset tracking and monitoring system for its fleet that monitors drivers' performance, including hard braking, rapid starts and speeding. Drivers who avoid those infractions are given monetary prizes at the safety meetings, Elworthy says.
"We have guys with 100 percent ratings, which is very hard to do," he says. The average score is a 98.6, he says.
Safety is promoted companywide from the facilities to the field "It is our business," Elworthy says. In fact, the company surpassed the safety standards outlined by ISNworld, an organization that maintains safety information on contractors and suppliers. "Exceeding the highest safety standards is our goal," Elworthy says. The safety program includes a hazard ID program, which encourages employees to identify and report to their supervisors.