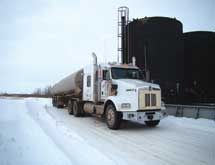 Silverman Oilfield Services
Oil and water usually do not mix, but in the business plan of Silverman Oilfield Services, they do – hauling the water and oil away from oilfields is the company's business. "Water is just a byproduct of pumping wells," President Ivan Wiens says. "Water and oil come up at the same time depending on the in-flow rates, which will determine the percentage of oil or water. Good wells will produce anywhere from upwards of 70 percent oil and 30 percent water, but as the wells get older and the zone gets depleted, the reverse ratios can happen.
"When the oil comes out of the ground, it will be 15 degrees Celsius," he explains. "The oil is mixed with water and sand, so when they heat it up, those three elements separate. Then you have to get rid of each one differently. The water gets sent to the disposal facility and pumped back down into the formation. The oil goes from the well site to a battery terminal or a pipeline facility, and as for the sand, we do not touch it."
Sometimes the water and oil go to the same location and sometimes to different places. Typically, the water may be trucked within a 1- to 15-mile radius of its wellhead, and the oil may be transported anywhere within a 30- to 75-mile radius. The firm works within a 100-mile radius of Neilburg, Saskatchewan.
Keep on Trucking
Keeping the company's trucks rolling is the responsibility of Bryan Wiens, equipment and parts service manager. The company has a fleet of 65 tanker trailers and 22 semitractors to pull them. The company also hires up to 44 independent subcontractors and their semitractors to move the trailers.
The advantage to using subcontractors, according to Wiens, is the reduced capital expense and not having to find and hire as many truck drivers.
"It does give us some flexibility," concedes Brent Wiens, public relations and human resources manager.
Silverman Oilfield Services has three full-time mechanics – two at the company's headquarters in Neilburg and one at its Lloydminster location.
A concern is the roughness of the roads and the strain that puts on semitractors. Many oilfields are located in pasture land or the middle of a prairie.
"Some oil companies build better roads than others," Brent Wiens admits.
Getting Tired
"The amount of tires we have on the road is always a big expense, and managing that cost is always big, especially in the terrain that we run in," Bryan Wiens stresses. "It's also some of the environments that these tires are running in, such as salt water and sharp rocks, which cut the rubber and then allow the salt water to get into the tire and start rusting the steel cords. Lots of short turns also are some of the challenges that are faced in this industry when it comes to tires."
Those challenges also affect the trucks themselves. "They put on lots of engine hours, but generally they don't put on a lot of miles," Bryan Wiens explains.The reason for the high engine hours is that the gear pump that pumps the fluids in and out of the tanker runs off the engine. "There's just about one hour in engine time for them to do their load, and we have some trucks doing infield water hauls," Bryan Wiens notes. "They'll do 10 to 14 loads in a day. They might only put on 100 to 150 miles, but that truck will be running all day."