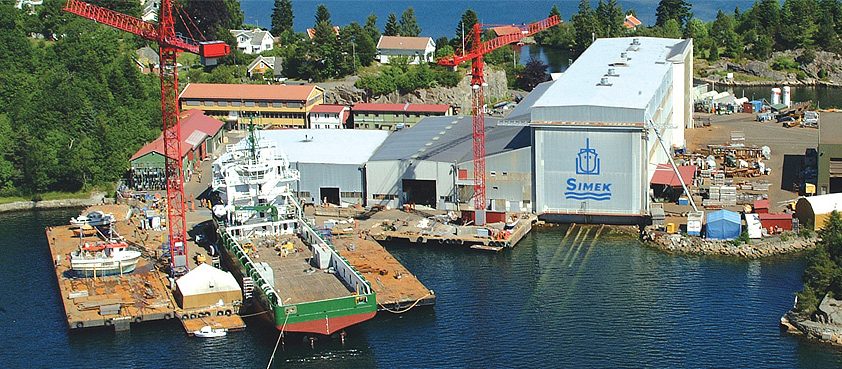 The yard stick
Located three kilometres from the town centre of Flekketfjord, Simek AS was established in 1967 by Sigbjørn Iversen.
Initially starting out with fishing vessels, it wasn't long before Simek began to focus more of its attention on the offshore and oil industry, building vessels like anchor handlers and platform supply
vessels (PSVs). Since its foundation, the company has undergone continuous development. Today it is a modern, well-equipped shipyard that has delivered 110 vessels to date, and will continue to deliver three to four vessels per year.
Speaking to European Oil & Gas, Øyvind Iversen, the managing director of Simek AS elaborates further on the production process involved: "When the blocks arrive at our yard, we start working on then, for example, by adding more pipes, ladders or foundation, if needed, which is then followed by blasting and painting the vessel before it is erected. When the paint programme is 100 per cent completed, the vessel is launched and within two to three months it will be delivered to the client.
"Under normal circumstances, it would take approximately 12 to 15 months from when a contract is signed to when delivery takes place but in today's world it is a very different scenario. There are practically no yards available that are able to deliver before 2009 – a somewhat longer perspective of two to three years. This is no reflection of our inability to deliver fast but simply because we are fully booked. Another reason, which is out of our hands, is that subsuppliers of equipment such as engines, winches and gearboxes also have long delivery times."
He continues: "We do not provide our own designs but instead rely on design officers like Rolls Royce though our engineers will cooperate with these officers to further improve details, for example if a pipe system should have another route. Our engineers and technicians are able to do so because most of them have had a number of years' experience working directly in production. We have recruited a number of our craftsmen and sent them to further educate themselves, which adds to the benefit that we are able to offer our clients. In terms of construction, they are able to advise how something should work or be, and because a company tends to retain a vessel for approximately 20 years, our engineers and technicians are able to offer excellent solutions on how best to carry out the maintenance."
Specialising in state-of-the-art offshore vessels, Simek's production capabilities give it the edge it needs in the marketplace. Øyvind is keen to highlight the company's key strength, which sets it apart from its competitors: "Nine out of ten Norwegian yards will import a floating hull and complete the vessel along the quay. We import blocks mainly from Poland, which are then assembled and fitted out in a heated construction hall measuring 96 x 20 metres, enabling us to build vessels up to approximately 90 metres long and 19 metres along the beam. Carrying out blasting and painting in an environment where we are able to control the humidity and temperature gives us the extra added value in quality. I am by no means insinuating that other shipyards do not deliver vessels to a high quality, but we are able to have the same conditions regardless if it's May or December – so quality wise we can almost guarantee an identical level from vessel to vessel."
Working predominantly with Norwegian operators including Rem Offshore and Farstad Shipping, Simek's client base also incorporates overseas companies like Maersk and Gulfmark. Its recent developments are the 712-anchor handler for Farstad Shipping, a 755 vessel for a Norwegian company, Myklebusthaug Offshore, followed by another 755 for the Caspian Sea that was delivered to a British company, BUE. Simek currently has seven projects in its order book, five of which are for Norwegian operators, with one fishing vessel for a Scottish fisherman and one PSV for an Italian shipping company. Øyvind comments on the industry's future: "The world is moving forward and I believe this will lead to a massive increase in the demand of anything involving energy. Simultaneously, bigger oil companies like Shell and BP have reduced expected resources, which will only lead to an improved exploration phase. We also estimate that the number of medium-sized and bigger drilling rigs under construction will increase by approximately 50 per cent over the next two or three years: this will call for more and more vessels to serve them so there will be a market for us there."
He concludes: "We have no plans to expand in term of increasing the yard size, as we're more focused on improving our production. We're constantly looking to improve the quality and speed of what we do, which might consequently lead to us being able to produce certain types of vessels a bit faster, year by year, and always seeking a lift in terms of quality."
Simek AS
www.simek.no