Growing ambition
Simon Carves offers an extensive range of technology based engineering services to the process and downstream industries, delivering world-scale projects in a varying range of sectors with operations in the UK, India, Russia, across the Middle East and across Asia. Established over 125 years ago, the company is today at the forefront of its industry in the production of the most advanced engineering solutions for achieving project delivery.
Specifically the business designs and constructs significant turnkey projects, which implement technology provided by customers or licensors. These are often complex projects, which demand high standards of management, front-end and detailed design, construction and logistical skills.
Following the acquisition of Sembawang E&C (of which Simon Carves was a major part) by the Punj Lloyd group two years ago, an aggressive international expansion plan has been put in place. Newly appointed vice president of global strategy and business development, Martin Dronfield explains the Punj Lloyd group's plan: "Punj Lloyd is a significant Indian engineering and construction organisation and it has big plans for Simon Carves. The owners of the group are pursuing a very aggressive global growth plan, so consequently Simon Carves is set to increase its own rate of expansion.
"As a part of that aggressive growth plan a new leadership team has been appointed, including a new CEO and seven other lead roles." Alongside Martin himself, the newly appointed team includes CEO, Mark Leggett; interim CFO, Mike Holt; vice president of operations, Kevin O'Donnell; vice president of human resources, John Winston; vice president of engineering, Alyn Jones and a new vice president of project services still to be appointed.
Since the senior management team was appointed it has been working towards achieving Simon Carves' vision, Martin explains: "The team is dedicated to realising the company's aim, which is to be recognised across the global technology-driven energy business as one of the world's leading engineering, procurement and construction (EPC) contractors. We will achieve this through organic growth, geographical expansion and the deployment of new technology partnerships, and we will drive sustainable and profitable turnover within the group. Our target is to become a one billion annual turnover organisation with annual profits in excess of ten per cent by the end of 2012." He adds: "We're aiming to achieve this growth in three ways; traditional organic expansion, through the acquisition of technology partnerships and complimentary organisations and with the appropriate business step-outs. We will apply these three strategies for growth across each of our three business streams, which are petrochemicals; renewables biofuels and nuclear; and oil and gas.
"So, in the area of our existing petrochemicals services, which is where we are traditionally strong, we will be pursuing organic expansion through an aggressive sales and marketing campaign and through a continued focus on world class delivery, and finally through better customer relationships. Where there is potential for growth in terms of acquisitions the funding will be made available, and where there is the opportunity for technical or business step-outs these too will be pursued. In terms of our other sectors; we're going to develop a mid and upstream oil and gas capability and we are looking to invest significantly to further build our capability in renewables, biofuels and nuclear."
Simon Carves is recognised as the world's leading specialist engineering contractor for low density polyethylene (LDPE) and it continues to dominate this sector of the market. The company has extensive experience within the polymer industry and is involved in all areas of polymerisation processes including those associated with the manufacture of LDPE, linear low density polyethylene (LLDPE), high density polyethylene (HDPE), polypropylene (PP), polyvinyl chloride (PVC), polyester (PET) and acrylics. The company has designed and supplied more than 70 plants for polymer production, which include 35 for LDPE and ethylene vinyl acetate (EVA).
Currently the organisation is building the world's largest single stream LDPE plant for SABIC UK petrochemicals, located at the Wilton International site, an integrated petrochemical complex in Teesside in the north east of England. The company has been working on this project since early 2005, from the original concept definition through front-end engineering to detail design, and the EPC contract was awarded to Simon Carves in February 2006. The plant is the largest of its kind in the world, although this is not the only distinction; at the heart of the process is a 20 cylinder hyper compressor driven by the world's largest slow speed synchronous 33 MW electric motor. It has been designed in 3D using the plant design management system (PDMS) and is progressing well; the first isometrics were released to piping fabricators in recent months. Much of the civil construction work has been completed; including the reaction bay walls, which shield the equipment and facilities near the reactor and Simon Carves expects the plant to be completed in autumn 2008.
The company is also in the process of building the UK's first world-scale bioethanol plant also in Teesside, commissioned by the Ensus group. Construction on the project began in 2007 and when completed the project will be among the world's largest bioethanol production facilities. The plant is the first of its kind to be built in the UK and marks a major step for the UK in meeting its EU biofuel obligations. It is expected to be at full production capacity in early 2009 and is anticipated to employ up to 800 people during the construction phase and 100 when the plant is fully operational. The production of bioethanol at the plant will form a key contribution to the EU's strategy to reduce dependency on fossil fuels and reduce greenhouse gas em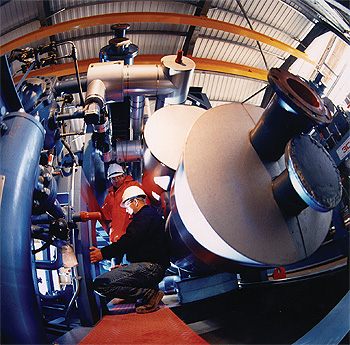 issions. Working with leading technology providers, this prestigious contract with Ensus further establishes Simon Carves' prominent position in the design and construction of biofuel facilities.
In terms of possible hindrances to the business' ambitious growth plan in the coming years, Martin describes the main challenges and why he is optimistic the company can overcome them: "We are facing two potential challenges, the first is to develop solid foundations under the organisation to ensure that we are capable of supportingand maintaining the growth track that we have set out. This covers processes, procedures and all the basic core mechanics that underpin a healthy company.
"On a global scale, resourcing this organisation is of course a huge challenge. This challenge simply mirrors the worldwide problem of resourcing for the whole industry. However, we believe we have the advantage of belonging to a large parent organisation, from which we are able to pull resources and staff from India. In this way we are able to tap into one of the largest resource markets in the world. We are also confident that we can do better than others in terms of attracting top quality personnel, as Simon Carves is an exciting place to be at the moment, owing to our significant growth plans."
The ambitious growth plan underpins all the company's activities; in terms of the future, Martin explains what the industry can expect of Simon Carves in the coming years: "The business will achieve its goal after undergoing tremendous growth in the next few years; petrochemicals will remain our core business, but our other two business streams – renewables, biofuels and nuclear and oil and gas – could each form up to 30 per cent of our business. Moreover, we will continue to ensure quality delivery of world-class projects that start up first time, every time, on budget and on schedule."
Finally, Martin comments on why is he so confident that the company will achieve its goal: "The senior team is made up of people, who have all come from major international contracting organisations with a wealth of experience of transforming companies; we've all joined because we believe that the growth is possible. Mr Atul Punj the owner and chairman of Punj Lloyd, is an inspiration to the group and we have every confidence in his ability to lead the organisation to achieve the company's goal of extensive global growth."
Simon Carves
Services Specialist technology engineering