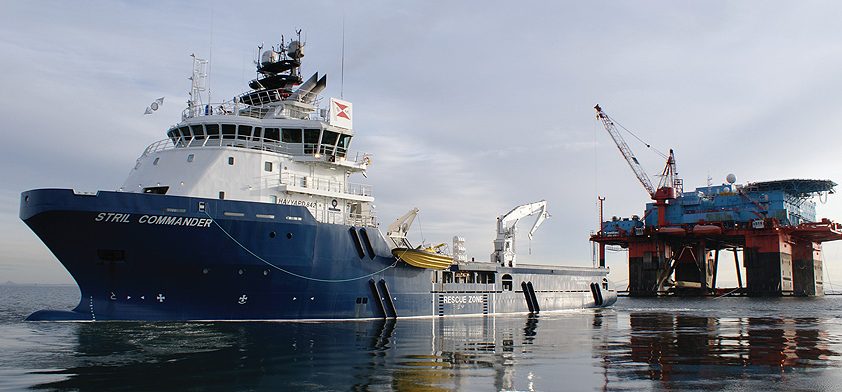 Simon Møkster Shipping AS
Norwegian know-how
Norwegian-based Simon Møkster Shipping AS offers a range of services to the offshore industry.
Its operations are divided into four main areas: emergency services, anchor handling, platform supply and sub sea. Headquartered in Stavanger, the company is also the market leader in the response services sector, with several standby vessels in its fleet. Its 19-vessel fleet includes various platform supply vessels and it also manages several others for smaller ship-owners.


The company was established in 1968 by Simon Møkster and remains a family company, running under the ownership of his three children. Its main customers today are Statoil Hydro, BP and Exxon Mobil, in addition to various other operators throughout the Norwegian sector and the northern North Sea. In the response sector of its business, the company is responsible for 25 per cent of the market share on the Norwegian continental shelf.
Operations manager of Simon Møkster Shipping, Nils Liaaen, discusses some of his company's key strengths: "We are a very diverse company in that we operate across a range of different sectors. The fact that we have been in operation for more than 40 years also means we have a lot of experience in all the areas we cover. We have a strong focus upon our emergency services and we have a lot of standby vessels. This ensures that we are always prepared for the worst – a factor that separates us from many of our competitors."
Simon Møkster Shipping has recently invested in two new Havyard 842 anchor handlers, the Stril Commander and Stril Challenger. This 200 tonne pollard pull AHTS was built by Havyard Leirvik in January and June of this year and features a double drum anchor handling and towing winch with a 350 tonne pull and 500 tonne brake hold. The vessels are also equipped for supply, oil recovery operations, stand-by and rescue duties, fire fighting, hospital and first aid assistance, and communications. Its high specifications feature DP2, FiFi 1, Oil Rec, Ice Class 1E and 280 survivor class to NMD rules – a combination that make it ideally equipped to work in the North Sea market.
This new vessel is one of several that the company has been able to procure over recent years, having been awarded the contract for the delivery of two new surveillance ships last year. The first of these, completed in June 2008, is used in the Tampen area of the North Sea, whereas the second is used as a relief vehicle for standby ships in the Statoil pool. These robust vessels were both designed by Vik Sandvik, and both possess a stern slipway that gives them the ability to pull lifeboats on board in challenging conditions. This same system can also be utilised for launching and retrieving the vessels' rescue daughter craft.
In an interview earlier last year, Nils elaborated upon the benefits of acquiring these new vessels, and how they will help Simon Møkster Shipping to reduce its carbon footprint: "The new anchor handlers will have to seek new markets and customers, which will help us grow in the future. They are equipped and designed for the North Sea environment with the standby and NOFO 2005 regulation for oil spill recovery facilities, which is quite a unique feature. We also focus on Nitrogen Oxide (NOx) emissions so we have installed catalyst systems onboard the new ships.
Subsequently we believe we are in a very good position for the Norwegian and North Sea market. We have a clear focus on environmental issues and we are at the forefront of development in this area. Very early on we built diesel electric PSVs, which use substantially less fuel than conventional vessels. We are also trying to minimise the NOx emissions from our engines to accommodate new regulations and standards." Simon Møkster Shipping's philosophy is one of continual development, and this remains despite the difficulties it faces as a result of the global economic situation: "It has certainly been a difficult period although we are going to live through it. It's undeniable that everyone in our industry has been at least somewhat affected by the crisis – but we have a lot of contracts on the go and, in all honesty, it hasn't hit us as badly as we might have expected.
"We have a few more projects like Havyard 832 CD RS currently under construction at Simek Flekkefjord for delivery in March and two smaller subsea vessels at Westcon. The first of these were on test trials in November and will be delivered prior to Christmas, and the latter in May/June.
"The market trends are very hard to predict at the moment and the best possible strategy is to wait before making any bold moves. As long as we continue to survive comfortably, we will emerge strong again when the recession is over."
Simon Møkster Shipping AS
Services: Anchor handling, emergency response, platform supply & subsea