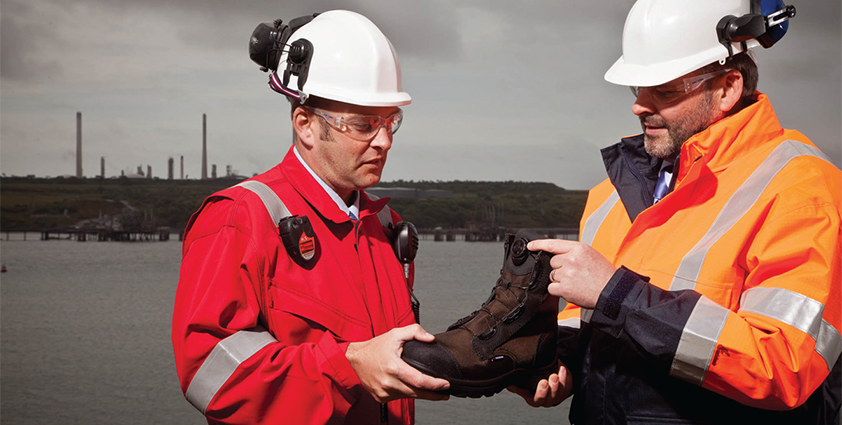 Head to toe protection
Simon Safety was founded as the Simon Safety & Lifting Centre Ltd in 2000, and since then it has developed its range to include personal protective equipment, workplace safety supplies, work wear, and corporate clothing solutions, serving the upstream and downstream oil and gas industry, power generation, hazardous product distribution and the marine markets.
Simon Ashton, managing director, is driven by his passion for quality and service and he founded his company with that attitude, which is also embedded within all in the Simon Safety team. He begins: "At Simon Safety, we are committed to protecting men and women exposed to risks in all types of industries and work environments. We offer our clients high quality equipment to meet worker's safety needs, which combine leading technology, comfort and ergonomic design."
Simon adds some important details that end users must consider when buying safety equipment: "As a BSIF Registered Safety Supplier we are independently audited to confirm compliance with the scheme's requirements. I wish to reiterate to the industry, that by using a BSIF Registered Safety Supplier you can be sure you will only be supplied with genuine, appropriately approved products and you will receive sound advice without any attempt to mislead you. We are a leading member of the 'Eurosafe Group', British Safety Industry Federation (BSIF) and a BSIF Registered Safety Supplier, which is in recognition of our commitment to only supplying correctly tested and certified products."
Clients such as Halliburton in the upstream industry and Murco and Valero in the downstream industry avail themselves of Simon's services, and Simon describes the company's role as 'working with our customers to understand what makes their lives difficult and find solutions. We then work with the R&D departments of the world's leading manufacturers – such as Red Wing Safety – to bring solutions to the industry that work.'
He adds: "Our partnership with the Red Wing Shoe Company is where we see our future and we both take great pride in offering only the highest quality products to protect hard-working people wherever work gets done."
He goes on: "We are very proud to have won an award for innovation at this year's BSIF Safety Awards for the introduction of the new Red Wing 3282 safety boot with Boa lacing technology into the UK market, which demonstrates our passion in bringing great new products to the market."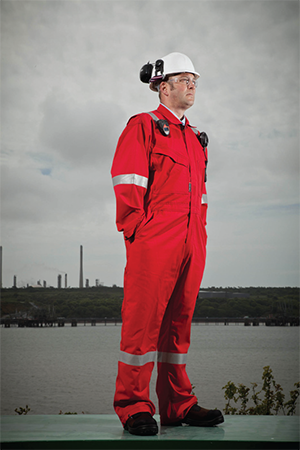 Simon continues with more details about the safety boot, clearly a product of which he is very proud: "We take a proactive approach with our customers to ensure we understand their needs, and our partnership with the Red Wing Shoe Company illustrates this. We were able to share information and recognise the needs of the workers that operate in very difficult conditions bringing oil and gas ashore. As a result the new innovative Red Wing 3282 safety boot with Boa lacing technology has been produced, specifically designed and developed for the rugged requirements of offshore oil and gas workers involved in drilling operations, offering superior protection against chemicals, oil based cutting fluids, mud and sea water exposure. It brings together a number of technologies and features to produce a unique, high-performing product for offshore industries."
Another example of innovation from Simon Safety are the Red Wing Inherently Flame Retardant Coveralls, which are manufactured from Red Wing's exclusive Flashguard fabric, specially blended from cotton and kanakaron, a flame-resistant acrylic fabric. It helps protect the wearer when exposed to unexpected flash and flame.
Standing out from the crowd is a continual challenge to any company working in the highly competitive oil and gas industry, and Simon explains how the business ensures its individuality and appeal to clients: "We have a passion for addressing customer needs," he says. "At Simon Safety every client has a dedicated account safety and product specialist who is their one point of contact for any business that they conduct with us. Our team of internal and external sales professionals supports each safety specialist. They are always on hand to help the customer promptly and efficiently.
"We spend time talking to, and understanding our clients operations, and we get a buzz from the development of innovation and bringing new products or solutions to market that help make our clients workforce safer, which thus helps to improve the whole safety culture of their company."
Simon continues by noting that the company's use of innovative IT solutions has created a very slick customer service operation: "For example, there is the Simon Safety hosted online ordering portal, a very powerful system that enables us to provide clients with the latest reports on usage of product and spend within the allocated budget by location, department or even per employee. The portal is totally customisable, therefore we can produce whatever report our clients require."
He adds: "We understand pressures on budgets, so we seek to provide added value whilst not pushing up costs. We also appreciate the need to go a step further to be able to offer products that achieve new standards within the industry."
Going forward, Simon is keen to maintain the standards that Simon Safety has set in the sector: "We want to continue to grow our company at the pace we have achieved during our first ten years, and we want to continue to have the trust of the oil and gas industry and be seen as its leading independent supplier of personal protective equipment in the UK and Europe."
He concludes: "The founders of Simon Safety established a commitment to excellence, and over the years a legacy of quality has been built, layer-by-layer. Today, every product we offer is manufactured under stringent quality standards to withstand even the most demanding work environments. Quality is part of our DNA and we believe our customers expect nothing less."
Simon Safety
Services: Safety technology