Handling growth
Simon Storage is a leading European independent bulk liquid and gas logistics service provider that has eight terminals in prime locations in the UK, Ireland and Germany.
The business has over 80 years of experience in developing its own assets and infrastructure, and prides itself on understanding the value of effective asset development in order to meet the current and future demands of the oil, gas and petrochemical sectors through continuous investment in infrastructure, combined with cost-effective solutions for specific storage and handling requirements.
Simon Storage has a long history, with roots that date back to the early part of the last century. Since that time the business has experienced progressive expansion, growing organically as well as by adding to its capabilities through various strategic developments and acquisitions. In 2005 the business was acquired by Canadian company, Inter Pipeline Fund, which is a major transportation, storage and natural gas liquids extraction business based in Calgary, Alberta, Canada.
Simon Storage was last featured in European Oil and Gas in early 2012, and since that time has continued to enjoy further success. One large development for the business has been the entering into an agreement with Centrica Storage Limited for the receipt, storage and redelivery of gas condensate, which has involved Simon Storage building two new storage tanks for the project.
The Centrica project represents a significant development for Simon Storage, with the business recently completing the construction on time and within budget of the two new 3000m3 carbon steel tanks for the contract, together with dedicated pipelines for handling the products. These incorporate internal floating roofs to minimise vapour emissions as well as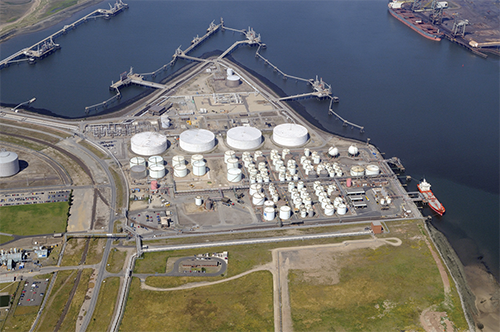 externally stiffened roofs to maximise internal volume. Importantly, they have been designed and built in accordance with process safety standards, including the fitting of overfill safety systems linked to remotely operated shut-off valves (ROSOVs), as well as having tank levels and other process information communicated to a supervisory control and data acquisition (SCADA) and tank visualisation system.
For the contract, Simon will receive condensate into storage at its Immingham West Terminal from Centrica's processing plant at Easington, East Yorkshire directly by said pipelines. The contract coincides with the completion of Centrica Energy's York Project, which is a significant project to build a gas platform and pipeline approximately 34km off the coast of East Yorkshire, UK. The gas from this field will be processed at Centrica's Easington plant, and Simon Storage will provide a strategic storage and distribution hub for the condensate that is produced during the processing. The Centrica project represents an important contract for Simon, both in terms of further developing its prestigious customer portfolio and extending its presence in the North Sea oil and gas sector.
There is little doubt that the North Sea is an area that has presented a number of opportunities to Simon Storage of late. A good example, particularly in the expanding North Sea sector, is the growth of various decommissioning projects and associated services. In this particular area Simon Storage has received enquiries from decommissioning companies related to the produced water – so handling the liquids and bringing them to shore, along with the treatment and disposal that is needed through the warehouse and liquid storage receipt facilities that it is able to provide. The decommissioning market in particular is one that Simon Storage is certainly aware of in terms of potential.
An example of this type of work is that which Simon Storage has been undertaking with Enviroco, a leading provider of waste management and industrial cleaning services that has been carrying out work in decommissioning. The company has had a long-standing partnership with Enviroco based around landing process water from offshore, and providing warehousing to land the product, safely store it and handle it before distribution to the disposal or treatment site.
Of course, this is just one small area of Simon Storage's overall business, as the company works for a diverse range of customers handling more than 250 different products and blends for a wide range of areas. Primarily this consists of the blending and storage of a full range of petroleum and petrochemical products, as well as refined products like liquefied petroleum gases, chemical products, vegetable oils and renewable fuels.
When European Oil and Gas last featured Simon Storage the European tank storage industry was operating in a highly challenging environment, which was being directly affected by changes in oil supply, volatility of prices and other economic pressures. The oil business, specifically the downstream wholesale market, is still not too strong as a result of reduced investment, but conversely, the chemical sector has been strong for Simon Storage this year.
Simon Storage is able to remain strong in uncertain market conditions due its diverse operational nature and its flexibility in responding to the market. The key for the company is its very broad portfolio of products and customers, which is a real strength of the business. So, while one area may be witnessing a downturn in activity it is often offset by increased activity in other sectors.
In terms of moving forwards, the UK is a fairly mature market in relation to its requirements, which means that as a business Simon Storage is increasingly looking beyond that. As mentioned, it has some facilities in Germany and its parent company has recently acquired some facilities in Denmark, so the company is looking for further development opportunities in terms of energy infrastructure in Europe over the coming years. This will be, as per its strategy, through acquisition and organic development. The company covers a number of areas, which means that ultimately there will remain a lot of opportunities in the future to continue to provide cost-effective solutions to the commercial needs of the tanks storage market.
Simon Storage
Services: Bulk liquid and gas logistics provider