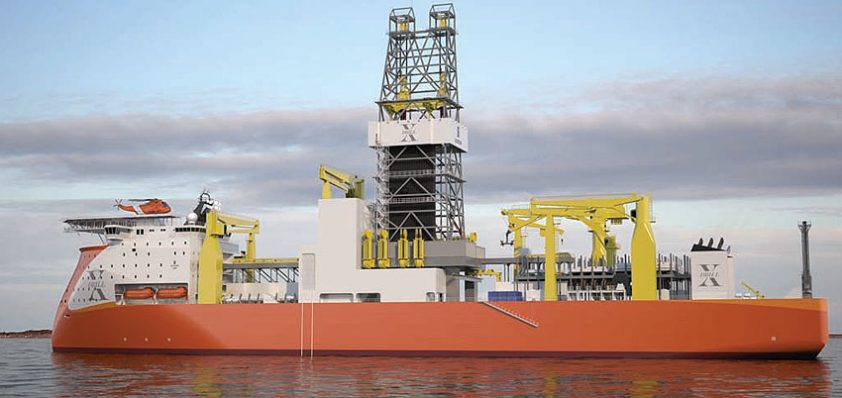 Flexible thinking
With eight terminals that can be found in prime locations in the UK, Ireland and Germany, and with more than 80 years of experience in developing its own assets and infrastructure, Simon Storage is a leading European independent bulk liquid and gas logistics service provider
Boasting a combined storage capacity of 1.28 million cubic metres, the company handles more than 250 different products and blends for a diverse range of customers. Primarily these activities
consist of the blending and storage of a full range of petroleum and petrochemical products, as well as refined products like liquefied petroleum gases, chemical products, vegetables oils, and renewable fuels.
Simon Storage is a company that understands the value of effective asset development that will help to meet the current and future demands of the oil, gas and petrochemical sectors. By continually investing in its infrastructure, it is able to offer cost-effective solutions to specific storage and handling requirements, from petroleum to potable alcohol.
Whilst storage and handling may form the core part of the business, Simon Storage is capable of providing a comprehensive package that goes beyond these services to incorporate every aspect of management, infrastructure, information, engineering and logistics within the exacting compliance and regulatory environments of the bulk liquid and gas producing industries.
Simon Storage's three-fold approach, built around the themes of integrity, optimisation and expansion, ensures it delivers the right tank configuration for each individual customer. As the company is all too aware, robust inspection and maintenance programmes are critical to asset integrity. Its in-house team of Engineering Equipment and Materials Users' Association (EEMUA) trained engineers conducts routine monitoring and maintenance of tanks and ensures facilities are regularly upgraded to the latest health, safety and environmental standards. This comprehensive approach also includes major re-engineering programmes to maintain the integrity of its asset base.
The company's agility and flexibility in responding to changing industry trends, from strict new operating and safety standards to a steady rise in biofuels blending and handling in the move towards greener fuels, is most definitely one of its many strengths. Its ability to refurbish and re-engineer facilities for immediate and future service is reflected in contracts with some of the UK's leading oil companies and independent traders, as well as with major chemicals manufacturers and distributors, and projects such as the development of the first sulphur export terminal in the UK for many years.
Furthermore, when it comes to expansion, whether it is meeting increased demand or satisfying a specialist storage requirement, Simon Storage is committed to optimising assets in service and investing in additional capacity for the future. One example of this would be the completion of significant additional tankage at its Immingham terminals in 2009. These extra facilities are already under long-term contract and land is available for further expansion to support new projects as and when required.
Each of Simon Storage's UK terminals complies with all legislation relating to the secure storage and handling of hazardous cargo, including COMAH. Its outstanding health and safety performance has been recognised by RoSPA, and improvements to operating and safety standards identified by the Process Safety Leadership Group post Buncefield continue to be applied across the network as required.
As an operator of its own facilities, Simon Storage is in a unique position of being able to apply these skills and knowledge to offer a fully comprehensive terminal and facility management service to leading international companies. This model has many potential advantages within both the oil and chemical industries. In particular, it enables clients to release both capital and human resources tied up in the management of logistics facilities, whilst entrusting the operational responsibility to an experienced manager with a strong track record.
The company also develops and manages facilities, at its own sites and clients', to meet the needs of specific development and refurbishment projects. This includes investment into upgraded tanks and systems to meet specific needs. Many of its Terminals have land available to develop dedicated storage and distribution facilities to support new projects, or contract on an 'as required' basis.
At the heart of its expertise, Simon Storage recognises a need to understand the driving forces and emerging trends of its customers' industries. More importantly, the business is able to actively work to understand and interpret the changes that may impact on its customer's activities and put in place a response strategy that addresses these.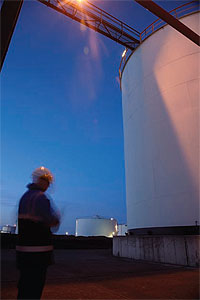 As the first half of 2012 has proven, Europe's tank storage industry is operating in a highly challenging environment, one that is directly effected by changes in oil supply, the continuing volatility of oil prices and other economic pressures. Faced with such market conditions, the tank storage industry is being forced to adapt quickly to meet changing demands. What experienced operators like Simon Storage have done is demonstrate the necessary flexibility needed to keep pace with this rapidly evolving environment.
Through its ongoing investment in additional tank capacity, new pipelines and tank conversions, the company has been able to maximise opportunities in burgeoning markets, for example, the storage of ethanol. The company is finding that the increase in demand for greener road fuels across Europe is boosting the demand for biofuels storage capacity, as well as for added value services like gasoline blending.
The storage market is also likely to be affected by more stringent EU environmental legislation for marine fuels. From 2015, the maximum sulphur content in ships' fuels in Sulphur Emission Control Areas (SECAs), which extend from the English Channel to the Baltic, will be reduced from 1.0 per cent to 0.10 per cent. It is expected that the new requirement will be met mainly by ships switching from heavy fuel to low sulphur products. This would see increased demand for new grades in European storage terminals.
Today's uncertain world brings both challenges and opportunities for Europe's tank storage industry. An agile response is vital if storage terminal operators are to keep pace with new requirements, whether this is as a result of fluctuating oil prices, regulatory changes, or swings in local or global market forces. In the face of these fast changing market conditions, terminal operators need to be willing and able to provide flexible storage and handling solutions to their clients' needs. For Simon Storage, this has always been at the heart of business strategy together with a proactive approach to investment in infrastructure to ensure it meets current requirements and prepares for future needs.
Simon Storage
Services: Bulk liquid and gas logistics provider