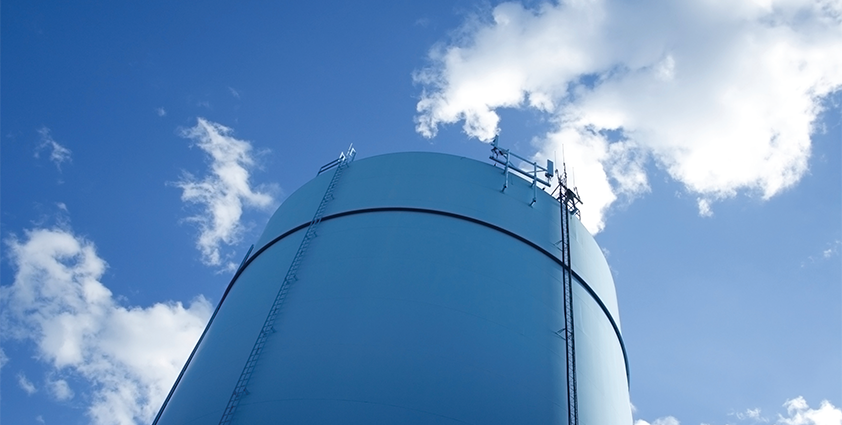 The logistic choice
Present in the markets of the UK, Germany and Ireland, Simon Storage is a leading European independent bulk liquid and gas logistics service provider.
The company handles more than 250 different products and blends for a wide range of customers. Primarily these activities consist of the blending and storage of a full range of petroleum and petrochemical products, as well as refined products like liquefied petroleum gases, chemical products, vegetables oils, and renewable fuels.
Whilst storage and handling may form the core part of the business, Simon Storage is capable of providing a comprehensive package that goes beyond these services to incorporate every aspect of management, infrastructure, information, engineering and logistics within the exacting compliance and regulatory environments of the bulk liquid and gas producing industries.
Since its acquisition in 2005, Simon Storage has been operating under the ownership of Inter Pipeline Fund – a major petroleum transportation, storage, and natural gas liquids extraction business based in Canada. However, Simon Storage's history can be traced back to the early part of the last century when its Immingham terminals were originally used for the storage and handling of creosote for export to the US, and molasses from the sugar beet industry. From those beginnings Simon Storage has progressively expanded, both through organic growth and a number of strategic developments and acquisitions. This two-fold approach has enabled the business to adapt its facilities and infrastructure to the ever-changing needs of the market, as well as bring in new complementary services as part of a more comprehensive service package.
Today, this equates to a substantial portfolio of eight wholly-owned storage terminals across three countries. These have a combined liquid storage capacity of 1.27 million m3 or over eight million barrels. Many of these terminals have the capacity to receive and distribute products via vessel, rail, truck and pipeline, providing complete intermodal solutions for many customers.
Simon Storage's Immingham terminals have come some way since their original purpose, moving into the storage of oil products following the First World War before undergoing major expansion in the 1960's. Boasting a combined capacity of 623,000 cubic metres across 243 tanks, the Immingham terminals are the UK's most comprehensive independent storage facility. The two linked sites are situated alongside the south bank of the River Humber and are able to accommodate ships of up to 50,000 DWT. The highly developed nature of local transport links makes Immingham a convenient and cost-effective location for both export and import activities. Together, the two terminals handle approximately two million tonnes of product per year through a range of facilities including semi-automated drumming, pipeline connections to local industry, and a range of lined, heated, stainless steel and pressurised storage tanks.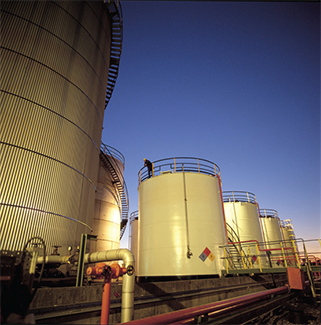 Simon Storage's UK terminal activities also include a 220,000 m3 facility at Seal Sands, as well as a further site seven miles up river at Riverside. Of particular note is the company's Tyne terminal, which is the only independent bulk liquid storage facility on the estuary of the River Tyne. In addition to its general chemical and petrochemical storage competencies, the terminal has expertise in the handling of marine and aviation fuels, as well as biodiesel and raw materials for biodiesel production. All of Simon Storage's UK owned terminals, as well as the Shannon terminal in Ireland, are equipped with a terminal automation stock control system (TACS) – a sophisticated software package exclusively designed in-house. TACS offers Simon Storage's customers secure global access to live stock and account information, and the facility to place dispatch and delivery requests remotely.
Each of Simon Storage's UK terminals complies with all legislation relating to the secure storage and handling of hazardous cargo, including COMAH. Its outstanding health and safety performance has been recognised by RoSPA, and improvements to operating and safety standards identified by the Process Safety Leadership Group post Buncefielcd continue to be applied across the network as required.
As an operator of its own facilities, Simon Storage is in a unique position of being able to apply these skills and knowledge to offer a fully comprehensive terminal and facility management service to leading international companies. This model has many potential advantages within both the oil and chemical industries. In particular, it enables clients go release both capital and human resources tied up in the management of logistics facilities, whilst entrusting the operational responsibility to an experienced manager with a strong track record.
The company also develops and manages facilities – at it's own sites and clients' – to meet the needs of specific development and refurbishment projects. This includes investment into upgraded tanks and systems to meet specific needs. Many of its tanks have land available to develop dedicated storage and distribution facilities to support new projects, or contract on an 'as required' basis.
Given its history in bulk liquid and gas storage, Simon Storage understands the value of effective asset development to meet the current and future demands of the oil, gas and petrochemical sectors. Therefore through ongoing infrastructure investment the company can offer cost-effective solutions to specific, and potentially specialist, storage and handling requirements from petroleum to potable alcohol. Having built upon this experience, Simon Storage is able to offer a complete turnkey engineering solution, and supporting capabilities, aimed at delivering the highest possible levels of services for its customers.
However, this competence extends beyond its defined operating market. At the heart of its expertise, Simon Storage recognises a need to understand the driving forces and emerging trends of its customers' industries. This includes issues such as a growing demand for renewable energy, or emissions management. As such, Simon Storage has a thorough knowledge of current and impending European regulations, and seeks to play an active role in the formulation of new standards and guidance. More importantly though, the business is able to actively work to understand and interpret the changes that may impact on its customer's activities and put in place a response strategy that addresses these.
Simon Storage Ltd
Services: Bulk liquid and gas logistics provider