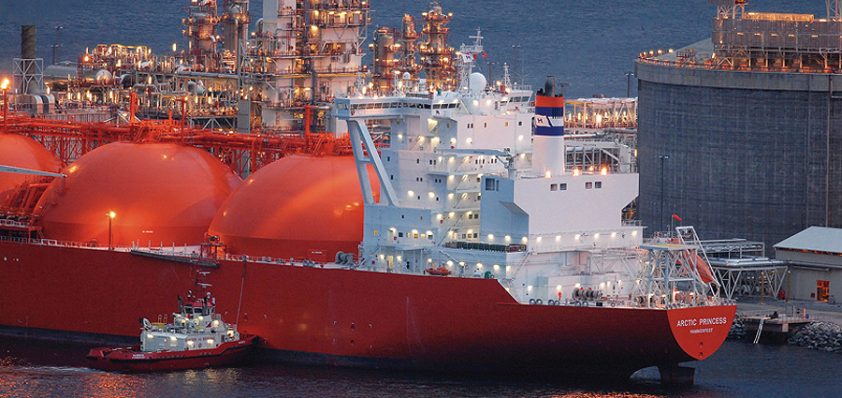 Playing with fire
With a heritage dating back to 1948, the Simtronics Group is one of the leading suppliers of gas and flame detection systems in the marine and offshore industry.
Originally named Simonsen Radio – pioneering radio communication and hydro acoustic equipment for the Norwegian fishing industry – Simtronics has gone through a number of company changes in its 60-year history. As part of Simrad Optronics, the company started its global influence in 2003 with a branch established in Dubai to gain access to the ever-growing oil and gas
industry in the Middle East; while in 2004 the French company Icare was acquired to further strengthen Simtronics' product base – the company was finally demerged from Simrad Optronics in January 2007. Having been a niche player in the gas and flame detection business, Simtronics is now a global company with a turnover of over 350 million NOK. With highly innovative research, development and manufacturing facilities in France and Norway, the Simtronics Group has three highly technical divisions in sophisticated gas and flame detection systems, extinguishing solutions and fire prevention systems.
With more than 20 years experience in supplying detection systems for a range of facilities from plant boiler rooms to offshore oil production facilities, as well as in demanding industrial applications – Simtronics Group's products are used worldwide to ensure the safety of both personnel and assets. Using infrared, catalytic and semi-conductor technology for flammable and toxic gas detection, the company's detectors are able to cover all relevant applications, while ultrasonic gas leak detection is an important safety addition. With 170 expert staff able to develop applications to cover every requirement and design solutions to cater for specific challenges, the company's flexibility is one of its key strengths. Fire detection capabilities have greatly developed over the years, and the Simtronics Group's self-testing detectors are some of the fastest and most reliable in the market, and have the capability to be connected safely and efficiently to third party products, again offering customers the utmost in flexibility.
The extinguishing solutions division was created in April 2007, following the acquisition of Water Mist Engineering AS (WME), which designs and manufactures a range of active fire fighting systems, such as low pressure water mist, deluge and sprinkler systems among many others. The diversity of the product range enables the company to create a specific fire fighting combination to meet location and business needs, for example the arid conditions of the Middle East require an alternative combination of products to those in the Norwegian oil and gas industry. The acquisition of Fire Eater AS in the early part of 2008, further strengthened this division with its expertise in INERGEN clean air extinguishing, which protects valuable assets and is more efficient in its use of space and cost and which, contrary to other extinguishing gas agents allows people to breathe while deployed. In working with these two associates the Simtronics Group is able to provide the best in extinguishing technology.
A further example of the company's global ambition, the fire prevention systems division was created in February 2008 with the acquisition of ETech Process AS – the company's in-house developments are at the forefront of environmental technology. ETech Process holds a number of references within marine and offshore installations throughout international waters. Using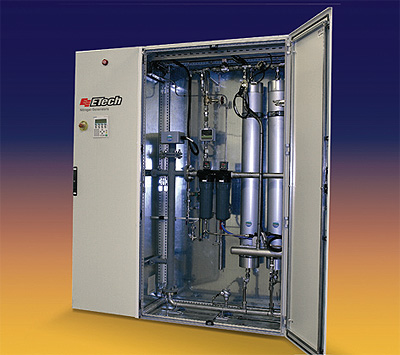 premier nitrogen generators based on membrane technology, the company is a major supplier to maritime clients and has used its superior know-how to develop an integrated all-in-one feed air compressor and nitrogen generator for the global industry. The products are compact, easy to use and effective, and are coupled with a worldwide service and support network to ensure their continued high performance.
With regional sales offices in Norway, France and the Middle East, the Simtronics Group is dedicated to the worldwide provision of safety systems. Having recently established offices in China, Korea and Singapore the company's international capabilities are set to continue, aided by its comprehensive network of dedicated distributors and agents. In conjunction with this the Simtronics Group works closely with customers to provide tailor-made solutions and as such attends a number of exhibitions around the world, with upcoming shows in Singapore and Norway.
The Simtronics Group's success can be put down to the diversity of knowledge and capabilities within the company, bringing together a plethora of experience to create innovative and practical products. The past five years have seen Simtronics enlarge its product and service base by the acquisition of expert companies and its increased volume ability has ensured its leading position in the industry. Its reputation as a quality-conscious and reliable product developer makes it is a trusted partner for those in the oil and gas industry. The company has plans for continued organic growth of ten to 15 per cent annually and further development into segments such as the mining, turbine and nuclear industries. Gas and flame detection systems, extinguishing solutions and fire prevention systems are of paramount importance in such combustible situations and the Simtronics Group aims to create the most innovative and flexible solutions, including total safety packages, to ensure that all processes can be carried out in the safest environment possible.
Simtronics Group
Products Gas and flame detection systems