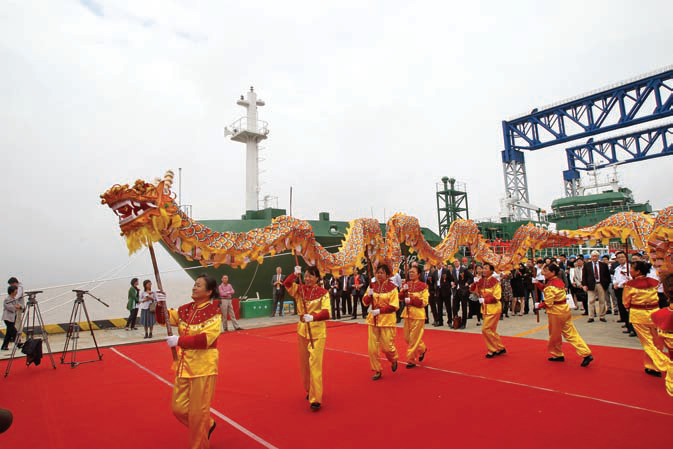 Sinopacific Offshore & Engineering Co Ltd
A diverse offering
Privately owned engineering and manufacturing firm Sinopacific Offshore & Engineering Co Ltd (SOE) has established solid foundations and a strong reputation since its inception in 2007.
With a product portfolio that spans four major sectors of the oil and gas industry, gas transportation and storage, offshore drilling, offshore cranes and offshore production, and focuses on high technology productions, positive partnerships with established players and state-of-the-art facilities, SOE anticipates a rise into the ranks as a key Chinese player in this market.
"SOE is a young company, which was established in 2006, since then we have invested in completely new facilities at the Qidong yard, which took under two years to complete before we launched in 2008. Today our core focus is the oil and gas industry, where we provide LEG carriers, LPG carriers and LNG middle-scale carriers. We are also focused on the big offshore equipment side such as large-scale cranes for offloading and load outs in the offshore industry; these range from 800 tonnes capacity to 5000 tonnes capacity. On the other hand, we also work on topsides for vessels such as FPSOs and FSOs and our shipyard is focused specifically on topside process modules," explains Kevin Zhu, commercial director of SOE.
With a long-term agenda from the start to join forces with strong, reputable clients, the company has already established more than two years experience and developed its business with major companies in the market.
A major development for the company is its recently signed high-profile contract with Evergas for the design and construction of a series of DRAGON 2750cbm medium-sized LNG carriers. The state-of-the-art vessels are constructed from an entirely new design and were developed in-house by SOE's design department alongside Evergas. SOE's Qidong construction base will also design, engineer and fabricate the LNG cargo tanks in full co-operation with Wartsila and Wartsila Oil & Gas Systems for the supply and installation of the dual-fuel engines, gas plant system and LNG fuel system on the vessels. "Evergas has been our client since 2010, so we have learned to work together for this LNG project," states Kevin. "This is also a one-off project with Wartsila, where we are working together to deliver a high-quality dual-fuel powered vessel that will be a landmark in the industry." In addition to LNG, the ships will have the capabilities to carry and reliquefy Ethane and LPG with the cargo-handling package that Wartsila is supplying.
Anticipated to be groundbreaking and due for delivery in 2015, the bespoke DRAGON 27500 LNG carriers are designed with features specifically tailored for safe, efficient and environmentally friendly operations. These include LNG dual-fuel propulsion and an optimised ECO hull design that will lower emissions significantly, while the ballast water treatment system has been designed to protect the marine environment. To certify the green vessel profile, the ships will receive Clean Ship Notation, EEDI compliance, Green Passport, NOx and Tier III compliance. "This is going to be the first middle-sized LNG vessel in the world, so it is a major current focus for us," highlights Kevin. "This is a tunkey project to provide the design, construction and delivery of the vessel. The design of the vessels is completely new and was developed in-house, we will also design, engineer and fabricate the LNG cargo tanks, which are unique in the market. Using our own engineering team, we have focused on training our personnel in specialist skills to ensure we are fully prepared for this kind of special project." With steel cutting due to begin at the end of 2013, the company is currently working on the engineering and procurement in preparation for the vessel's delivery into the market in the first quarter of 2015.
Benefitting from its diversity, SOE has been focusing on offshore equipment contracts while the market witnessed a lull in activity. "The market has been very good for us, albeit a bit quiet for the industry as a whole in the last two or three years. During this time we have focused not only on gas carriers, but also on some offshore equipment projects. In the next few months we are expecting to begin a number of projects in the international market," enthuses Kevin.
Keen to continue developing its staff and service offering on an international scale, the company's shipyard was recently qualified by Total for its quality control and quality systems, thus allowing SOE to enter into a new phase of development. "Over the next three to five years we are looking to improve our processing and engineering capability so we can be a qualified supply chain partner for all major oil companies and oil suppliers," concludes Kevin.
Sinopacific Offshore & Engineering
Products: Gas carriers, offshore cranes, offshore drilling and FPSO modules