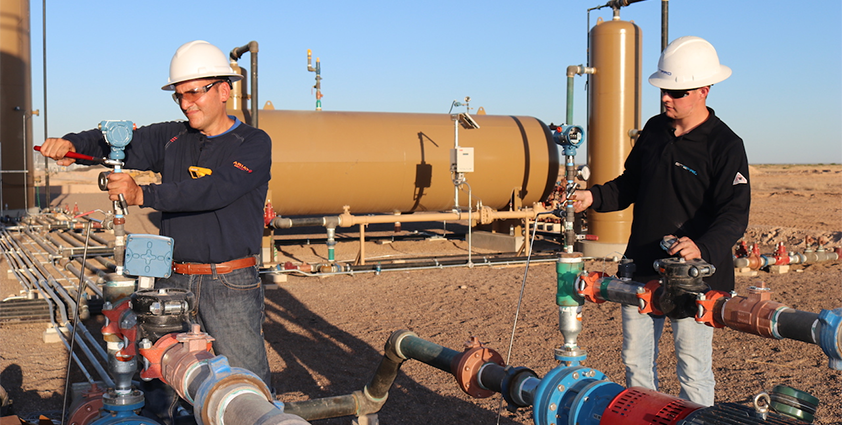 SitePro leads the way in oilfield fluids management with its automation and electronic ticketing workflow services.
When exploration and production companies utilize SitePro, they can be confident that its services are geared towards their needs and challenges. "SitePro was built by oil and gas professionals for oil and gas professionals," Vice President of Marketing and Business Development Michael Chavez declares.
The digital oilfield fluids management company, which has offices in Lubbock and San Antonio, Texas, provides automation and electronic ticketing workflow solutions. Co-CEOs Aaron Phillips and David Bateman founded SitePro in 2012 and initially served a saltwater disposal operator who needed help automating their facilities.
Over the years, SitePro saw its customer base evolve. At the time of the downturn in the oil and gas industry, "We started expanding from automating salt water disposal [SWD] wells to midstream projects," Chavez says.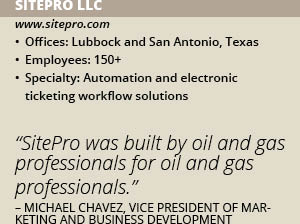 In 2018, SitePro began serving exploration and production companies and automating their facilities. Today, "We cover the full spectrum from producers to midstream and disposal assets," he says. "We are a full-stack solution provider."
What that means, Chavez explains, is that SitePro employs a team of electricians and automation technicians that can do everything from installing its devices to maintaining them in the field. "While we have a strong field presence, at our core we're a software company. We've built our own patented software systems in-house to remotely monitor and remotely control those assets we installed in the field," he adds.
Chavez adds that SitePro has been recognized for its work with a nomination from CIOReview as one of 2019's top 20 most promising oil and gas solution providers. "We're very proud of it," he says.
Satisfied Customers
Today, SitePro serves a client base that includes such oil and gas companies as Luxe Energy, MDC Operating and Ameredev II, as well as water-focused firms, such as WaterBridge Resources, EVX, Aqua Terra Water Management and Layne.
When serving clients' sites, Chavez says, the company prefers to view them as a part of a system as opposed to individual assets. "Instead of individual SWDs, most of our clients have pipelines linking the SWDs together," he says. "We're able to operate them as a true system with our advanced industrial PCs in the field."
He adds that SitePro has formed a longtime partnership with WaterBridge, which gathers, disposes, recycles and supplies water to exploration and production firms. "We actually got started with WaterBridge when they were in their infancy and they only had a few sites," Chavez says.
Today, WaterBridge not only uses SitePro's automation for all of their sites, but also SitePro's software as its main monitoring and remote-control dashboard. He adds that the two companies also partnered to launch SitePro Operations Support (SOS), a new service where trained personnel are watching WaterBridge's sites 24-seven.
"We've made them exponentially more efficient and safer by providing that service," Chavez says, noting that a single SitePro associate monitors multiple WaterBridge sites. "When an alarm goes off at a site, our guys immediately resolve the alarm or get in contact with WaterBridge's personnel."
SitePro also provides the company with daily health reports on its sites. "We're very embedded in our client's entire operations," he says.
Breaking Away
SitePro has set itself apart in its industry through its technology. "The oil and gas industry has been using a programmable logic controllers for the last 30 to 40 years," Chavez says. "We've broken away from that."
The company has done this by using an industrial PC. "That allows us to do more things on the technology front like pushing software updates over the air," he says, noting that the company can do this to several hundred computers at the same time.
But SitePro does not intend to rest on its laurels. "We're constantly improving our software and coming out with new features," Chavez says, noting that this includes an enhanced analytics product that will be released in the near future.
He adds that SitePro will expand the managed services it provides. "We are also looking at launching a new ticketing managed service where we will manage ticket reconciliation and filings on behalf of our clients," he explains.
A Digital Reality
A longtime veteran of the oil and gas industry, Chavez joined SitePro in 2017. He started his career at Chesapeake Midstream Partners L.P. before helping start WellAware, a SaaS-based mobile platform for real-time oilfield remote monitoring.
While leading sales, marketing and business developments efforts at Digital H2O, Chavez met his colleagues at SitePro. He praises its work environment, which not only focuses on working hard, but having fun through functions and team-building experiences.
"We have two main offices and get together as much as possible," he says, noting that SitePro also focuses on keeping its employees current with technology through training. "Our technology is advancing as fast as people can learn it."
He praises its leadership, including founders Phillips and Bateman, as well as Vice President of Sales Jordan Kutscherousky and Vice President of Operations Erik Waters. "Both have been instrumental in getting us from the start-up to where we are today," Chavez says. "We still have a start-up mentality, but we're far from a start-up these days."
Ready to Grow
In the last three years, SitePro enjoyed rapid growth. For example, "We took on some institutional capital last year that has helped accelerate our growth," Chavez recalls, noting that the company also has started providing services to upstream producers.
"We think that's going to be a significant area of growth for us," he says, adding the company currently serves clients in such oil and gas-heavy states as Texas, New Mexico, Oklahoma, Wyoming and Ohio.
"We have some projects that will start this year in North Dakota and Colorado," he continues. "We're also on the lookout for good, accreditive acquisitions to help us continue our growth."
It also is a good time in the market for SitePro as more companies are willing to consider innovative technologies. During the downturn, "The industry was forced to look at efficiencies," he says. "That was the only way the industry was going to survive."
The influx of younger executives also has helped. "There are a lot more thirty-somethings and forty-somethings in leadership positions now," he says. "They understand the value of cutting-edge technology."
Chavez sees a strong future for SitePro, which will find the industry adopting more of its technologies. "I see us really pulling the oil and gas industry into the 21st century," he says.
"Our slogan is 'The Digital Oilfield Has Arrived,'" Chavez states. "We're ready to make the digital oilfield a reality across the industry."
At Their Fingertips
Today, SitePro automates more than 350 facilities and monitors and controls over 250 miles of pipeline. The company notes that its patented systems offer exploration and production, service, and water end environmental companies control over their assets and supply chain by putting field services data at their fingertips.
"Companies have the ability to remotely control and monitor assets and track work orders all in one auto-syncing electronic platform, which decreases time spent on field ticketing, eliminates paperwork errors and ultimately saves time and money," it says, noting that it also gives operators the ability to remotely control well sites and equipment, monitor tank levels and site conditions from a computer or mobile device.
"By using SitePro, companies can integrate field services and supply chain from pick-up to delivery, as well as eliminate redundant data entry for all parties involved," it states. "The cloud-based platform aims to increase efficiency, safety and minimize the downtime associated [with] upstream operations."