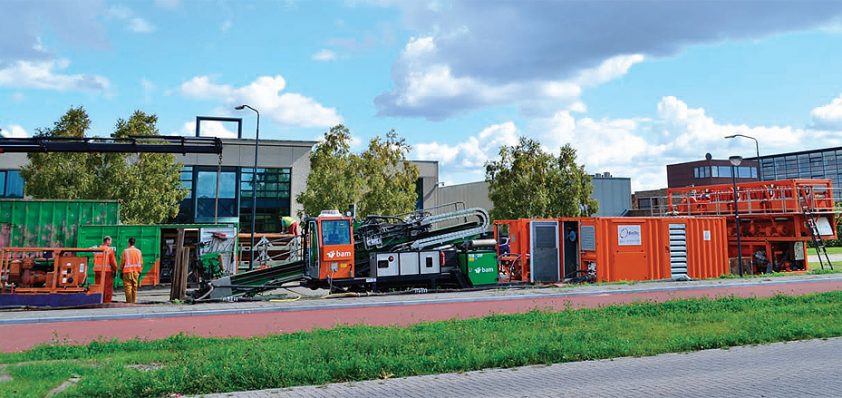 In the mix
Operating out of the Netherlands, SiteTec BV is a dedicated supplier to the horizontal directional drilling (HDD) sector.
As opposed to the drill rigs themselves though, SiteTec has positioned itself in the provision of mixing, pumping, and recycling units for the handling of muds and fluids. The company also offers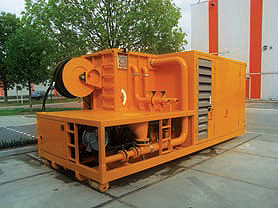 additional parts and accessories in support of this equipment.
Although the sale of units makes up the largest part of SiteTec's business at 70 to 80 per cent, the company also maintains a large rental fleet. This not only benefits customers that may not be able to justify purchasing a unit, but also enables clients to try out the different systems before they buy. This rental capability is particularly well suited to the current economic climate where operators are looking to minimise expenses or investments.
On both the sales and rental sides of the business, SiteTec's core offering is focused on the mixing, pumping, recycling, and storage of drilling muds. As such it has developed products for all different applications and requirements, with mixing systems that can handle between 650 and 2000 litres a minute of fluid, pump systems of 150 to 2500 litres a minute capacity, and even units which combine both capabilities. Likewise, the recycling and storage systems are available in a wide range of sizes to suit each project specification.
When it comes to complimentary accessories SiteTec can deliver everything from pipe rollers to generator sets, and welding systems to pit, booster, transfer, and submersible pumps. The business is structured in such a way that the specialist knowledge of this equipment, and final assembly is kept in-house, whilst construction, painting, hydraulics, and electronics are outsourced. This means that SiteTec works closely with its suppliers to continue to develop and improve its units to ensure they remain at the forefront of its field.
Elaborating on how the company's commitment is setting it apart in the market, director Alexander de Wagt says: "As a dedicated HDD supplier we purely focus ourselves on these types of products, whereas our competitors may offer similar systems but it is not their main business. We maintain a dealer network right across Europe, as well as in Bangkok, Johannesburg, and Moscow, and we continue to work to grow this further.
"In September 2011 we moved to a new location, which has given us more outside space for the rental fleet, a larger workshop, and bigger stock room. We have a lot of parts on stock which we sell directly to customers, use to update our rental fleet, and in the production of new machines. It is very important in this business that we can provide a 24-hour service to minimise downtime and costs to the customer, so as well as maintaining good stock levels we also offer a mobile service department that can undertake work in-house or on-site worldwide," he continues.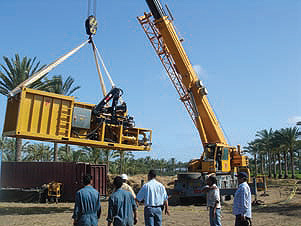 As to where the market is leading in terms of customer requirements, one area that has become more prominent in recent years is the recycling of fluids. "This is a growing environmental issue as the client is having to pay more and more money to dispose of the fluids once they have finished a job. In the past people only thought about recycling on very large sites where lots of fluids were being used, but now we see this is moving even to the smaller projects. It has become much more cost effective to hire or purchase a recycling unit so that these fluids can be re-used on a project, than it has to try and dispose of them afterwards," describes Alexander.
"Another increasing requirement is for complete turnkey solutions. We are getting a lot of enquiries for systems, which are built inside containers, or trailers. These might consist of a mixing and pumping unit, alongside heating, lighting, and working areas to improve ease of use and comfort for the operators," he adds.
With SiteTec keen to expand its business even further into Europe in the coming years, the company is pursuing a number of different opportunities. This includes ongoing discussions with major drill rig manufacturers in Germany regarding the creation of complete equipment packages incorporating SiteTec's mud handling equipment. The business is also actively engaging with its marketplace through a presence at major exhibitions such as Bauma 2013 in Munich. This not only provides it with access to customers, both new and old, but also to dealers.
"Although Europe has suffered in the economic crisis, we have seen that governments are continuing to invest in vital infrastructure such as gas, electricity, and fibre optic connections," notes Alexander. "In particular we see ongoing growth in the construction of gas pipelines from the north to the south, and east to west, in order to reduce dependency on countries like Russia, and new markets emerging in Turkey and the Baltic states.
"Closer to home there is also an ongoing drive from countries such as Belgium and France to take the existing utility infrastructure, a lot of which is still above ground, and install these cables underground. In Holland there is an aspiration to complete this work in the upcoming years, so we anticipate a lot more activity to come from this side of the market," he concludes.
SiteTec BV
Products: Mixer, pump and recycling systems for HDD drilling