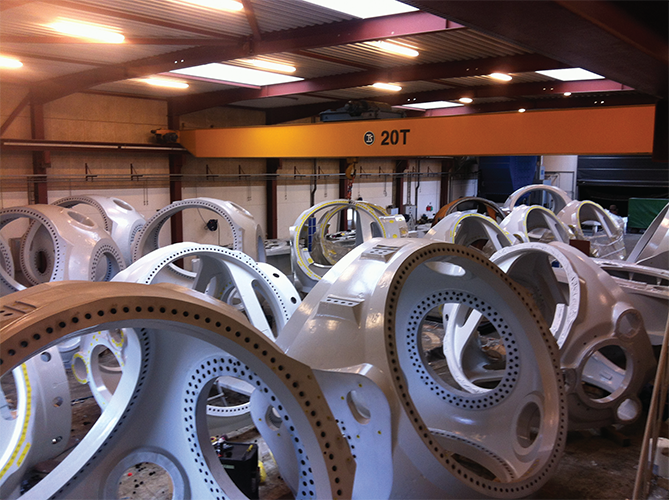 Wind generation
Incorporating over three decades of experience in the application of specialist surface treatments within the marine and industrial markets, Skagen Sandblæseri has establisheditself as a market leader that maintains long-term relationships with major industry players such as Siemens, Mitsubishi and Wastas. Ole Conradsen founded the company in Skagen, Denmark during 1984 to provide surface treatments for fishing vessels and since that time the business has continued to grow and expand into newmarket sectors and regions. By 1988 the business relocated its headquarters to Frederikshavn in order to begin a collaboration with Ørskov Steel Shipyard, consisting of the coating of newbuild vessels and the repartition of larger ships, while maintaining its existing activities in Skagen.
During 1994 Skagen Sandblæseri further expanded its activities in Frederikshavn to include the surface treatment of wind farm towers for several major industry players. By 1999 the company had established a new mobile division, resulting in new projects in Norway, Sweden and the Faroe Islands. During the sameyear a new painting hall was also established inNakskov Shipyard for the surface treatment of wind turbine towers. Between 2000 and 2002 the Skagen Sandblæseri division within Nakskov focused particularly on the market within eastern Denmark, resulting in greater mobile projects, including a five-year project with the National Railway Agency for renovation of Storstrømsbroen. At the same through co-operation with its customers, the company significantly expanded its service offering to include the handling, warehousing and classification of wind tower sections and foundations.
Over the subsequent years the company maintained its momentum in the acquisition of further projects and new facilities and in 2014 Skagen Sandblæseri embarked on a project on behalf of a major blade manufacturer to examine blades for damage and malfunctions. Today the company maintains three facilities, located within Nakskov, Sæby and Hedensted, giving the business a total production floor space of around 10,000m2 that is further bolstered by a joint-operation with Siemens in Aalborg. Although Skagen Sandblæseri is still active within the maritime and other sectors, currently its primary business is in the coating and treatment of wind turbines, which has enabled five years of considerable growth owing to the present boom in the wind farm market. As such the company broadly separates its operations into two areas, comprised of Skagen Sandblæseri and Ship Service and Skagen Surface Engineering.
Skagen Surface Engineering undertakes operations relating to wind turbines from the company's Hedensted and Sæby sites. Each of these locations are able to produce hubs for wind turbine towers, further components for the wind industry, as well as additional offshore and marine equipment. The Hedensted plant incorporates 4800m2 of manufacturing space as well as two overhead cranes, with capacities of 38 tonnes and 40 tonnes respectively. Furthermore the facility has its own dedicated hydraulic lift truck for heavy lifting tasks of up to 80 tonnes. The factory is divided into three separate temperature-controlled areas, comprising a sandblasting booth and two painting rooms. These are supported by metallization and washing areas, which are located centrally in the plant, with processing halls one side of these areas and a finishing section on the other.


Within the wind turbine sector, Skagen is able to deliver specialist aftermarket services from its newest department located at its Hedensted facility. Drawing on over 30 years of industry experience from Skagen Sandblæseri, which has so far coated and repaired in excess of 25,000 wind turbine blades and more than 1.5 million windmill towers, Skagen Blade Technology offers a mobile service operation all over the world. Skagen Sandblæseri's facility embodies all of the necessary experience to provide its clients with the best possible service in areas including fibreglass repair; surface finishing, coating and painting; on-site wing optimization; Vortex Generator installation; leading edge protection (LEP); temperature controlled environments; rope access; and emergency ad hoc blade replacement in case of failure. To date Skagen Blade Technology has delivered solutions to clients globally, including Norway, the UK, Ireland, Italy, Wales, Scotland, Morocco, Esbjerg, Aalborg and Aarhus. Furthermore, Skagen has partnered with Braendler Engineering and ATSITE, a leader in the provision of data handling and wind turbine inspection solutions. Collectively the strengths of these industry specialists are combined to offer turnkey solutions for wind turbine repair, optimisation and maintenance. The ATSITE system is able to capture images of wind tower wings on all sides and then process the images for display at a deep zoom to be analysed for defects. A complete wind turbine can be photographed within three to five hours, in almost any weather during the day and night.
Through a combination of its several years of industry experience, strong manufacturing base and industry partnerships, Skagen Sandblæseri has established itself has an industry leader in the provision of specialist surface treatments. In the execution of its operations the company is dedicated to providing the highest levels of quality, while conforming to the most stringent requirements of health and safety. As the development and deployment of wind technology for power generation continues to grow, Skagen Sandblæseri is well placed to continue to support this emerging sector.
Skagen Sandblæseri
Services: Specialist surface treatment
Issue 125 October 2015