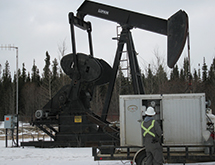 For Sky Eye Measurement's staff, technical knowledge and experience are only half of the customer service equation. In addition to regular product and professional training, the Edmonton-based company's staff takes leadership and human relations courses intended to improve their personal skills.
"Not only are our people knowledgeable, they're a pleasure to deal with," General Manager Richard Hansen says. "A major focus of our growth is developing our people; we believe that if you have good people, the rest of the company will take care of itself."
A focus on customer service and technical acumen has been a central trait of Sky Eye Measurement since Hansen, an experienced instrumentation mechanic, founded the company in 2005 as an offshoot of work he was performing for his former employer.
"My company at the time was looking to provide new products and automation to the oil and gas industries, but was looking for ways to test those products," he says. Hansen contacted a friend and now business partner, who helped him put together portable measurement equipment packages that allowed oil and gas companies to test equipment for specific production applications.
Portable and permanent measurement solutions used for troubleshooting and optimization applications in oilfields remain at the center of Sky Eye's services. The company provides skidded packages of gas and liquid automated measurement equipment such as meters, test separators and water cut analyzers to oilfield companies. Sky Eye also has a large rental fleet of measurement equipment.
Sky Eye's solutions can be customized for particular needs and field tested before they are permanently installed. "There are a lot of products out there, and many vendors claim their devices are the best, but the reality is that certain devices work better for different applications," Hansen says. "What we do well is distinguishing which devices work better in certain applications by testing them.
"What sets us apart from everyone else is that we are an application-specific company – we use our knowledge to provide a solution that we believe will work," Hansen adds. "We would never sell a solution that we don't think would work."
'A Lot to Offer'
Sky Eye's goal of providing the best measurement equipment available has earned it a positive reputation among oil and gas operators in western Canada. "Most of our growth has been organic – someone uses our services and told someone else," Hansen says.
It is now actively pursuing expansion into the Bakken Shale. "We believe we have a lot to offer the industry in terms of our packages as well as our service."
Sky Eye is preparing for new business in the United States by expanding its products and its facilities. It is working on building a new package that can test and measure natural gas liquids and crude oil for transloading and is also testing equipment for multiphase measurement, Hansen says.
"I think we're already leading the way, but being a growth-oriented company there are a lot of improvements we can make," Hansen adds. "We want to be across western Canada and the northern United States, and continue to be the best in what we do while finding new markets."