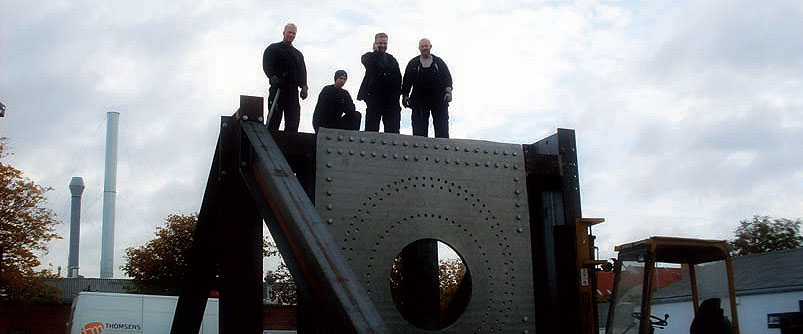 Sleipner Mechanical Engineering
Going the extra mile
Offering a broad range of engineering and manufacturing capabilities, and with a dedicated and loyal team on hand to support the maintenance and production output activities of companies operating within a wide range of market sectors, the history of Sleipner Mechanical Engineering can be traced back to 1919.
A constant presence in its home city of Aalborg, Denmark, for over 90 years, the company, as it exists today, really began to take shape in 2007 when it was acquired by Søren Kjeldsen. Originally trained as a toolmaker, Søren has earned a reputation for being not only a skilled industrial designer, but also a dynamic businessman and expert strategist.
"Aside from his considerable technical, industrial and mechanical engineering knowledge and skills, the most important quality that Søren brings to the table is his unrivalled degree of enthusiasm," explains Rene Kjær, chief manager of staff and Søren's right hand man. "Upon renaming the company to take a title that conjures the image of Sleipner, the eight-legged horse of Nordic mythology, Søren proceeded to take a money losing business and raise its profits ten-fold in the space of a single year by adopting an export sales model."
Key to this new beginning for the company was Søren's decision to not only bring in a whole new team of employees, one that brought together a group of individually skilled and dedicated men and women, but also to create a happy, playful and positive environment around them in which they could improve and hone their talents.
In this environment, the Sleipner employee can evolve endlessly. Take Rene himself for example, who started out in the production and manufacturing team and whose talent for cost reducing improvements on spare parts was quickly spotted. He is currently manager in chief of the production and manufacturing team and sits in the Sleipner office, where he also co-ordinates sales activities. Two of the dedicated Sleipner sales advisors, Flemming and Maj-Britt Jensen, have equally evolved from different starting points – a toolmaker and industrial designer, and a career in a law firm respectively. Titles are only words in Sleipner, there is no distance between the welding engineer, the cnc operator or the owner of the company. Every engineer has a planned 45 days a year of teamwork with the welding engineers, where they benefit from each other's experience and get new insights.
Sleipner has a unique and solid network of outsourcing partners in Poland, one of them being KN Products Polska, the Danish outsourcing company in Poland. Sleipner and KN Products Polska represent the perfect match as one provides the engineering and design that the other doesn't and Sleipner is happy to have a partner that it can trust, and whose manufacturing skills are outstanding, unequaled and at the absolute best price.
During the course of Sleipner's first two or three years, Søren invested a great deal of time and energy to setting into place the groundwork for future prosperity. One such area of focus has been the company's outsourcing of work to Polish businesses: "In total, it took Søren the better part of two years of really intensive work to reach the point where today there is a very strong understanding between Sleipner and its partners located in Poland," Rene continues. "The success of these relationships can come down to the simplest of things, for instance the way the company now trains its staff in basic Polish phrases and pleasantries. This strengthens the level of communication between the two parties and represents just one of the little human touches that Sleipner employs in its day to day operations."
It is touches like this that Rene says really encapsulate the extra dimension that the company possesses: "When someone walks into the offices of Sleipner they often comment on the positive energy they feel in the air. What they are sensing is what I like to refer to as 'the magic of Sleipner'. Like the best companies out there, Sleipner can confidently claim to be customer orientated, flexible and staffed by a multi-talented group of professionals, but what really sets it apart is its desire to always go that extra mile in everything it does.
"Motivated by Søren's own drive and constant desire to reach for the stars, Sleipner's employees are able to take comfort in the knowledge that their thoughts and opinions matter. It is their dedication to their craft that allows the company to go that little bit further in meeting its customers' expectations. The term 'good enough' is not one that exists in Sleipner's vocabulary and it is that attitude that really exemplifies what the company is all about," Rene highlights
In terms of Sleipner's offering to the industry, it is famous for its exceptional interdisciplinary capabilities. It specialises in offshore and refinery mining and processing, hydraulics and pressure control, medico and pharmaceutical, PED equipment and steel structures.
In doing this it has a special team of skilled engineers that are dedicated to cost reducing design improvement and cost reduction of spare parts. Much of the company's innovation comes from the fact it has close collaboration with five leading universities in Denmark, as well as it being ISO 9000 certified and TÜV accredited as an international welding engineer company and as a third parties control division of PED equipment. All of this results in satisfied customers – a fact that has made Sleipner famous in the industry. In fact, it uses a solid network to deliver fast and to exact requirements, and wishes its customers to use it as an OEM supplier of unoriginal spare parts. For this it has created a unique on-line database of spare parts that is extremely user-friendly and able to save customers a considerable amount of time and energy.
Sleipner offers total solutions from a customer's imagination to the drawing board, through the production and manufacturing and final installation, and it remains at the customer's service for any further advice or help they may need. The company offers mass production of components down to 0.3 grammes and builds steel constructions up to 400 tonnes.
In terms of recent work, the company recently took part in the DTU development of a subsea paravane. Sleipner completed an entire set up and FEM analysis of a complex gearing and clutch system in less than 14 days. This was a rush job for a client in need of a quick solution that, under normal circumstances, would take up to four months. Sleipner achieved the impossible, while managing to deliver at a very low price.
In the near future Sleipner will invest a figure in the tens of millions in reinforcing its ties to the offshore industry over a period of three years. Also, within the next five years the company will extend its staff internationally from 200 employees to 350. Sleipner is building up a momentum that is expected to culminate within four years, when the company's profit is estimated to reach a figure in the hundreds of millions.
Rene concludes: "We like to believe that there is nothing we can't do, we work both night and day to find a solution and where it seems like there is no way, we create one. Usually companies offer themselves to the customer as a nice cake with a cherry on the top. We don't as we believe it's not good enough, we offer our customers the moon and plant a cherry tree on it."
Sleipner Mechanical Engineering
Services: Mechanical manufacturing