Well positioned
In 1986, Peter De Snaijer set up CPJ Techniek, a supply company specialising in metalworking and metal repair for various industrial sectors. The company employs a team of highly experienced engineers with expertise in mechanical engineering and machining process for one-off and medium batch solutions for materials such as steel, aluminium and plastics. Starting off on his own, Peter worked hard to build the company into a successful modern enterprise and in 2011 he decided to branch out into the specialist offshore industry with SMFR. "Since then the company has dedicated itself to the manufacture and repair of parts and components for the drilling and exploitation of oil and gas, horizontal drilling applications and geothermal energy systems," explains Peter. "We also execute general machining operations for machinebuilding and construction of special devices."
Based at the Drilling Services Centre in Middenmeer, a specialist hub for the offshore drilling industry in the Netherlands, SMFR is well placed to serve the needs of its customers with a flexible production and supply service. "The main products we produce and deliver are accessories for the drilling industry such as drill stem elements, casing and tubing components, well-head parts and flow control equipment," highlights Peter. Also amongst its portfolio of offerings are rotary drilling tools, premium connection threading, Christmas tree equipment, drill-through equipment, horizontal drilling tools and geothermal well equipment. With API Q1 and ISO 9001 accreditation as well as a high priority focus on quality and safety, SMFR's highly trained engineers manufacture in accordance with API, NS1 and DS1 guidelines to ensure the customer is supplied with the best quality components needed.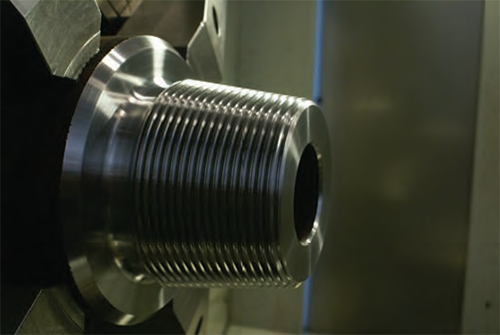 This location and dedication to quality is essential for SMFR to be successful in the offshore industry. As Peter points out: "Our clients are operating globally and short delivery times alongside high quality standards are not only expected, but also essential." High quality is not only achieved by SMFR adhering to accreditation and quality standard guidelines, but is also enforced by the company's own extensive experience within the industry. "With long standing and sound engineering backgrounds the team at SMFR are able to operate competitively in the market," notes Peter.
In view of the recent economic conditions of the oil and gas industry Peter remains confident. "The market from our point of view is dynamic," he says. "Demand directly from the oil and gas drilling sector is declining, yet we expect an increase of activity in the maintenance side for the simple reason that existing wells need to be kept in good condition and unexpected delays or interruptions are not acceptable these days."
The oil and gas sector currently provides 70 per cent of SMFR's activity with geothermal and horizontal drilling applications making up the other 30 per cent. However, geothermal energy systems represent a significant opportunity for the company in the Netherlands. "The geothermal industry is developing itself with particular examples in this region. Coupled with other gas storage systems nearby we need to make sure that we are flexible and are able to focus on the developments of these activities. This must be done whilst our general machining operations for other industrial sectors are maintained as an important part of the company," expresses Peter.
In order to help drive markets forward SMFR as a sister company to CPJ Techniek is committed to continuous improvement within its operations. To secure its future, the company ensures that it continues to invest in its machinery to achieve the most efficient operations, meaning it sits firmly at the front of the industry. Currently, the company's machine fleet includes a variety of CNC lathes, with a maximum diameter of 2000mm, casing equipment for a maximum length of 17 metres and 13 3/8 inch diameter, a phosphating unit, cold rolling machine, bucking unit, glass bead blaster and furnace for heat treatments and low stress annealing. Also helping to drive the industry forward is its design service. Born out of the company's promise of flexibility SMFR places emphasis on working closely with its clients to develop and engineer bespoke solutions. This is made possible through the company's expertise and range of machinery available to it.
Ultimately, SMFR is a company that remains tuned into the ever-changing market conditions and has the foresight to prepare for the future in an industry that has a lot of international attention on it at the moment. "We believe drilling will continue in the future for all kinds of purposes and future demands in all sectors we serve," concludes Peter. "It is the responsibility of the drilling industry to anticipate, support and join the discussions in 'clean planet' subjects. We hope to be able to contribute to this developments with all kinds of storage systems, whether this is CO2, waste, energy or anything else."
SMFR
Services: Specialists in fabrication and repair of tubulars, drilling equipment and accessories
Issue 122 July 2015