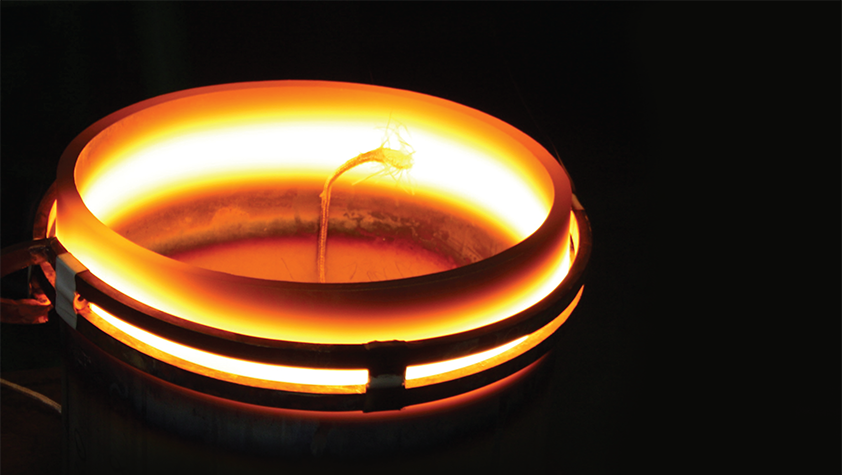 The right treatment
Smit Gloeidienst BV is an expert in the industrial heat treatment process, having performed an array of specialised treatments for more than 60 years.
Since 1993 the company has been based at a plant in Katwijk, the Netherlands, where it has worked with steel but growing business and a changing market has led to the opening of a second plant in Willich, Germany, focused on the Homogenizing of aluminium. In addition to its stationary furnaces, the company offers a mobile furnace service that can travel to an appointed site. Smit Gloeidienst is an expert in the construction of furnaces and therefore is able to construct mobile furnaces conforming to the size requirements laid out by the customer, highlighting the flexibility that has made the company a success.
Essential to high quality annealing is the equal distribution of heat across the work piece. When, for instance, performing a furnace heat treatment on a 40 meters long and 200 Tons weighing vessel, this can prove difficult. A differing rate of expansion, due to badly controlled temperatures inside the furnace introduces new stresses into the metal rather than relieving it, as heat treatment is supposed to. The issue is exacerbated when applied to heat exchangers because they have internal components with greater mass in relation to the outer shell.
Smit Gloeidienst's expertise is in being able to deliver annealing services that achieve uniform heating across the steel without faults or anomalies. Bob Goossens, director, discusses: "If you put a heat exchanger in a furnace the internal bundle does not heat at the same rate as the external shell, and during cooling it releases heat much more slowly. For example, an exchanger 16 metres long with a diameter of 2.5 metres will have up to 3000 tubes in its bundle, welded to both tube sheets. It is difficult to uniformly heat this mass and therefore the entire bundle gets pressed together and becomes deformed. We have developed a specialised technique that allows us to steer air within the furnace and heat the exchanger evenly throughout. The risk of deformation of the tube bundle is therefore no longer present."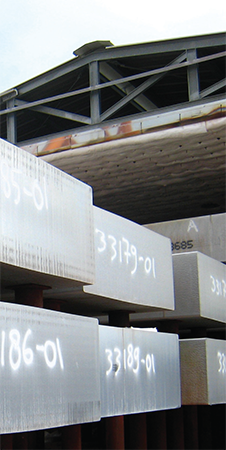 Apart from its work with heat exchangers, Smit Gloeidienst also carries out induction treatments that are utilised for welding the seams of larger pieces. By focusing large amounts of power onto a small area, subsequently more optimal heat distribution can be achieved on rounded and closing seams up to ten metres in diameter, ideal for pre-heating and post-weld treatments, shrink fittings, and other niche applications. Resistance heating is similar in its use to induction treatments but is carried out on smaller work pieces such as pipeline constructions and small machine parts.
"We possess the knowledge of all these techniques and, crucially, have custom-built equipment that can execute them with precision," Mr. Goossens says. "That, I think, is a really important strength of Smit Gloeidienst. We do not specialise only in one application but can carry out all the methods that are available, not only at our Katwijk premises where we have eight stationary furnaces of differing sizes but with our purpose-built mobile furnaces that can be shipped anywhere in Europe. This is supported by the flexibility and knowledge of our employees, who are able to travel to clients and deliver the right treatment. Our staff are selected on a solution-orientated basis and by this we can provide optimal solutions to our customers."
Mobile furnaces are also temporary furnaces, built to complete a specific job before being disassembled again. Smit Gloeidienst is capable of building them in sizes up to 10,000 cubic metres, having them constructed and delivered within just a few days to ensure the customer receives as quick a job with as little cost as possible. Most often they are used for work pieces that are too large to move, rooted to a location, or when the items themselves are temporary. The mobile solution can meet any of the demands of its stationary counterparts.
At the beginning of 2012, Smit Gloeidienst opened its first branch location in Willich. The German factory is dedicated to applying the company's heat treatment solutions onto raw aluminium slabs. Though this can be carried out at its Dutch site, Germany represents a busy market for the company, which is why it decided to improve its presence in the country. For some applications the mass of steel is being replaced by aluminium, so the establishment of stationary furnaces is also an essential step to ensure future business.
This will build on the steady business Smit Gloeidienst has experienced to date. "The last few years have seen a drop in business, not only in the oil and gas market but throughout the entire metals industry," explains Mr. Goossens. "Many of our customers are in the petrochemical industry and the low rate of activity as a result of the financial crisis has led to less business for us. Nonetheless we have carried out some very large projects in that time and have gained a variety of new customers that are happy with our expertise and array of machinery."
With business beginning to grow once again, however, Smit Gloeidienst is looking forward to expanding on its position as a leading provider of heat treatment and annealing solutions. Mr. Goossens concludes: "Over the coming years we want to continue being an organisation that can help our customers with every question they have in the area of industrial heat treatment, and to continue growing our presence and expertise in that field. Whilst steel will continue to be the material of the oil and gas industry, the future of aluminium will be able to support the growth of our entire business."
Smit Gloeidienst
Services: Annealing and heat treatment