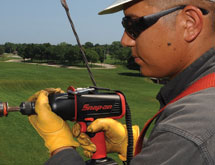 The value that Snap-On Tools brings to its customers in the industrial sector can be found hidden in plain sight, right there in its name. President Andy Ginger says the company has become one of the leading manufacturers and suppliers of tools for a wide variety of market segments because it gives customers more than just the tools themselves. Snap-On also provides customers with services and products that fit their needs exactly.
"Snap-On delivers more than just differentiated tools," Ginger says. "We offer differentiated solutions."
Snap-On pioneered the concept of interchangeable socket and wrench handles when it was founded in 1920. Today, Ginger says the company continues to find success through the idea that no one tool will be perfect for everyone.
"We have a very deep and broad assortment of products and brands, with over 50,000 SKUs as well as thousands of custom tools for people that are often built specifically for one operation," he explains.
With a catalog this deep, Snap-On can serve a wide range of industries, unlike many of its competitors, who tend to specialize in one or two specific sectors. Along with the oil and gas sector, Snap-On supplies the automotive, aviation, construction, military and power generation industries.
In every one of these market segments, Ginger says, the company works closely with customers to find not only the right tool for the job, but the accessories and services that keep it working effectively. "We're not just selling you an item – we're selling you a system," Ginger says.
Another area where Snap-On provides value-added services is the simple fact that it has people who work directly with its customers. Ginger says many of Snap-On's competitors work through distributors and don't have much direct contact with their customers. This leads to a commoditization of the products that provides little added value. However, Snap-On features a direct sales force that works one-on-one with customers to help them find the tool or value-added service that makes the most sense for them.
As the company works to expand its offerings in the energy sector, Ginger says Snap-On is finding that its unique philosophy is perfectly suited to the changing conditions of the marketplace. The company also works to handle the challenges that come with expansion, as Snap-On develops inroads into a greater presence in the Asian and Eastern European markets. Through it all, Ginger says, Snap-On brings the solid relationship building and customized solutions that have been the hallmark of its past success.
Manufacturing Capabilities
With a base of 26 manufacturing facilities around the world, Snap-On has the capability to integrate manufacturing with engineering to create a seamless process for customers. Ginger says the company also works constantly to ensure that its manufacturing processes never become stale. "The major idea is to have rapid continuous improvement, which is our approach to applying lean tools to manufacturing," he says.
However, continuous improvement does not mean the same thing to Snap-On that it means to other manufacturers, Ginger says. "For us, it's not about robotic processes to turn out increasingly large amounts of cheaper products," he says.
That would mean dropping the craftsmanship and precision that Snap-On's customers have come to rely on, he continues. Ginger says the company has the capability to make tools for very specific applications by hand. Even though this doesn't result in huge revenue, it does cement the company's reputation as a top-level solutions provider. "We are, by and large, not about high volume," he says.
Expanding Outward
Expansion is Snap-On's focus right now, as the company works to extend its presence in Asia and Eastern Europe. Ginger says that several years ago, Snap-On had five sales offices in Asia, but now it has more than 30 and four manufacturing facilities making some products that are unique to the Asian market.
This same type of expansion is occurring on a somewhat smaller scale in Eastern Europe, where Ginger says Snap-On has added manufacturing facilities in recent years. Additionally, the company is working to expand in other ways. "In some cases, we're working with international distribution partners to be able to augment our capabilities and stretch farther," Ginger says.
"We feel we have a lot of room to grow in mining and energy," he adds. "We believe those are the runways for growth for us, and we believe those are also global runways."