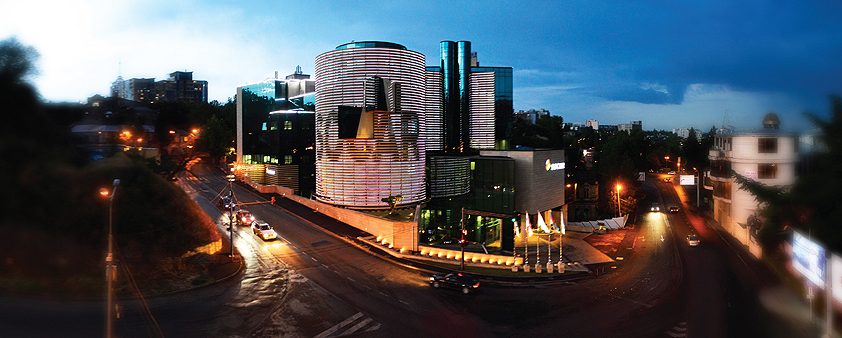 Supply and demand
In 1994, SOCAR Energy Georgia Ltd was founded with the goal of gaining profit through a range of activities. These included but were not limited to the purchase and development of Kulevi (Georgia) Port and Terminal, the production, process and sale of oil products, the import and export of oil products and attracting local as well as foreign funds for the investment of important projects.
In 2007 the firm established a subsidiary company, SOCAR Georgia Gas, with a vision of implementing a gasification programme in the territory of Georgia. In support of this vision, the Government of Georgia signed the investment agreement with SOCAR in 2008 and transferred 29 state-owned regional gas distribution companies to SOCAR Georgia Gas in exchange to invest in gasification of a minimum of 150,000 new customers. Following this development, in 2014 the agreement was amended, with gasification commitments increasing from 150,000 to 250,000 new customers; the amount of total investment commitments for gasification projects increased to $250 million; these investment and gasification commitments are due to be fulfilled by the final quarter of 2017.
Discussing the company's background and operations further is Azer Mammadov, Directorof SOCAR Georgia Gas: "Until 2007 there was only one gas supply source for Georgia – Russian Federation; gas was supplied through short-term (one-year) contracts, where gas prices would increase drastically every year. Before 2007 Azerbaijan itself was an importer of natural gas, but after implementation of Shah-Deniz and South Caucasus Pipeline projects, Azerbaijan started exporting natural gas to the European market. Georgia, due to its geographical location, participated in SCP projects and benefited from the establishment of a new source of gas imports that limited dependence of Georgia on Russian gas imports.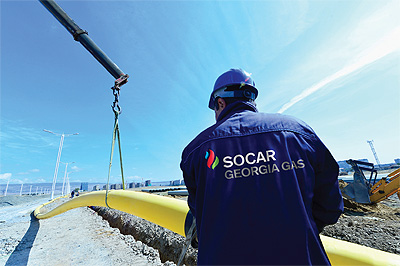 "Currently, we think SOCAR Georgia Gas offers the best competitive stance in the country, with top quality services and product. We believe our solutions are cost-effective for the population of Georgia as well as the commercial subscriber, and we are ready to compete with other suppliers and strengthen our market in the future. Gas pipeline networks operated by SOCAR Georgia Gas are used to supply natural gas to both types of customers, social (households), and commercial (B2B). We presently supply natural gas to 515,500 customers, out of which 500,700 are households and 14,800 are commercial. Although there is a significant difference between numbers of social and commercial customers, it should be underlined that the commercial segment is very important for the overall supply of natural gas provided by our company."
As a gas distribution company, SOCAR Georgia Gas is a license holder for the operation of a low and medium pressure pipeline network; the Georgian natural gas grid also includes high-pressure transmission pipeline, which is operated by the state-owned Georgian Gas Transportation Company. The current scope of work for the company includes the import, supply and distribution of natural gas, as well as the construction, rehabilitation and maintenance of the gas network. For its 515,500 customers, the company offers these services through 40 service centres in the regions of Georgia and its headquarters in Tbilisi.
With distribution companies in the regions merged into one unified structure by 2014, SOCAR Georgia Gas further strengthened business processes in 2015 through the introduction of a number of solutions in the field of information systems. These include GIS, CRM, Electronic Docflow, a 1C ERP system and a new billing system; in addition to this investment, a number of technical standards in construction and maintenance of the network have been developed.
Having made these investments, the company faced a fresh challenge caused by the increased consumption of natural gas in the country. With the Minister for Foreign Affairs of Georgia, Micheil Janelidze affirming that the Government of Georgia's goal is to ensure the stable and uninterrupted supply of natural gas in early 2016, the Government went onto conduct long and open negotiations, which have led to successful results. "On average, more than 50,000 new customers are connected to the distribution network of SOCAR Georgia Gas every year; the trend will remain until the end of 2018, when the total number of active customers is expected to reach more than 600,000," says Azer.
He continues: "In March 2016 the Government of Georgia and State Oil Company of Azerbaijan Republic reinstated their commitments to co-operate with the aim of ensuring uninterrupted and secure gas supply of the Georgian social sector (households and thermal power plants) for the next 15 years. Before 2016, SOCAR annually supplied around 1300 million cubic metres of gas to Georgia, based on the signed agreements previously mentioned and, considering the long-term forecast made by the Government of Georgia, SOCAR has increased its annual supply volume of gas by 400 million cubic metres for the upcoming years. We are in a strong position to meet this increased gas demand and import gas sufficient to cover gas consumption volumes in both social and commercial sectors."
Moving forward, the company has issued a five-year strategic plan for 2016 to 2020, which outlines the company's goals to be achieved in technical, commercial, financial, innovations and institutional development directions. Looking at the work that lays ahead for SOCAR Gas Georgia, Azer concludes: "Generally, the company has the following strategic objectives: to increase profitability and efficiency, improve operational efficiency, implement the investment plan and prepare for the implementation of the requirements of the Third Energy Package. Our vision is to be a nationwide leading, highly innovative natural gas company with social responsibility towards community, employees and environment."
SOCAR Georgia Gas
Services Gas distribution company