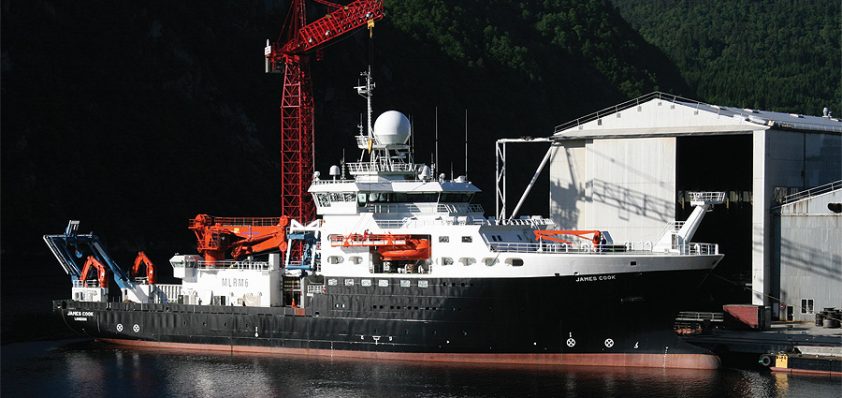 Cable minded
February 2004 saw the founding of SOhome AS, a leading provider of IT infrastructure and maritime LAN cables, for use on vessels and rigs predominantly within the maritime industry.
SOhome's founders, Per Schulhus and Terje Olsen, established the company with a main focus on IT systems, as well as design and fibre optic technology for offshore and mainland companies. Alongside its main services, the company also participates in the development of new and standardised products for the global market. These are based on technological development within the ISO and IEC standards.
SOhome's main customers are ship owners, rig owners, and oil platforms. In terms of market share, 70 per cent of the business is supplying to the maritime industry, 20 per cent is the oil and gas industry, and general customers make up the final ten per cent. SOhome's managing director, Per Schulhus elaborates on current work in the oil and gas industry: "Today our main market is the shipping sector, but the oil and gas business is increasing. We are currently involved in some construction projects in Asia, so this is where we are delivering materials at the moment."
Asia is an expanding market for the company, as Per explains: "Some of the projects we are involved in at the moment are in Singapore, and we are anticipating the requirement of our solutions in Indonesia and Vietnam as well. We also work in China, where we have recently delivered cable solutions to some vessels at Shanghai shipyard.
"We believe we have something to offer this market, as we can offer a much higher level of quality than our competitors. We began working in this area earlier this year, and have so far seen a lot of
success here."
In the coming year, SOhome is looking to expand into the South American market, but as Per explains, the company is first looking to secure its position in the Asian marketplace: "We see a lot of potential in the Indian market, and we have the chance to sign a vessel for the National Environment Council, so we will be looking to get involved in the construction of a vessel based on the exacting specification."
In order to stay ahead in the offshore oil and gas sector, SOhome is involved in mainland companies' internal network solutions, as well as network solutions offshore. SOhome is also involved in several municipalities' broadband projects, offering a wide selection of products for these segments.
The business undertakes the design and delivery of products and services to Norwegian and foreign marine vessels, as well as fibre optic solutions for several of the oil companies that operate in the North Sea. Employing both international and local manufacturers as suppliers for its Maritime LAN solutions, each product is standardised and thoroughly tested for extreme environmental influences. Maintaining a close dialogue with its customers and manufacturers is key in ensuring that the correct adjustments are made to the solutions so that they suit the needs of each project.
In 2006, the company developed a new range of cable solutions, investing considerable amounts of time and money in its development. Per explains the importance of R&D in the formulation of new products: "This is a big area for the company, and one where we work closely with our suppliers to come up with innovative solutions."
Within the oil and gas industry, SOhome sees potential in the North Sea area. "This area is our home market," explains Per. "We have lots of experience in this region. We have a number of contacts and our company has a good reputation among the companies operating in this area. This is largely due to our good technical skills and we always look for the best products, so the quality is more important for us than the price, something customers in this region can appreciate.
"Our own design is a Hook Up solution with Titan connectors, Ex junction boxes and military fibre. This is designed in order to let two different oil rigs be linked together and share the IT network. When finishing the process – the Hook Up works as a huge patch cord, and can easily be removed before one of SOhomethe platforms goes to other fields. We see an increase of interest in this solution also from FPSOs and vessels."
In terms of the market, Per outlines the current challenges and opportunities present in the industry, and his plans for SOhome's future development: "The shipping market in 2009 has been quite stilted, but we can expect to see an increase in the Norwegian part of it at the end of next year. For this reason it's important to implement our growth in the oil and business, as well as our exports.
"Fortunately for us, the recession has had no real impact on our business. We expect to see organic growth in the future, although we will be actively pursuing acquisitions as well. Moving forwards we aim to be the number one provider in the shipping sector."
Overall, SOhome sees potential for the new development of innovative quality products in the future for the oil and gas industry, as well as for shipping. It will work together with DNV in Norway in order to have approved quality products.
SOhome
Services: Cable solutions