Subsea success
Taking a step back from all the challenges of the last two years and reflecting on the larger history of the business, Paul Davison, Deputy CEO at Soil Machine Dynamics (SMD), describes what it will mean to the company when, in October 2021, SMD celebrates its 50th anniversary. "It's going to be a really proud moment for us," he says of the milestone. "To survive for 50 years, you have to keep innovating, and that's part and parcel of what we do."
Established by Newcastle University lecturer Alan Reece in 1971, SMD began life as a family business founded on values of respect, honesty, passion, partnership, safety and quality. Never straying from these principles, the company flourished, and is now recognized as the largest independent designer and manufacturer of work class and specialist subsea remotely operated vehicles (ROVs) in the world.
"Primarily, our work is about moving the seabed and providing intervention services in the water," Paul explains. "The earliest projects we did were a result of the emerging oil and gas market in the North Sea and our clients included the likes of Brown & Root for burying pipelines for protection against external impact and damage. Following that, in 1980s, we moved into telecoms, developing the world's first telecoms plough which was an industry shaping breakthrough and still is the process for installation submarine telecom cables.
"In the early 2000s, we emerged as a force in offshore wind. This was quickly succeeded in 2003 by a major landmark for us – the purchase of Aberdeen-based business Hydrovision, which introduced SMD to world-class ROV products and added another string to our bow.
"After changing hands a couple of times, we are now owned by large Chinese firm CRRC, which is a major player in high-speed trains and electric propulsion. We were selected as their first entry into the Ocean Economy as Chinese enterprises start to move from land to sea. Now, backed up by our sizable parent firm, we are looking forward to more exciting times ahead."
Part of what drives Paul's optimism for the future is the fact that SMD has never strayed from its unyielding commitment to the mastery of engineering. Engineering – and engineers – have always been at the heart of the business and this allows the firm to continue developing technology and tailoring differentiated solutions that are reliable, fit for purpose and that de-risk operations.
"We have some really creative engineers here that strive to evolve technology and keep coming up with new ideas," Paul states. "If there's one thing we really have to keep on top of, it's technology, because it is always moving and advancing. I think that's what the market demands; in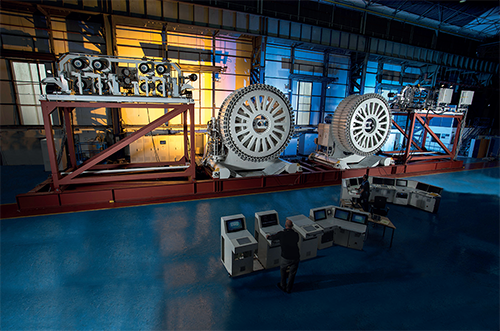 order to stay successful, we have to stay ahead of the curve.
"Through collaboration with partners in industry, SMD has delivered seven world firsts on critical client projects, and our teams are always willing to break new ground and work with a smile," Paul adds. "We develop our own tech and R&D, engineering world-first technology that redraws the boundaries of what is possible, subsea. Of course, equipment is nothing without support, so we also provide a full-service package of technical advice, spares, operations, upgrades and life extensions."
Operating from two spacious production facilities at the company's headquarters near Newcastle, in England's north-east, SMD specializes in the design, manufacture and deployment of remotely operated and autonomous power and control solutions. As a producer of technology durable enough to withstand the most arduous environments and duty cycles for multiple decades before it needs replacing, SMD helps its global partners to harness the potential of the most challenging subsea settings with maximum safety, efficiency and sensitivity.
When asked to discuss some of SMD's most recent projects, Paul presents a number of examples. The first of these involves the development of the new Deep Dig-It trenching machine – the Deep Burial Tractor 2400 (DBT2400).
"We've been very busy in offshore wind over the course of the last ten years," Paul declares. "As part of our efforts to lead the offshore expansion in Europe and the UK, we're building some big trenching machines like the Deep Dig- It, which we developed for Van Oord. It's the world's biggest trencher and can bury at a six-meter depth. At 150 tons, it can trench a product into the ground deeper than any other tracked trencher in the world."
The inaugural project for the DBT2400 involved the laying of cable from a wind farm to the land termination point across the entrance to the Port of Rotterdam – one of the busiest shipping routes in the world – in a single pass, single process, and under extreme weather conditions. "During that early project," Paul reveals, "the Deep Dig-It had to carry out its process and cut the trench in an eight-hour window, in a single path, without a return, in highly adverse conditions. We did that twice. It was a world-first and an example of the high-pressure, standout projects at which we excel."
Similar SMD projects have included the development of ultra-deep-water 6000-meter ROVs, the production of cable lay engines for Japanese client KCS on their flagship new vessel C/S Infinity, as well as, most recently, activities in the subsea mineral recovery market.
"Subsea mineral recovery is one of those ventures with a pretty checkered history, but we've been in that mix for a while now," Paul reports. "We have performed work for Nautilus Minerals, who made the very first commercial entry into deep-sea minerals, and lately, we've completed some developments with the EU on a project called VAMOS! to extend the life of in-land submerged mines.
"These two projects really give us encouragement that subsea mineral recovery is an area that is worth exploring," he continues. "We've been doing some exciting early stage concept work collecting nodules from depths and we're now waiting to see how the market reacts to that technology. We're lucky to have carried out some really interesting projects and got to grips with the technology and that stands us in a good situation to develop solutions in a sustainable way, and with minimal environmental impact."
As the company evolves with a changing market, SMD is committed to introducing more value-added, wrap-around services to its offering. According to Paul, the company's search for key differentiators like these remains an ongoing priority.
"Selling equipment alone is not the future," he argues. "We need to provide wrap-around services to extract the most value for our clients – services that justify and enhance their investment. The digital sphere certainly has a role to play – whether that's through really high technology like remote piloting, over the horizon control, and autonomy, or low-tech applications like asset management, maintenance programs and the sale of spares. These are the types of services that our clients are asking for, so we're really putting some thought and effort into getting those services in front of them in order to add more value.
"We're delivering our first long term lease/ purchase contract later this year, so that's a step in our long-term service support offering for remote operations. It's an example of our thinking and proof of our future plans to step up our service offering."
As the summer of 2021 drew to a close, SMD had time to record one last major deal before the leaves began to leave the trees. In late August, the company confirmed a manufacturing partnership with build-to-order flow excavation solutions provider SEAJET Systems (SJS). The agreement will see SMD exclusively build, test and commission the most advanced fleet of controlled flow excavation (CFE) equipment available on the market.
"SJS has developed highly-advanced CFE technology and boasts a wealth of operational knowledge," Paul points out. "We will now provide the company with assurance and confidence in the building of their equipment, as well as support in the operational stage.
"It's a really strong partnership to take to market because we see power cable de-burial as a key target market alongside our Artemis technology. The relationship is set to be a really positive step forward for both SMD and SJS. SJS will do the client work and we'll ensure that the equipment is best-in-class."
In the years ahead, SMD will continue its quest for further growth. The journey has, in fact, already begun, with many projects and investments postponed by the Covid-19 pandemic now, once again, becoming top priorities.
"Our shareholder has an ambitious growth plan that will carry us through to 2025," Paul remarks. "Some of our investments in the five-year cycle are coming to market now, and we see stronger collaboration with our parent company, which, as previously mentioned, is an expert in electric drives and propulsion. We believe that expertise in electrification and autonomy will be key to our future, and with a newly installed management team in place, we are confident of our success."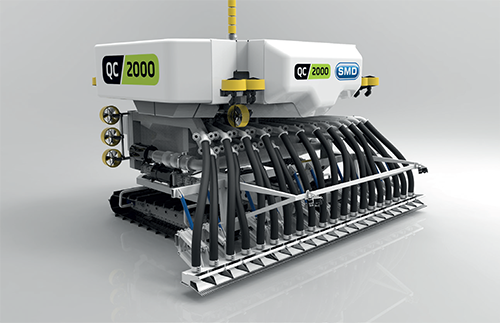 In line with its five-year growth plan, SMD expects to make some significant investments in 2022 as the business looks to establish a platform for expansion. These funding projects are likely to include an emphasis on staying strong in the offshore wind and submarine power cable markets, Artemis cable tracking technology, as well as trenching machine innovation.
"A lot of our growth is primarily export driven and concerns new markets in the USA, Taiwan, Japan and Korea. There's still a very strong market in Europe too, where there are some really challenging areas of seabed, and we think that will play to our strengths," Paul asserts.
"In terms of R&D technology, we've invested in completing the R&D program on a new EV technology, DC transmission and electric drive that will unlock a series of electric products – either heavy-duty construction ROVs, lighter duty inspection and survey ROVs, high current survey ROVs, or seismic ocean bottom node deployment systems. The EV program is a way of effectively generating a product line from the back of well-proven sub-components, and that's a development that's coming to market, certainly in terms of the first-generation ATOM EV and QUANTUM EV products, next year. That technology is going to be landing at the perfect time, with oil and gas markets just starting to pick up."
In many ways, the potential for growth at SMD is seemingly endless, and the company's willingness to diversify and serve customers on multiple fronts makes it a strong candidate for surefire success over the course of the next decade. Supported by the dedicated, talented professionals that populate its workforce, the atmosphere of confidence and enthusiasm at SMD has never been more pronounced.
"The closer we get to 2022, the more we believe it will be a year in which we bounce back to pre-Covid-19 levels of business, so we certainly see a brighter future, we see some optimism and we look forward to introducing new technology to the market," Paul proclaims. "There are a lot of positive indicators out there. Our export license situation will be very important because we're primarily an export business, so if we were to ask for one thing, it would be increased support from the Government.
"Finally, and most importantly, as we move deeper into this new decade, our people will remain at the heart of what we do," Paul confirms. "Our engineers think and act like pioneers in an organization that empowers them, and that's why we continue to achieve. Our model encourages ingenuity and creativity mixed with a strong focus on operational delivery and quality, so we want to ensure that continues too.
"For a business built on engineering, the technology and variety of work we carry out is a real positive; it's why you work hard at university and college – to have the opportunity to design and build fantastic machines. There's such great purpose and satisfaction in what we do, and we can't wait for SMD's next chapter."
Soil Machine Dynamics
www.smd.co.uk
Services: Subsea trenching, remotely operated underwater vehicles, underwater mineral extraction and vessel deck equipment