Sol, the largest independent petroleum marketing company in the Caribbean Basin is one of the Caribbean's best business success stories. While Sol and its iconic blue and orange logo may be considered new to Jamaica, its role in the Jamaica energy landscape is very significant.
Sol was founded 13 years ago by Caribbean entrepreneur Sir Kyffin Simpson. The company started operations in 2005 when it purchased the Caribbean assets of Shell, a multinational oil and gas company. Following Sol's initial purchase of Shell's assets in the Eastern Caribbean, Guyana, Suriname, and Belize, Sol has expanded to 23 Caribbean territories. This expansion included the conversion of some of Shell's service stations to Sol service stations, as well as the purchase of the Caribbean operations of ESSO in 2014. As a result, Sol operates three separate retail brands (Sol, Shell and ESSO) across the region.
Thanks to its rigorous expansion philosophy, the Sol Group now manages a portfolio of 480 service stations, 14 aviation facilities, 24 marinas and 32 import terminals. This covers retail fuels, lubricants, LPG, convenience retailing, aviation, marine, mining, trucking and fleet operations.
Sol solidified its footprint in Jamaica in June 2013, when the company became the macro distributor for Shell lubricants. As a result of this move, Sol Petroleum Jamaic provides local consumers and partners with a world-class portfolio of Shell lubricants that meet and exceed the highest standards in the global industry. Subsequently, Sol partnered with Petrotec to provide bunkering services in Kingston harbour.
Bunkering & other opportunities
Jamaica has a central location which gives the business a significant competitive advantage. It also has a natural harbour, which is considered to be the seventh largest harbour in the world. This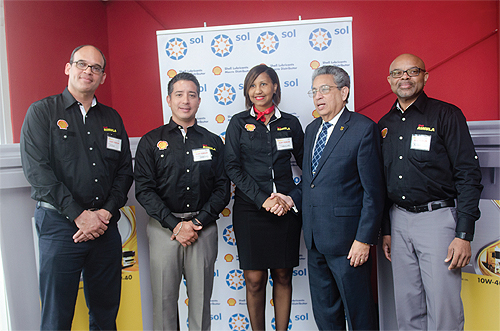 works well for Jamaica as it is ideally positioned as a regional trans-shipment hub to take advantage of opportunities in terms of travel, trade and doing businesses. An example of this is the approximately 3000 vessels, primarily cargo that it welcomes every year. This facilitates extensive trade and creates value for the entire economy. This will create business opportunities for the fuels, lubricants and other segments. Sol Jamaica has positioned itself strategically to facilitate these opportunities by serving its clients optimally and building customer relationships. This will help it to attract more business and augment its position as a major player in this sector.
Awards
Sol Petroleum Jamaica has amassed a total of nine awards in its five years of operation, which have been awarded by Sol's corporate offices and includes Corporate Social Responsibility, Sales & Marketing performance, Sales Executive of the Year (Lubricants), Sol FI Challenge – Country of the Year, Lubricants Champion, and Public Relations Stories of the Year among others.
Committed to Health, Safety and Environment
General Manager, Robert Jackson shared that Sol has a vested interest in health, safety and the environment. Across the organisation, Sol is committed to preserving the energy and vibrancy of life in the Caribbean. That's why across all levels of the organisation, a range of policies has been implemented and procedures designed to protect the health and safety of Sol employees, as well as the communities and territories in which it operates.
For Sol Petroleum Jamaica, rigorously collecting safety data is a vital part of doing business. "We take it very seriously,"said Mr. Jackson. "We take records ofour activities, and any incident has to be reported and addressed immediately. We have our group policy, which provides an outline of all the facets of operational safety; this is displayed in our offices and distributed to all employees. We have management systems in place to track our activities. Most importantly, we have annual audits on which we are graded."
Sol Petroleum Jamaica also provides Health, Safety and Environment (HSE) standards support to customers, which includes inspecting their sites and advising on safe storage/handling. The company also offers support to contractors, who are provided with orientation and training. "We make every effort to pass on our safety culture to our stakeholders and partners," said Mr. Jackson.
Corporate social responsibility
Environmental protection is a pillar of Sol Petroleum's social investment initiatives. "We continue to play our part in the conservation of the environment and marine life," said Mr. Jackson. "We've got many programmes that are aimed at protecting reefs and other important maritime resources in the Caribbean." As a part of its environmental initiative, Sol proudly contributes to the Nature Foundation, a Marine Conservation initiative in St Maarten, the Turtle Conservation Society in Guyana, the Used Oil Recovery Project in Belize and the Reforestation Project in the Dominican Republic and Haiti.
Each year Sol is also heavily involved in several sponsorship activities and events across the region. These range from small educational projects in local communities to regional community initiatives with major sporting associations. Sol funds the Sol Scholarship which supports high-performing students at the University of the West Indies in a variety of emerging areas, including renewable energy.
Indeed, working with education and children is of major importance to Sol Petroleum Jamaica and on November 20, 2017, in a celebration of Universal Children's Day, Sol Jamaica's representatives taught a class on Lubrication to the Auto Club students of Jonathan Grant High School. All the Auto Club students, school principal and class teachers were presented with tokens from Sol. These tokens were very well received and the Principal of Jonathan Grant High School expressed his appreciation for the continued support from Sol Petroleum Jamaica.
But education is not the only area where Sol contributes to community development. Sol Jamaica also recently went to the university hospital in Kingston and visited the children's wards to bring them some cheer. The company brought them writing books, colouring books, and crayons, toys and spent some time with them, which was really well-received.
Yet another project it contributes to is a lunch programme for an inner-city basic school. That's something that Sol feels is important and is really passionate about.
Promotions & projects
Inventive collaborations and promotions are integral to Sol's success in marketing and distributing its lubricants within the local and national community and are in line with its customer-focused business model.
Joint initiatives are also an integral part of the petroleum company's promotional strategy. Ferrari, one of Shell's longstanding partners, was featured in a joint promotion last year. Ferrari celebrated its 70th anniversary last year and has had a technical partnership with Shell spanning over 60 years. Through this relationship there has been the development of the Shell Helix brand motor oil, which is actually tested in the Formula One races. There is even a track-side lab to facilitate this. Customers are always told, if the oil can perform optimally under those extreme conditions, then it certainly can perform in regular vehicles. To commemorate Ferrari's anniversary, Sol executed a promotion to leverage that partnership. Ferrari created model cars in different designs and colours which it gave away free with a predetermined amount of oil purchased. A similar promotion has been executed was a phone credit promotion, where Sol gave away phone cards with purchases. Both of these promotions did very well for the company.
Indeed the Sol Group has quickly evolved into the premier supplier of petroleum products to the Caribbean basin, which not only leads the way in providing the best energy solutions, but also through a wide range of projects, positively influences local communities. With an overall goal to offer quality and convenience with its products and services, a determination to make a difference and a team of passionate employees supporting its endeavours, Sol looks set to provide customised energy solutions to customers every day and for generations to come.
Sol Petroleum Jamaica uses Shell trademarks under license. The views expressed in this release or statements are made by Sol, and are not made on behalf of, nor do they necessarily reflect the views of, any company of the Shell Group of Companies.
Sol Petroleum Jamaica
Services: Sol's distributor of Shell's lubricants in Jamaica