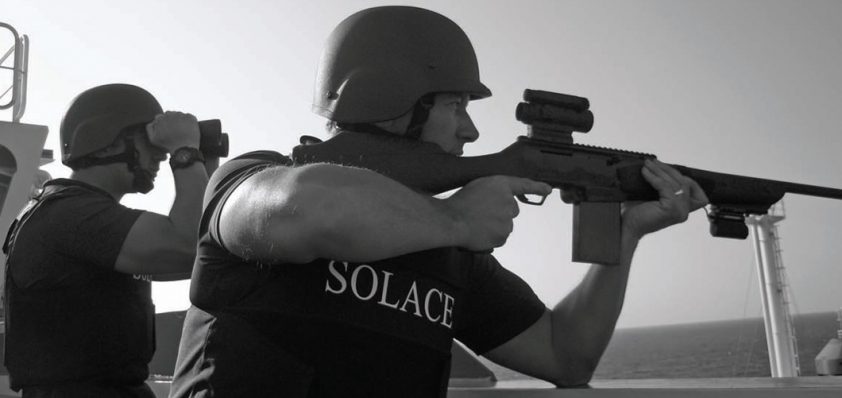 A secure future
In 2009, two former Royal Marines utilised years of experience in maritime operations to establish a marine security solutions company that has now become one of the world's leading providers.
Solace Global Maritime is staffed by industry professionals and personnel with a background in the UK military and Special Forces, with all sub-contractors and security consultants being recruited solely from the Royal Marines. Supported by state-of-the-art technology and its 24-hour operations centre in Poole, UK, Solace has a proven track record of delivering flexible services to a range of global clients. It's commitment to international standards and all aspects of compliance has earned Solace a solid reputation across its markets.
Solace's core service is to provide security and assistance to clients in the offshore and shipping industries, but the delivery of these services is, in reality, much more complex. Tom Brind, global operations manager, explains: "We were recently asked to assist a client moving a jack-up rig through a high threat region, which being low, slow, conspicuous and valuable was a straightforward target for potential piracy."
This project provided an example of the complete service that Solace offers. Firstly the business liaised with the Company Security Officer (CSO) in order to establish initial details and build a threat assessment for the voyage. This involved working closely with the vessel's Master to conduct a vessel security audit, identify vulnerabilities and planning defensive strategies including any hardening, as well as provision of all documentation required by the flag state.
"The crew were briefed on the threat and the way they should respond in the event of any suspicious activity," says Tom. "The Master was made familiar with the way the team would respond to a possible incident, and the rules for the use of force should they become necessary. It's worth pointing out also that although the team had firearms on board, Solace adopts what is termed a layered approach to security whereby we rely on intelligence and surveillance to avoid the threat and overt defence measures to deter the threat. Warning shots are only used as a last resort to keep aggressors at bay.
"Whilst this preparation was on-going at sea, our 24/7 operations centre in the UK initiated vessel tracking, monitored pirate activity, and ran a tight reporting schedule. Having provided protection for over 1800 maritime tasks last year, our exclusively former-military operations team are hugely experienced and provide valuable support to vessel and CSO alike. Our operations
team will also provide real-time and post-incident support in the event of a security incident. In the event the lengthy voyage passed without serious incident – only two suspicious approaches that the Solace team and Master resolved without the need to use firearms or force."
This detailed illustration provides insight into the expansive work required to undertake a single operation as well as the accomplishment with which Solace is able to execute it. Alongside its impressive track record, the company has a number of accreditations to its name in order to underline the commitment it has to maritime security procedure. Since its outset, Solace has used ISO as a standard and currently holds 9001, 18001, and 14001. The company also played an important role in developing the ISO 28007 – Procedures for Private Maritime Security Companies (PMSC) – that will be essential in establishing a benchmark of quality for this very young sector. Solace feels strongly about this issue because of the increasing number of low-grade providers currently entering the market that represent a danger not only to high quality providers but also to ship owners and operators. ISO 28007 will go some way to clarifying the quality available on the market.
Solace's experience and performance has led to increasing requests by clients for security services aboard offshore oil and gas installations. It now is therefore delivering a range of services to the offshore sector including security consultancy, offshore security management, risk assessment, armed/unarmed protection, transit/journey management and tracking, and emergency management with 24-hour global shore side support. The company will work in most areas of the sector including seismic exploration, protection of static drilling assets, and other specialist tasks. Its reputation in this market has spread rapidly since being green-banded by an international super major.
Since Solace was founded, it has found itself operating primarily in three areas of the world: the Indian Ocean, East Africa, and West Africa. East Africa has traditionally presented the most risks to security but in more recent times has reached manageable levels through the concerted efforts of owners, naval task forces, and PMSCs in the region. West Africa is an area of increasing danger, with a very different threat to East Africa that means solutions cannot simply be imported from East Africa but must be newly devised. Solace's experience has been developed in these two very different but equally challenging territories, as well as the wider Indian Ocean and surrounding waters.
Tom concludes with an outlook on how these regions may change and where Solace fits into the bigger picture: "The future of offshore security is of course difficult to predict. We believe we have contained the epidemic off East Africa but only because of the defensive actions that are currently in effect. It hasn't gone away and must be taken seriously. The pirates are still there, and it's not until we solve the larger problems in Somalia that the pirates will be able to turn to another occupation. Piracy off West Africa is very much still on the rise, continually shifting in response to efforts to quash it. We will be able to contain this problem too but only with engagement across the board from naval forces, industry, and PMSCs.
"The future for Solace is encouraging. We are adding to our portfolio of clients and broadening our experiences all the time. The company will continue to grow and develop but always in line with our overriding ethos of legality and safety in all that we do, and without diluting our focus on excellence in maritime security."
Solace Global Maritime
Services: Maritime and offshore security