Strategic investment
Listed on the London AIM market, oil and gas investment firm Solo Oil operates with the goal of acquiring and developing a diverse global portfolio of oil & gas assets. Targeting non-operated interests in high value oil and gas ventures mainly focused in Europe and Africa, the company's management team looks for early entry into exciting new plays and seeks to take them through to discovery. Once discovered, Solo Oil aims to prove resources before monetising and reinvesting in new opportunities.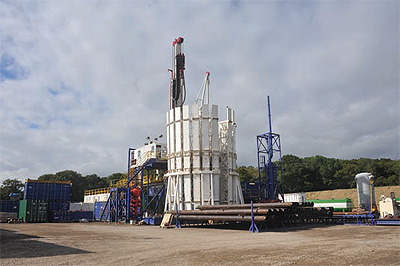 "Our investing policy is to acquire a diverse portfolio of direct and indirect interests in exploration, development and production of oil and gas assets as well as any other subsurface gas assets of potential commercial significance on a global scale. We evaluate investment opportunities and select the highest value special situations in order to create the best possible return for our investors. We then manage the investment in close collaboration with the management team of the operator and determine when to invest further and when to monetise the stake. So far, Solo Oil has been involved in the drilling of six wells and has made five commercial discoveries, the largest of which is the trillion cubic feet (tcf) Ntorya gas-condensate field in Tanzania," says Neil Ritson, Executive Chairman at Solo Oil.
In a joint venture with the operator Aminex for nearly a decade, Solo has a 25 per cent stake in the Ntorya gas and condensate discovery in Ruvuma, with Aminex holding 75 per cent. Covering over 3000 square kilometres, the Ruvuma PSA is approximately 80 per cent onshore and 20 per cent offshore. In 2010, Likonde-1, the first well, showed excellent signs for residual oil and gas, while the second well, Ntorya-1, resulted in a gas and condensate discovery of commercial interest with a gas flow of 20 million standard cubic feet per day (mmscfd) through a one inch choke in 2011. The well had a formation pressure of 5424 psi and also produced 139 bopd of condensate.
In 2014, Solo Oil and Aminex completed additional 2D seismic on the discovery, which was undertaken to appraise the up-dip portion of the Ntorya well. Armed with the insight of seismic, Solo Oil and Aminex went on to reveal the potential of 4.7 tcf of gas within the Ruvuma PSA, with 153 bcf of gas in place for the first Ntorya well. With four drillable targets accounted for more than three tcf of gas in place, the joint venture began an appraisal well programme with Ntorya-2. The well was drilled 2750 metres and encountered 51 metres of gross gas bearing reservoir; net pay is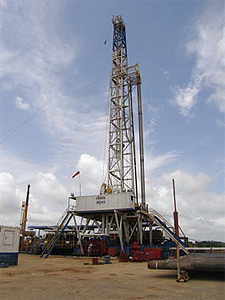 interpreted to be between 25 and 30 metres. Located 1.5 kilometres away from the Ntorya-1 discovery well, the Ntorya-2 well has exceeded pre-drill expectations for both extent and pressure and, when put together with the original well and the mapped seismic features, fully meets commercial requirements for gas volumes onshore in Tanzania.
As Ntorya advances towards field development, Solo Oil continues its monetisation efforts with the goal of selling some of its 25 per cent stake in the discovery when a 25-year development license is granted at some point, hopefully in 2017. "The current estimated net risked asset value of our share in Ruvuma PSC is around $100 million and we hope to unlock some of that value for our shareholders later this year," says Neil.
The two companies also work together as partners in the producing Kiliwani North Gas project, with Solo Oil owning seven per cent and Aminex owning 57 per cent; the joint venture is considering re-entering the producing Kiliwani North-1 well to gather additional downhole data in the third quarter of 2017.
Also within the company's portfolio is a ten per cent interest in the potentially global-scale helium licenses of Helium One Limited in Tanzania, which is being valued on a risked basis as one of Solo Oil's larger assets. "Technical de-risking and then drilling of the Rukwa project is expected over the next 18 months," says Neil. "Helium, although abundant in the solar system, is rarely trapped and native helium in association with nitrogen provides a muchneeded resource in a market where supply is limited in and demand is rising at a rate of more than three per cent per annum. The price dynamics are particularly compelling for future helium sources, for example the recent action by Saudi Arabia closing the border with Qatar has effectively removed 30 per cent of the world helium supply from the market."
The final piece of the Solo Oil portfolio is its involvement in the oil exploration of the Weald Basin in the UK including the discovery and flow testing at Horse Hill-1. "Further long-term testing at Horse Hill is planned for 2017 before a development plan is submitted. A follow-on opportunity on the Isle of Wight was secured in 2016," notes Neil. "The presence of mature oil source rocks and a naturally fractured reservoir has opened up a large play in the Weald and subsequent wells at Brockham and more recently at Broadford Bridge are proving the play up. Once planning permission is granted for the further testing of Horse Hill we expect work to get underway later this year; this should prove the commercial viability of the development."
As Solo Oil looks to build an active portfolio of approximately ten material assets it will continue to see these flow through, from early phase exploration to monetisation, as Neil concludes: "This way of working will mean that within the next few years we hope to be in a position to pay a dividend to shareholders as well as reinvest in new opportunities that fit our strategy."
Solo Oil
Services: Oil and gas investment company