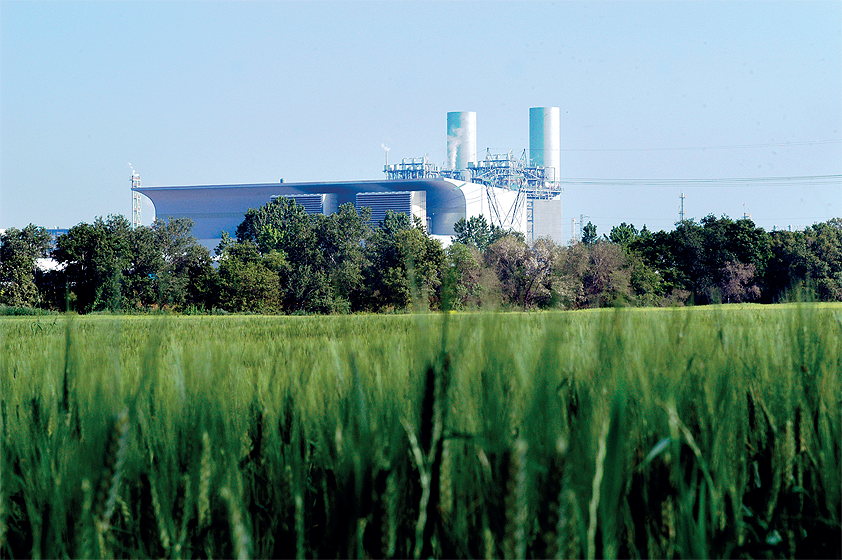 Powering the future
Founded in 1999, today Sorgenia is one of Italy's main energy operators. Positioned as the country's leading digital energy company with over 400,000 customers, it operates several combined cycle gas turbine (CCGT) plants producing almost 4.4 GW of installed power, 3.2 GW of which is directly controlled, with the remainder administered through shareholdings.
It is important to acknowledge Sorgenia's choice of natural gas CCGT technology here – this is internationally recognized as the best available technology for thermoelectric energy production and a crucial tool in making energy transition a reality. It meets today's need for a mix of energy sources that can integrate quickly with each other when required and helps to replace production from fossil sources while the world waits for the technological development that will allow the use of only renewable energy. CCGT generation technology is the one that best meets this need today – furthermore, thanks to its technology, it minimizes emissions, does not produce dust and occupies a smaller surface area than a traditional plant.
How does it work? The combined cycle associates a first gas-fired turbine with a second turbine operated by the steam generated thanks to the heat produced by the first. Not only is cleaner fuel used, such as common natural gas, but the overall efficiency of the process is maximized. In addition, because CCGT plants can get into operation quickly when needed and they have the ability to program the amount of energy produced according to the demands of the national electricity grid, these power plants are the ideal support for generation from renewable sources.
Portfolio expansion
Claudio Moscardini is Managing Director of Sorgenia Power, a wholly-owned subsidiary of Sorgenia SpA, which specializes in the generation of thermoelectric power from natural gas.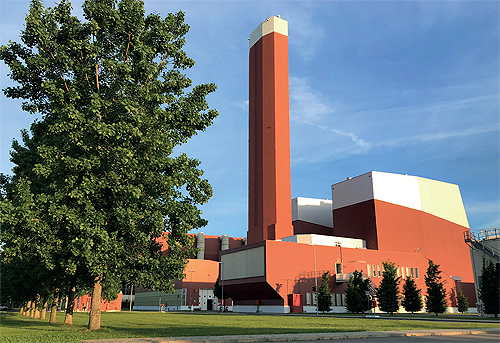 Claudio gives Energy, Oil & Gas an insight into the operations of the Power business – between 2006 and 2012 Sorgenia designed and built four power plants with the highest efficiency and maximum environmental compatibility. "Sorgenia Power SpA has three plants – located in Termoli (CB), commissioned in 2006, in Bertonico-Turano Lodigiano (LO), in operation since 2011, and in Aprilia which has been in commercial operation since 2012," Claudio began. "These are accompanied by a fourth plant in Modugno (Sorgenia Puglia). Each power plant has a generation capacity of around 800 MW."
The flexibility offered by the Sorgenia Power's CCGT technology is a core part of Sorgenia's strategy, which Claudio says is 'based on a flexible power generation and management model to help accelerate our country's energy transition'. "Sorgenia is currently developing renewable plants for over 400 MW and investing in energy-efficiency services for private customers and businesses," he continued. "The investments focus on screening new technologies, including in support of traditional plants to improve their performance and flexibility. Our growth path's main trajectories range from renewable sources to the retail market, in connection with a wide-ranging plan that envisages Sorgenia at the forefront in creating renewable energy communities (REC) and enhancing the performance for end customers through demand-response services."
Having been founded over two decades ago, it has been over the last five years that Sorgenia has undergone an extraordinary process of transformation and recovery. At the end of 2018, Nuova Sorgenia Holding decided to assess the possibility of opening its share capital to new shareholders, and 20 separate groups filed applications of interest to purchase the company, giving some idea of the huge potential for growth that it holds for the future. "The Sorgenia sale transaction, which also included international players, ended with the acquisition by the joint venture F2i/Asterion in 2020," explained Claudio. "This will guide Sorgenia towards an identity that characterizes it as a hub for projects linked to the energy business for these two funds.
"The first step was to transfer capacity to Sorgenia (an injection of around 300 MW in wind and around 70 MW in bioenergy) to comcreate a combined portfolio capacity of 4,800 MW. The expectations are that this portfolio can be expanded in coming years both through organic growth and by exploring transactions through external avenues. The portfolio expansion gave a solid boost to Sorgenia's positioning as one of the leading players in Italy in the power sector, laying the foundations for potential future interest in initiatives abroad.
"In light of the recent entry of F2i/Asterion, the new strategic trajectory will include the efficient operation of CCGT assets, the development of renewable sources, and growth in the area of end-user power solutions, especially in the area of distributed generation."
This new change in ownership will boost Sorgenia's role in Italy's energy transition and help to build a new future for the business. However, alongside the excitement and potential that new owners bring, 2020 saw Sorgenia face another major challenge – this time in the form of the global coronavirus pandemic.
Wider plans
Its response to Covid-19 illustrated the true flexibility and agility of Sorgenia as an operating entity, as Claudio highlighted. "Sorgenia was forced to manage the emergency caused by the pandemic in one of the areas most impacted by the virus," he said. "Its Bertonico/Turano Lodigiano thermoelectric power plant is, in fact, located in the Codogno area, which was the first red zone in Italy. This experience has shown how, in a complicated and challenging situation, the company managed to ensure continuity in the power generation from its plants while maintaining the utmost safety for its workers.
"Its initial reaction to the crisis was marked by concern together with the desire to react and experiment with procedures to operate the plants safely and efficiently around Lodi and also the other plants in Italy. It was a difficult period for the energy sector, with a significant drop in demand. However, thanks to Sorgenia's ability to operate the plants flexibly, quickly, and easily, it was able to achieve significant economic results, on the one hand, and on the other to provide the system with valuable resources at that time, such as regulation and balancing services, valuable even when demand is very low.
"Sorgenia's entire operation was run with processes that protected the health of the people who operate and maintain the plants, ensuring the operation thereof in compliance with the planned programs. Through the best digital technologies, the plants' high degree of automation has allowed continuous monitoring of facilities despite limited staffing to comply with social-
distancing measures, thus minimizing the risk of contagion."
Maintaining the strictest adherence to its Covid-19 policies and keeping the safety of its staff at the center of its operations will remain top priorities for Sorgenia as we go further into 2021, but what of its wider plans for the future? Unsurprisingly, new and advanced technology remains on the agenda, with Claudio noting that the business is evaluating the development of peaker plants, which stand out thanks to their remarkable agility and flexibility, as well as looking at combining generation with storage systems (batteries). "This is to again support the system in the renewable transition by responding to the intermittencies typical of these sources that will increasingly be present in the energy market," he said.
"Sorgenia has always been very sensitive to all sustainability issues. It knows that to advance towards a better and fully renewable world, it has to begin with a gradual path that finds value with the existing sources that have a low environmental impact. It is currently a producer based on gas and renewables, a combination that contributes to safety on the one hand and helps the system limit climate-changing emissions on the other—a leading enterprise active in the transition towards full decarbonization through concrete transition methods."
Delivering power
Another development that is now underway that illustrates Sorgenia's dedication to greener sources of energy is the construction of a new Biomethane power plant in Marcallo. The investment, worth about 20 million euros, will be part of a company controlled by Sorgenia (75 per cent) and owned by Agatos (25 per cent), and will create renewable energy via the organic fraction of municipal solid waste (FORSU). The only by-products of this innovative process will be a high-quality solid fuel, which can be used in industry to replace coal or oil, and a quality fertilizer, completely free of pollutants.
The technology adopted will also make it possible to extract high energy yields from a material of low value: it will thus be possible to produce, from the same organic fraction, a greater amount of biomethane. Another distinctive element is the all-Italian nature of the operation: not only investors, but also technology, suppliers and the lender are examples of the best that the country has to offer. Commenting on the beginning of plant construction, Gianfilippo Mancini, CEO of Sorgenia said: "Sorgenia today starts a new phase of development and investment in various renewable sources, and it does so with an innovative and Italian technology project, which guarantees complete circularity and which is a candidate to be a reference point in the bioenergy sector."
Thanks to the range of technologies providing its energy, and the loyal and reliable staff in its teams, Sorgenia is able to deliver power to end customers (both residential and business) through its customized offers. It's online, digital delivery model means that it can work every day to bring customers sustainable energy and services, and thanks to a strategy based on a flexible model of energy production and management, Sorgenia is ideally placed to accelerate the energy transition of Italy, bringing renewables to the fore and making clean energy the power of the future.
Sorgenia Power
www.sorgenia.it
Services: Italian electricity and gas provider