Welded tight
"Business is certainly picking up," states Edwin Saathof, director of Sosta, "2004 through to 2008 were good years before things slowed down in 2009 and 2010, but now there are signs that activity is increasing again.
When the market slowed down, Sosta decided that it was the perfect time to reinvest in the company, buying new equipment and extending not only its product range but also its capacity."
Sosta began its production of welded stainless steel pipes in 1995, expanding its facilities with the introduction of a fully automatic production site for welded stainless steel pipes from coil in 1998. In 2011, Sosta is now recognised as one of the major European manufacturers of its applications to the oil and gas, LNG, petrochemical, shipbuilding, desalination, water treatment and energy industries. Located in Könnern, at the heart of Germany's industrial epicentre, its production facility has a capacity capable of housing some 15,000 tonnes of steel.
"In the past Sosta has concentrated on working within the gas industry, undertaking a lot of LNG projects, working with liquefaction plants, LNG import terminals and the like, however we would very much like to move into different markets, particularly the offshore sector, desalination market and power industry," Edwin explains. "In order to enter these fresh areas the company needs to introduce new product ranges of various new materials, all in different sizes.
"Construction is presently under way of a new facility next to Sosta's existing plant. It will be around 7000 square metres in size and will house a completely new production line. All the equipment is on site now and is expected to be installed during the summer with the aim of commencing work in October 2011."
Sosta's biggest clients tend to be engineering, procurement and construction companies working on behalf of some of the biggest names in the oil and gas industry, for example Shell, ExxonMobil and BP, and as a result all the products it manufactures must adhere to strict international standards. As the industry develops, moving into harsher environments, companies like Sosta have to ensure their products can stand up to a host of different conditions: "There are a number of different material grades the company can produce," says Edwin. "For harsher environments we produce duplex and nickel alloy material grades. The customer will approach Sosta, specify their requirements and then experienced engineers will come up with a solution."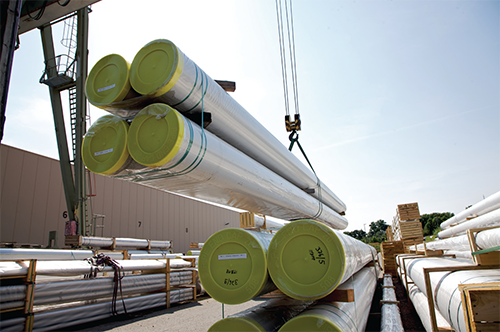 Ensuring high quality and efficient performance levels are maintained on a constant basis is a crucial part of Sosta's business. To achieve this the company has invested in a number of testing and training programmes: "There are a number of quality, manufacturing and testing procedures that the company carries out," Edwin highlights. "Every pipe that leaves the factory has a unique number which relates to all the base materials used to make it and its production details. Putting the pipe number into Sosta's computer system brings up all the pipe's information in regard to its testing and the accompanying reports.
"Since seven years ago the company has used new testing techniques radiographic examination. These are carried out on a real-time basis so experts can look at a screen and immediately detect any eventual defects in the weld. Furthermore Sosta invested in welding techniques to minimise the amount of repair work that has to be carried out down the line and assists in making the whole manufacturing process much quicker and more efficient."
Sosta's testing programme is just one of its unique selling points: "It is one of only a few companies in its field of industry working with three different production techniques, making pipes in a size range from four inch up to 72 inch with wall thicknesses up to 40 mm," Edwin stresses. "What also sets Sosta apart is that it is solely dedicated to the project market. Customers make contact, place their orders and then we deliver to them all the products, documentation, packaging, transportation and anything else that is needed to complete the project."
Plans for the next decade revolve around steady growth: "We would like to extend the company into different markets going forward, becoming more active in different countries, particularly those we are not as busy in, such as the US and South America for instance, we would like to expand and have a bigger presence there," Edwin continues. "We would also like to have a stronger position in the offshore industry, continuing our growth in the oil and gas sectors.
"The market is changing dramatically right now, the contracts we are signing are now less with trading companies and more directly with engineering companies, something that we are very experienced in doing. Even competition within the industry is growing we believe that as a result of the investments we have made in strengthening our position in the market we have the advantage over our competitors in delivering a more complete, quality service."
Sosta B.V.
Products: Welded stainless steel pipes