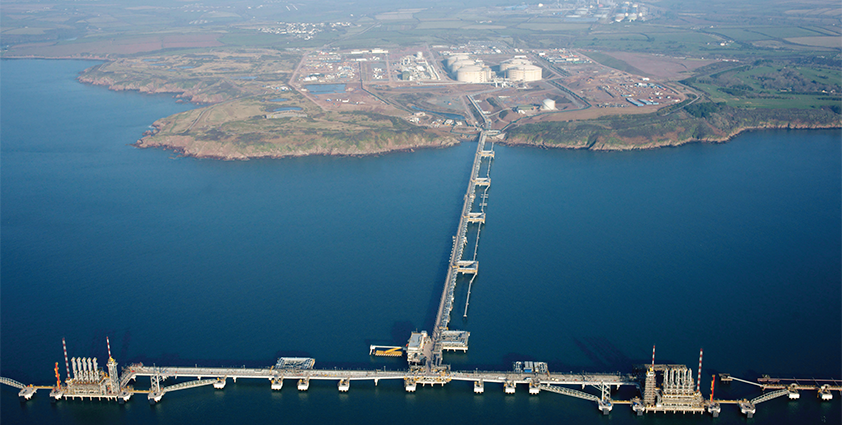 Terminal to grow
South Hook was created as part of the broader Qatargas 2 (QG2) value chain. The QG2 value chain is a part of the wider vision of His Highness The Emir for the State of Qatar.
Qatar is already the world's leading exporter of Liquefied Natural Gas (LNG) and QG2 reinforces this position that was formed by Qatar Petroleum with ExxonMobil and Total to deliver up to 15.6 million tonnes of LNG," explains Mohammed Al Naimi, the general manager of South Hook, as he sheds lights on the foundation of the facility.
Qatargas supplies LNG to South Hook via the QG2 project. As the world's first fully integrated LNG venture chain, QG2 is a $13 billion project that involves the drilling of 30 wells and the installation of three new platforms in Qatar's North Field. Up to 15.6 million tonnes of LNG from QG2, can be supplied to the UK market through South Hook. Transportation is made considerably more economical through cooling the gas to a temperature of -160ºC to reduce the volume down to one-600th. Next it is shipped to the UK via a fleet of state-of-the-art double-hulled ships before being offloaded, stored in tanks, regasified and fed into the national gas grid.
QG2 comprises three offshore platforms, 2 x 7.8 mtpa liquefaction trains (onshore), 14 super size ships (eight Q-Flex & six Q-Max) an LNG importation company (South Hook Gas) and the South Hook terminal in Milford Haven in Wales – Europe's largest LNG terminal. South Hook is a key element in Qatar's plan as the leading player in LNG world market with work beginning at South Hook back at the end of 2004.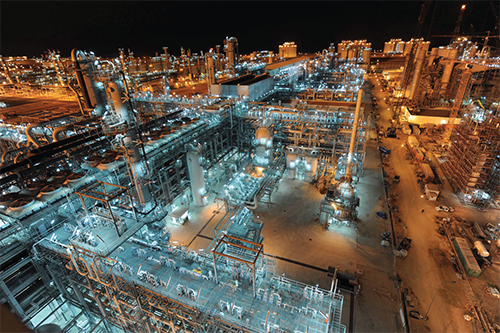 South Hook operates an LNG receiving, temporary storage and regasification facility located at the terminal site at Milford Haven Pembrokeshire, Wales. The terminal comprises a jetty with two berths, which will allow the berthing of large ships, and five tanks in which the LNG will be stored temporarily as well as a regasification plant.
South Hook represents Qatar's first involvement in the downstream gas industry outside the state of Qatar and is a crucial part in the world's only fully integrated LNG value chain. The whole project is marked by its pioneering approach in its scale and its unique ability to link the state of Qatar to the UK.
"We were so delighted to be able to announce that we had successfully completed our commissioning of Phase 1. By the 6th of October, we commenced commercial operations at Phase 1 of the terminal – this was such a great milestone for us," Mohammed comments. He continues by highlighting the factors behind finally selecting Milford Haven as the ideal site: "It lies outside of the busy English Channel shipping lanes and is accessible at all states of the tide by the largest planned vessels with minimal dredging, thanks to its excellent deep waters. Milford Haven as a port also has facilities and historic expertise in dealing with energy projects while the South Hook site was formerly an oil refinery and zoned for this type of industrial use."
Continuing, Mohammed discusses the capabilities of South Hook and how significantly it will contribute to the UK's overall energy requirements in the long-term: "The South Hook terminal's ability to import LNG is important to the UK's long-term energy policy and now provides the UK with a western entry into the national grid system. When fully commissioned, the terminal will have a total processing capacity of 15.6 million tonnes per annum of LNG and be capable of delivering up to 21 billion cubic metres (bcm) per annum of gas into the National Transmission System (NTS), which is equivalent to 20 per cent of total current UK natural gas demand. At this stage the terminal's first phase has an annual capacity of 10.5 bcm.
"In addition to the energy advantages, South Hook has also created benefits both locally and nationally. Approximately a billion pounds will be spent over the lifetime of the project and much of this will flow into the economies of Pembrokeshire and Wales. The construction and operational phases have created significant jobs and much of the work is subcontracted to local firms. In 2008, there were over 2400 workers employed at South Hook and the county of Pembrokeshire's levels of employment have improved significantly. This is clearly down to the burgeoning energy sector of which South Hook is a major part whilst Milford Haven's position as a major port has also been secured with the investments made by projects like South Hook's."
Looking ahead, Mohammed tells European Oil and Gas that the completion of Phase 2 in the first quarter of 2010 is the next step. This will mean the terminal will be able to deliver up to 21 bcm of gas per year. "Beyond that, our aspiration is to achieve South Hook's vision, which is to be globally recognised for our excellence in safety and reliability while being a considerate and environmentally focused neighbour," he concludes.
South Hook LNG
Services: Liquefied natural gas terminal